Everybody flying mini quad are pushing their speed limit, using more power motors and going up in LiPo battery cell count, 4S even 6S. I have a ZMR250 mini quad which runs on 4S, but when it comes to flying indoor it's an absolute overkill. What I am doing today is the opposite, I am going to re-build my old, slow DIY mini quadcopter, which runs on 2S LiPo.
Some of the links on this page are affiliate links. I receive a commission (at no extra cost to you) if you make a purchase after clicking on one of these affiliate links. This helps support the free content for the community on this website. Please read our Affiliate Link Policy for more information.
Old and retiring Mini Quad
This quadcopter was built more than a year ago, using a DIY frame made up of plastic sheets, fiber glass rods and hot glue. It weights only 220 grams and I love flying this quad indoor, it's just unbreakable! Because of the light weight, the props also last a lot longer than my 4S mini Quad. I have been flying it a lot recently because the weather has been terrible, the frame is kind of disintegrating and reaching the end of its life. I happen to have a spare fibre glass mini quad frame lying around, so I decided to rebuild it!
You have served me well!
If I have to build this quad again, I would go for a different motor, the 3800KV version. Currently I am using the 2900KV version, but I can have a bit more power.
Turnigy 1811 2900KV – 2S LiPo, 5030 prop, thrust: 160g @ 5.3A
Turnigy 1811 3800KV – 2S LiPo,  5030 prop, thrust: 205g @ 7.5A
Fibre Glass Frame Losing Weight
This is a Diatone mini quad frame made of fiber glass, it was given to me as a gift. It doesn't look very strong, so I have never used it for my normal 4S setup. But since it's not that heavy either, I think it would be perfect to be used in my 2S setup for a light weight mini quad.
But First thing I did was to remove the unnecessary part of the frame, to keep the weight down as much as possible.
Then put the arms on.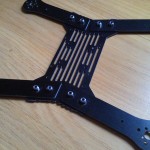 Taking Apart Old Quadcopter
It's kind of sad to take apart my old quadcopter. I cannot remember how many sleepless nights I spent on building and tuning this little monster. But I am also surprised after all this time, these motors and ESCs are still working! I must have spent less than $60 on them, what a good value training quadcopter for a beginner. :)
Assembling Mini Quad
Mounting motors and ESCs.
Soldering ESCs with power distribution harness.
Power distribution harness finished!
Now install flight controller (Naze32), and radio receiver.
Put the lid on, and TaDaaa!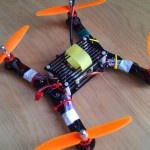 This quad weights 230 grams, just a little bit heavier than the old frame. But that's very reasonable since this frame is much nicer and stronger than my old one.
Total Cost: $0 !!
Big Mistake!
Not the first time I made this mistake, I doubt it will be the last. I totally forgot to note down the motor and ESC spin direction, and I just put them on randomly. Of course, this time I am not that lucky, and they were all spinning the wrong way!
It was impossible to swap the motor and ESCs around, as I have placed everything nicely. So what did I have to do? I de-soldered the the connections between the motors and ESCs, and swapped 2 of the 3 wires to change the motor spin direction. Unless there is a much easier way to reverse the rotating direction of the motors on the Flight controller, that I don't know about.
Quadcopter LED Craze!
I am actually not that crazy about blinky LEDs, but I am sure a lot of people are out there, so I wrote a guide on how I setup LEDs in CleanFlight for quadcopters. You can get voltage warning, turning lights, throttle level, etc. It's pretty awesome.
Here is where and how I mounted the LED strips, they are secured using sellotape.
And this is how it looks like after all the wires are connected.
FPV Gear
In this quadcopter build, I decided to use a mini T5823 video transmitter. It's light weight and small, also it takes 2S input which is great. As for FPV camera I decided to use the old 808 key chain camera, as it does video out and recording at the same time. It takes 5V power, so I simply connect it to spare motor power pins.
After connected everything, tided up all the cables, it looks pretty neat!
Total weight: 261g!
Flight Videos
Coming Soon!