The AK32 35A is the latest standalone ESC from Aikon powered by BLHeli_32 firmware.
Some of the links on this page are affiliate links. I receive a commission (at no extra cost to you) if you make a purchase after clicking on one of these affiliate links. This helps support the free content for the community on this website. Please read our Affiliate Link Policy for more information.
Further Reading: How to choose ESC for Racing Drones?
Unboxing
Accessories include 3x 18awg wire extensions, ESC heatshrink and a sticker.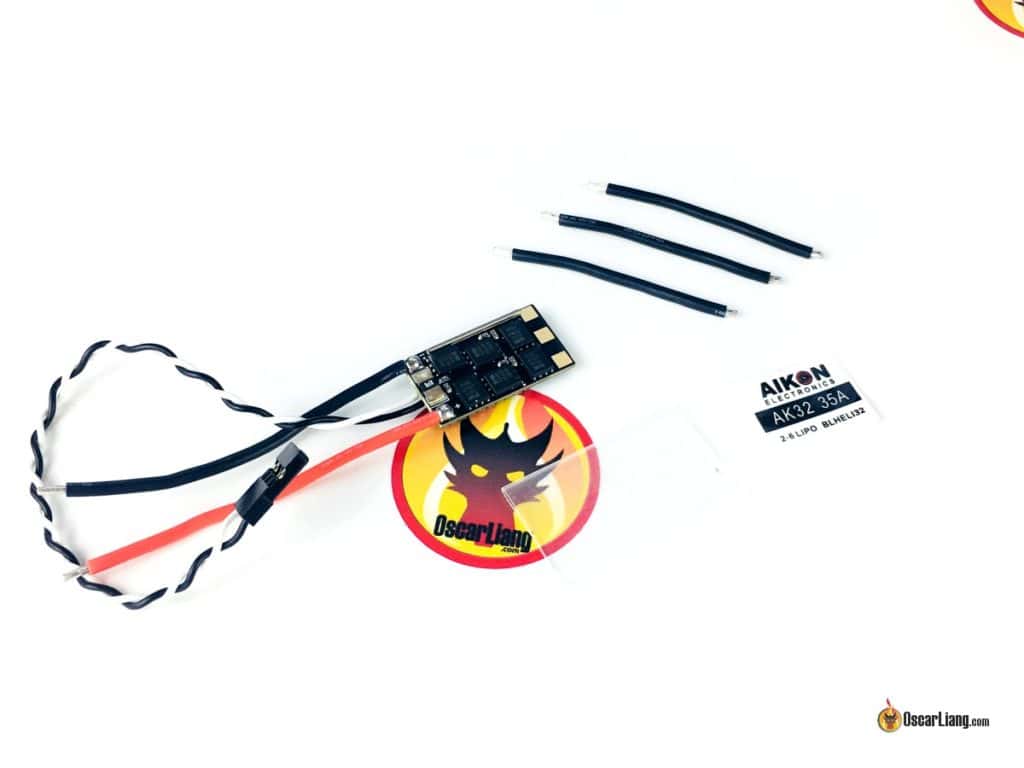 Spec & Closer Look
Current rating: 35A continuous current, 45A burst.
Input Voltage: 2S-6S
Weight: 7g with all the wires
Dimension: 18x30mm
Wires Length: Power 6cm, signal 15cm
Power Wire gauge: 18 awg
There is a current sensor onboard for ESC telemetry feature.
The TX pin for ESC telemetry is conveniently located right next to the signal and signal ground pins.
(TX is the empty solder pad on the left, above the signal ground, below the capacitors)
I love these ESC's come with wires soldered on! A lot of ESC's these days come barebone and it can be annoying sometimes that you have to search for wires for them.
4S Version
Aikon also does a lighter version of the AK32 ESC which only supports up to 4S. Same current rating as this one, but just lighter and handles lower voltage.
Buy: GetFPV
Testing
I will be testing these ESC's on a 6S quad and see how they perform, stay tuned for the build log on my blog!.