In this review we will take a look at some new video transmitters from AKK, which are affordable VTX's that come with SmartAudio.
If you don't know what "SmartAudio" is, it's basically a feature that allows your to change your VTX settings in Betaflight OSD or even from your Taranis Screen using LUA scripts.
Here is a tutorial how to set up VTX Control.
Check out our VTX guide to learn about the basics of 5.8Ghz video transmitters for quadcopters.
Different Form Factors and Connectors
AKK has already released several VTX's of different form factors and antenna connectors. The ones that support SmartAudio at the moment are the X2, X2P and FX2. That's pretty cool as you can choose whichever works for your particular build.
Update (Nov 2017) – AKK recently released a new VTX called the FX3, it's similar to the FX2 but has a smaller profile that uses 20x20mm mounting pattern, in the cost of lower max output power, which seems to be designed for smaller micro builds.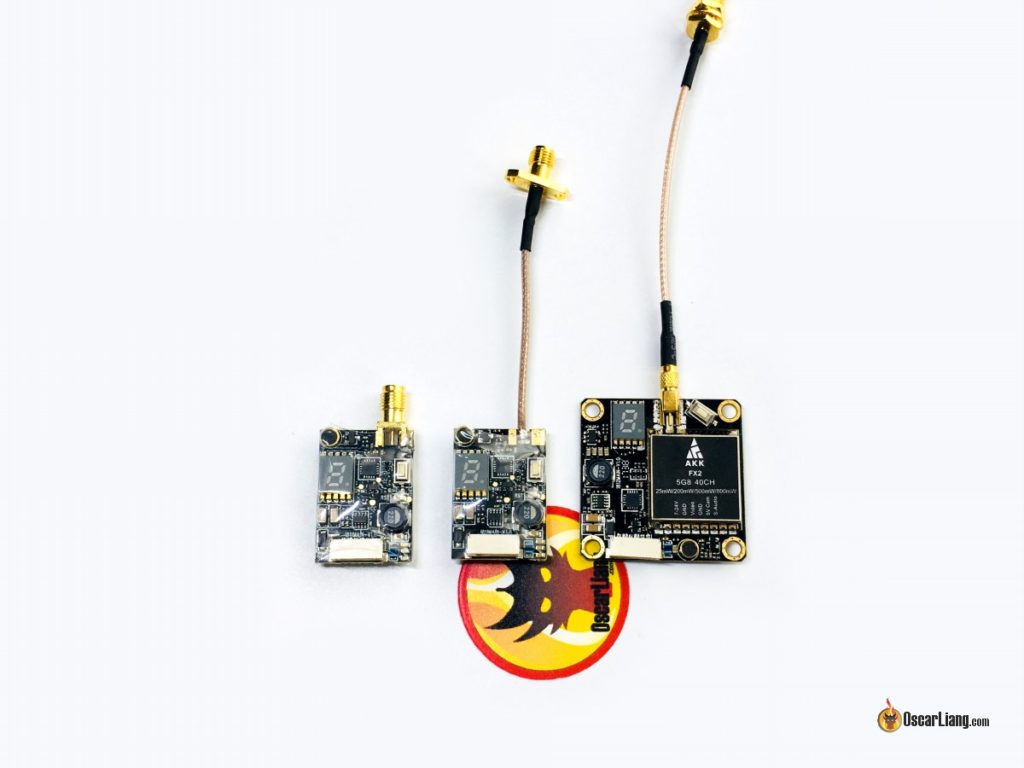 AKK FX2 VTX
You can find this product at:
It comes with the VTX, a 10cm RP-SMA to MMCX pigtail, power/signal cable, manual and some stickers.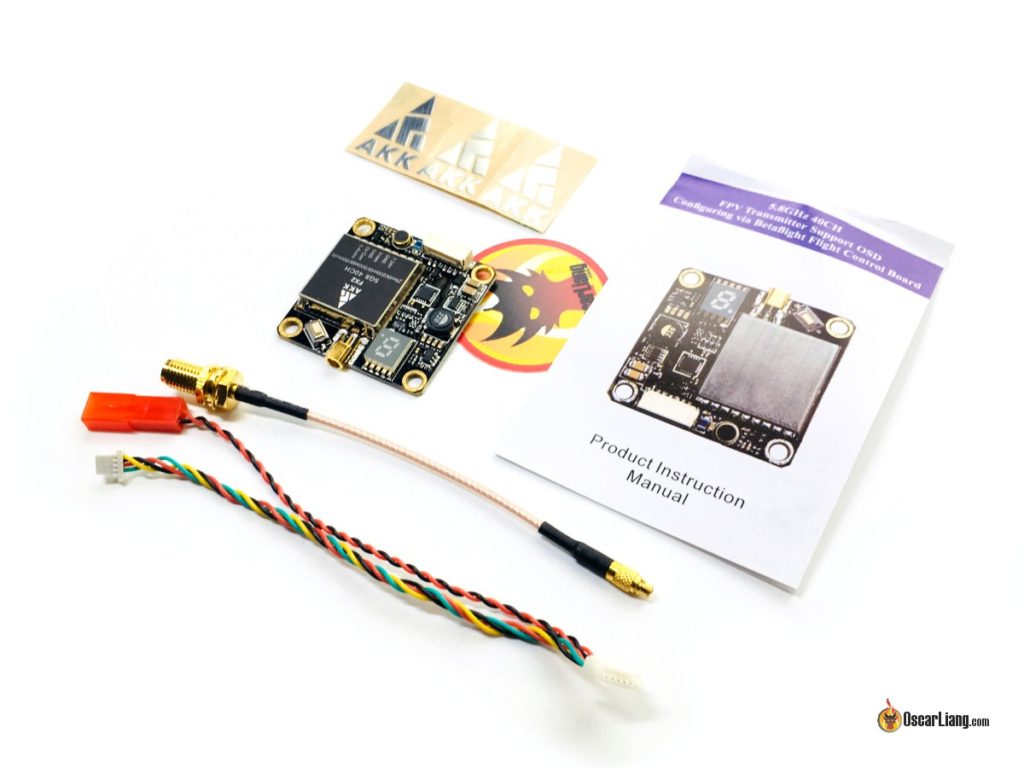 The Specification is:
One cool feature about this VTX is that you can mount it on top of your FC/PDB stack thanks to the 30x30mm mounting pattern.
The FX2 comes with MMCX antenna connector, and a pigtail extension lead with RP-SMA connector.
I am happy to see AKK is using MMCX connectors on their VTX, as people are having so much trouble with U.FL connectors on the Unify Pro and the Tramp VTX's. MMCX has more mating cycles and is more robust.
But I wish they could provide users the option to choose between RP-SMA and SMA for the pigtail, at the moment it comes with RP-SMA by default.
I like the design of the FX2 VTX a lot.
In case you can't use SmartAudio to change VTX settings, you can still do so with the push button on the VTX.
It has an easy to read LED display so you know exactly what output power, which channel and band you are on.
AKK X2 VTX
You can find this product at:
It comes with the VTX, power/signal cable, manual and some stickers.
The Spec is very similar to the FX2, except the smaller size.
Again it has the same push button and single-digit LED display we saw on the FX2.
AKK X2P VTX
You can find this product at:
Not much to say about the X2P, because it's exactly like the X2, except it's using a SMA pigtail, which I believe that's what the letter "P" means in the name.
The pigtail has a SMA antenna connector.
The pigtail is about 6cm long.
Audio not working…
Although all of these VTX's have built-in Microphones, none of them seems to work in my testing and only static noise was recorded. Not sure if these are just faulty mic I have or I've done something wrong, I will come back and update once I hear from AKK.
SmartAudio
I can confirm SmartAudio is working as expected on all 3 VTX's, on both Betaflight OSD and LUA script. Here is how to set up VTX Control.
But one thing I should point out is, SmartAudio is developed by TBS, and as far as I know AKK is not licensed by TBS to use SmartAudio on their VTX's. I asked AKK about this issue, and here is their reply:
Many AKK customers suggested that we should make a VTX with FC Uart at the beginning of this year, they sent us the smart audio protocol and we were told it was Open Source, we were never told that TBS might be the holder of smart audio patent, thus we will make adjustment on this protocol, AKK will make their own VTX Support betaflight OSD
I am surprised that they didn't go find out more about the protocol they are using, and just took the words of some "customers" for it.
Flight Testing
I will put these VTX on a quad and see how if they perform reliably in my next test, coming soon.