This micro quad thing is getting out of hand and the community keeps breaking the records in "the smallest micro quad". Winter is coming, and we all need a micro drone to fly indoor, and I think it's time to build one for myself!
Some of the links on this page are affiliate links. I receive a commission (at no extra cost to you) if you make a purchase after clicking on one of these affiliate links. This helps support the free content for the community on this website. Please read our Affiliate Link Policy for more information.
"Brushless" Micro Quad ??
I've flown many micro quads with brushed motors, and this time I want to try brushless motors in these tiny beasts. The main reasons are the lack of punch and durability in brushed motors – they are so weak and they wear out frequently about every 100 flights.
However, the brushless build might be a bit more complicated as you will need ESC's for the motors. But apart from that the rest of the build should be pretty much similar to a brushed micro quad.
Oh, and it also runs on 1S LiPo too so I can just use the same batteries from my previous micro quads :)
---
The Smallest Quad I've ever built!
I don't know if this is the smallest FPV quad in the world, but it is certainly going to be the smallest I've personally built and flown.
I plan to use 15000KV motors with 40mm triblades, and 20000KV with 31mm quad-blades propellers. This would allow me to squeeze the frame size down to 59mm and 48mm respectively – a shockingly small quad! :)
How small is this? In comparison, the tiny whoop is 64mm (motor to motor distance)! Tiny Whoop is no longer "tiny" in front of the Angry Oskie!
The overall weight of this quad is about 21g-23g excluding battery.
To give you a better idea, this is how tiny the 0703 motors are compared to a standard 5″ mini quad motor (2306) :D
Warning: this build is not for everyone, it can be very challenging for beginners due to the small size!
---
Brushless Micro Quad Parts List
This build will be using the following parts. You can choose other parts, but make sure the dimension are the same if you plan to use my frame.
* The F3D8 FC and Star4 ESC are shameless clones of FishPepper's open source work without giving any credit to FishPepper.de. But unfortunately I have not been able to find other alternatives at this point, so I thought I should mention it at least.
I will explain the parts selection in a bit more detail.
CM275T AIO Camera/VTX
A pretty good FPV setup, it has very good power filtering and I didn't have any noticeable noise in the footage when flying my quad. Voltage sag on this monster also doesn't seem to affect the operation of the camera either. Image quality is good enough comparing to other AIO cameras. Most importantly it's smaller and lighter than other popular AIO such as the TX01 or FX797.
RacerStar F3D8 FC
The F3D8 is my top choice for this build because it has a built-in Frsky 8ch receiver.
RacerStar Star4 4A 4-in1 ESC
Any light weight 16x16mm 4-in-1 ESC would do just fine.
Motors
Update (Nov 2017) – The RacerStar BR0703 is no longer available in 15000KV as production has stopped
I have seems some negative reviews of the RacerStar motors online saying they come unbalanced with bent shafts, and durability is poor. But for the 10 motors I ordered they all seem to work as expected over 50 flights I've had. The only issue I've found so far is that they are quite noisy.
The RacerStar BR0703 has two versions, the SE (special edition) and the non-SE. They seem to have the same spec and numbers on paper, just being different in the colour. Anyway I bought both to find out.
Beaware that the screws that come with these motors are of different length. The non-SE version comes with M1.6 4mm screws while the SE version comes with M1.6 2.5mm screws.
2.5mm is too short for my 3D printed frame, so I would recommend getting some 4mm screws from eBay if you are going for the SE version motors. It's good to have spare anyway.
The 15000KV works like a charm with 40mm triblades props, a lot of power and fairly efficient. However they don't seem to run that well on 31mm props (tiny whoop props), they just lacking power!
Even the 20000KV didn't perform that well with 31mm props, just simply lacking power and efficiency.
The BoldClash motors have the exact same design as the RacerStar motors, maybe made in the same factory and rebranded.
The Sunnysky motors are a totally different design and have 6.5mm motor mounting pattern. Make sure to use the correct frame for these motors.
Anyway I will test these soon as they are good alternative to the discontinued RacerStar 070X motors.
Propellers
There are two prop options for this build, 31mm or 40mm props.
The 40mm props runs quite loud on the 0703 motors, with decent lift and flight time. It feels very similar to how an 8mm brushed quad flies, but more agile and "punchy". I strongly recommend 40mm tri-blade propellers.
The 31mm props sound even louder just like an angry bee :) Unfortunately they don't work well at all on either 15000KV or 20000KV motors. I tried quad-blade version, tri-blade version, I even tried making a bi-blade by cutting 2 of the blades on a quad-blade, but results are similar, it just feels very sluggish and extremely inefficient. Although this is the only way to use our 48mm frame, but unfortunately I cannot recommend the 31mm props in our build.
Anyway if you still want to give it try, just beware that the 31mm props are designed for 0.8mm motor shafts, and they won't fit the 1mm shafts on 070X motors without some drilling. I found 0.95mm drill bit best for the job, 1mm drill bit is simply too big, and 0.9mm seemed to work but it's quite difficult to push the props in, you could damage the little motor.
LiPo Battery Testing
40mm Props with 15000KV RacerStar BR0703 motors:
I tested 3 batteries so far and here is the result. Note that these batteries all use LOSI connectors, and I think 300mAh to 500mAh is a good capacity range for the 40mm props.
---
Where to Get the Angry Oskie Frame Kit
The "Angry Oskie" frame is designed specifically for the parts we listed in this post. The whole frame can be 3D printed, except the following items which you need to buy separately:
4 x M2 25mm screws
1 x rubber band (as battery holder)
A piece of Velcro (as battery holder)
12 x M1.6 4mm screws for the motors (they might be included in the motors, but in case they come in different length it would be a good idea to get some spare)
This build also uses M2 spacers and M2 nylon nuts, but luckily, these come with the FC and ESC we use.
The Angry Oskie has a 59mm frame size that fits 40mm props. It has a removable prop guard for protecting the propellers and the walls in your house.
Frame Weight:
59mm frame – 2.1g
Camera mount – 0.8g
Prop guard – 2.6g
I am making this frame available on thingiverse, so everyone can download it and print it on their own for FREE!
But if you don't have a 3D printer, I am happy to print it and send it to you for a charge. I will send a whole frame kit which will include:
1 x 59mm frame
1 x Prop guard
5 x M2 screw 25mm
1 x rubber band
1 x M2 hex nut driver (3D printed)
2 x small cable ties
12 x M1.6 4mm screws for your motors
I've spent over 100 hours designing this frame, testing, building and writing this guide. And I will continue to improve the design. You can support this project by purchasing the frames and the parts using the links provided in this post. Thank you!
STOCK: Sold Out
(To minimize risk of losing parcel please select tracking. I can provide proof of posting and I won't be held responsible for lost parcels)
Motor Mounting Pattern:
Racerstar/Boldclash 0703 – 5.5mm
Sunnsky 0705/0703 – 6.5mm
---
"Angry Oskie" Build Tutorial
I will show you how to build the "Smallest Brushless Micro Quad" in this step by step guide, and try to cover the necessary details in building this drone. :)
Preparing
The latest batch of CM275T AIO cameras seems to come with 4 wires, I believe the two additional wires are VI and VO (video in and video out) for connecting to an OSD. However we are not using an OSD so we can simply remove these two wires, and bridge the two pins together.
If you don't bridge these pins your CM275T won't show you any image.
On the ESC, remove the excessive heatshrink around the screw holes.
Connection of the ESC, FC, and FPV setup
Cut the wires on the ESC to appropriate lengths. I strongly recommend leaving some slack in the wires, it would make your installation much easier later on. I cut my wires a bit too short in the pictures, it was barely enough!
Don't worry too much about the motor ordering, you can change it in CLI with Betaflight Resource Remapping.
Don't worry about motor spin direction either (whether or not they spin CW or CCW), because you can change spin direction later on in BLHeliSuite through your flight controller.
I can probably cut the motor wires shorter in this case :)
Setting up the FC
(This is just my personal settings and there is still room for improvement. Please me know in the comment if you have any suggestions)
I prefer to configure the FC before installing it in the frame.
The FC comes with Betaflight 3.1.5. I didn't bother to update the firmware and just use that.
Enable DShot600, set Gyro Rate to 8K, PID Loop to 4K.
CLI:
feature MOTOR_STOP set digital_idle_percent = 4.000 set motor_pwm_protocol = DSHOT600 set align_board_yaw = 45 set deadband = 4 set yaw_deadband = 4
Board alignment setting is extremely important! If you forget to change it your quad won't take off. The value isn't necessary 45 degree like I did, it depends on how you install your flight controller. You can verify it with the 3D model in Betaflight configurator.
Installing the electronics in the Frame
(I am not going to solder everything in this demonstration, I will just show you how everything is put together in the frame)
Wrap around the base plate with the rubber band, and put a zip tie through the loop. This will be our battery holder :)
Then install the motors on the frame.
Install the ESC on the M2 25mm screws, then put some 5mm spacers on top of the ESC.
Next up is the FC, then some 5mm and 3mm spacers on top of the FC too.
Now you can install the camera mount, and secure it with M2 hex nuts (this is where you can use the M2 hex nut tool that I provide in the frame kit, it makes things easier)
You can then install the AIO camera in the mount. The mount holds the camera in place by the lens, so you just need to gently push the camera in by the lens.
There is a little gap at the back of the camera mount designed for the power wires to go through to avoid prop strikes.
The 25mm screws should be longer than needed, it's okay to leave them as they are. But you should trim the one in front of the lens as it might block your camera's view.
There is a hook on the side of the frame, that's for your battery wires :)
Here is a close look from the side of the quad after assembling.
No room to spare :) The props should have at least 1mm clearance from the spacers, if not you can try to push the spacers towards the center.
"Rubber band" battery holder has a minimalist design and works like the charm for me :)
---
FAQ
Must read if you are building the Angry Oskie.
How to connect USB cable?
Unfortunately due to the compact design, the FC's USB port is blocked by one of the motors. I recommend doing all your FC settings before putting it in the frame. Otherwise you could simply remove the motor in front of it and get access to the USB port.
FC doesn't work when plug in USB cable?
That's normal with the F3D8, it only works when the battery is plugged in. It doesn't get power from USB cable.
When to land?
There is no voltage monitoring capability on this quad. But I found the RX would become unstable when battery capacity is running out. When it happens, my Taranis would begin to shout "RSSI Low" and "Signal Critical" even though the quad would still appear to fly just fine. But then I know the voltage is running low and I should land.
Does it hurt to get hit by the spinning props?
It hit me in the face a couple of times when I was flying FPV. I didn't get a scar, but the pain stinks… I would say it hurts a bit more than a brushed quad…
My quad wobbles like crazy and flip over at take-off.
Did you forget to set the "45 degree" yaw offset to the "board alignment"? The value actually could be 45, 135, 225 or 315 degree, it depends on how you install the FC.
FPV Camera wobbling, how to fix it?
It's normal that the AIO camera start wobbling during flight, because the 3D printed holder won't hold the camera tight enough as the VTX heats up. One quick fix is to use a rubber band and hold the camera tightly in place.
---
Update (04 Nov 2017) – 31mm props are no good…
After some more testing with 31mm props on both 15000KV and 20000KV motors, I am not at all satisfied with the flight performance, it's sluggish and extremely inefficient. I think 40mm tri-blade props with 15000KV motors is the sweet spot between power and efficiency.
Therefore I only recommend running 40mm props on my 59mm frame from now on.
---
Update (05 Nov 2017) – 20000KV motors are also no good…
I finally get to test some 20000KV motors.
Racerstar stopped making 20000KV and 15000KV and the only source I can find is BoldClash. Their motors appear to have the same design so I think they might be the same motor. I have added the links in my parts list above.
Anyway after testing, I cannot recommend the 20000KV motors.
With 31mm props, it has similar result to the 15000KV motors, it just feels powerless and inefficient. Much worst than I expected.
With 40mm props, it's has more lift as expected from the higher KV, however it's draws so much current and only gave me half the flight time compared to running 15000KV motors. Also my batteries were having such terrible voltage sags, the RX constantly shutting down and shouting "telemetry lost".
Oh, and the quality is bad! One motor shaft slipped when I was installing the prop.
---
Update (06 Nov 2017) – Frame for Sunnysky Motors
I have yet tested the Sunnysky motors, but it's on my "to-do" list.
One problem with Sunnysky 0703 and 0705 motors is that, they have slightly larger mounting pattern of 6.5mm, compared to the 5.5mm on the Racerstar or BoldClash 070X motors.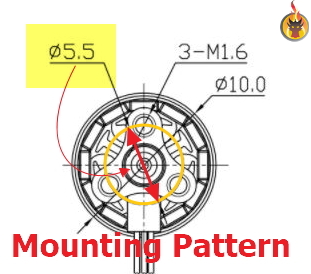 So I made a frame for the Sunnysky motors, and now my frames have a number printed on them:
3 – for motors that have 5.5mm mounting patterns
5 – for motors that have 6.5mm mounting patterns
If you are ordering the frame kit from me on this page, you should specify which motor pattern you want.
---
Update (07 Nov 2017) – I made a prop guard!
After some thinking and testing, I finally came up with a prop guard that works well.
Initially I was going to merge the prop guard to the main frame as one piece. But it's not a flexible solution, and I don't like how it looks either.
So in my last design, as shown on the right in this photo, I made it removable and it protects the quad all-around. It might weight slightly more, but merely 2.6g!
The prop guard simply replaces the 4mm standoffs between the ESC and FC. When installing it make sure it doesn't press on any of the wires.
You don't have to use the prop guard if you don't want to, and you can save over 2 grams. But it's good for your props, and your walls in the house :)
The prop guard is now included as part of the frame kit, if you order it from me on this page.
Update (10 Nov 2017) – Testing Sunnysky 0705 motors
Finally got these Sunnysky 0705 15000KV motors in. They could be a great alternative to the 0703 motors because they are so hard to find!
The Sunnysky 0705 are bigger and heavier. (3g vs 1.9g)
And one major complaint I have is that the motor wires have coating on them!!! Which means when you shorten the wires they won't take any solder! Even when you manage to solder that wire to the ESC, the connection will most likely to fail.
That's very annoying but you have to remove the coating first after you shorten the wires. I personally just used sand paper to rub it a few times and that seemed to work.
I've heard you could also use high heat to melt the coating (400+ degree Celcius), such as enveloping the end of the wire in a blob of solder for a good 5-10 seconds. Or you might be able to get the coating off using nail varnish remover.
Performance result:
The Sunnysky 0705 feels a bit more powerful and responsive than the Boldclash 0703, although I do have 20%-30% less flight time with them. But that could be due to the increase in weight as they are 1.1g heavier than the 0703 motors
They are extremely noisy! I am not sure if I have the defective motors, but they make a really loud and high pitch noise; I tried changing out props but same issue
I still recommend the 0703 motors over the 0705 for now, if you have absolutely no other options, the 0705 would work just fine but prepared for the noise!