Long range radio systems using 900MHz including the Frsky R9M and TBS Crossfire typically use a single dipole antenna on the receiver. The optimal antenna positioning can be different from traditional 2.4GHz systems with diversity monopole antennas on the receivers.
The alignment of your TX and RX antennas affects signal strength and range a lot. And it's important to think about the orientation of your antennas in order to achieve the best possible range.
---
Further Reading:
---
The Types of Dipole Antenna
There are two ends in a dipole antenna used in the R9M and Crossfire systems. One end is the antenna element and the other is ground.
These dipole antennas commonly come in two forms, one is well protected in T-shape rubber tubes.
These antennas are pretty tough, and can take a few prop strikes and survive, but they are a little heavier and more expensive. They are also easy to mount in a frame.
The other form exists as loose wires like this.
It's usually a lot cheaper and lighter, and very flexible so you can mount anywhere and however you like. But it's easy to break and probably not the most beginner-friendly antenna to use.
Important!!! Because we use two frequencies in different regions, i.e. 915MHz for the US and 868MHz for Europe, you have to get the correct antenna that is tuned to that frequency you intend to use for optimal performance.
Stay away from carbon fibre!
Before we start, bear in mind to keep antenna as away from carbon fibre as you can. Especially avoid putting the antenna element too close to carbon fibre (the parts without shielding), which can "de-tune" the antenna and have a negative impact to your reception.
Different Antenna Positioning and Range
The alignment of transmitter and receiver antennas can affect range.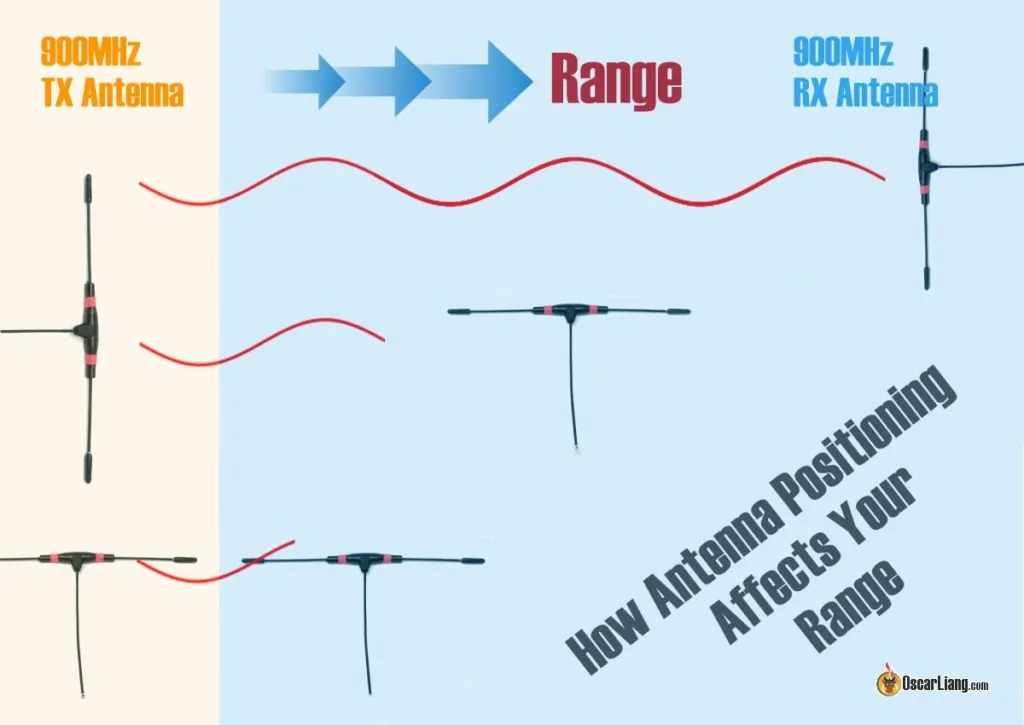 As shown in case #1, you get the full range of your RC system when both of your antennas are parallel to each other.
When your quad turns 90 degree, it goes into case #2, where one end of the RX antenna points at the TX, and your range will be reduced. This is why it's recommended to mount your RX antenna vertically. Not that easy on a mini quad, but more doable on a wing or plane. Many people just mount the RX antenna horizontally, it's not that bad since we fly short/mid range most of the time anyway on quads.
The worst case scenario is case #3, where you now also turn yourself 90 degree, so the tips of the two antennas are pointing at each other. Anyway, this can be easily avoided by making sure you are always facing your aircraft, with your TX antenna placed vertically.
Further Reading: Make sure to monitor RSSI/LQ while flying long range!
How to Mount Crossfire/R9M Receiver Antenna?
For "loose" dipole antennas, I use two pieces of zip tie wrapped around the arm, and secured by heatshrink tubes.
With T-Immortal style antennas, you can strap it to the arms with two zip ties, probably the easiest and most common way to install your antenna.
Or be a little bit more elegant and use a 3D printed mount
Here is a bad example, you see both ends of the antennas are touching the carbon fibre. BAD!
Try to keep both ends of the antenna as far away from carbon fibre as possible, since that's where the active element is.
Please let me know if you have any questions or comment.