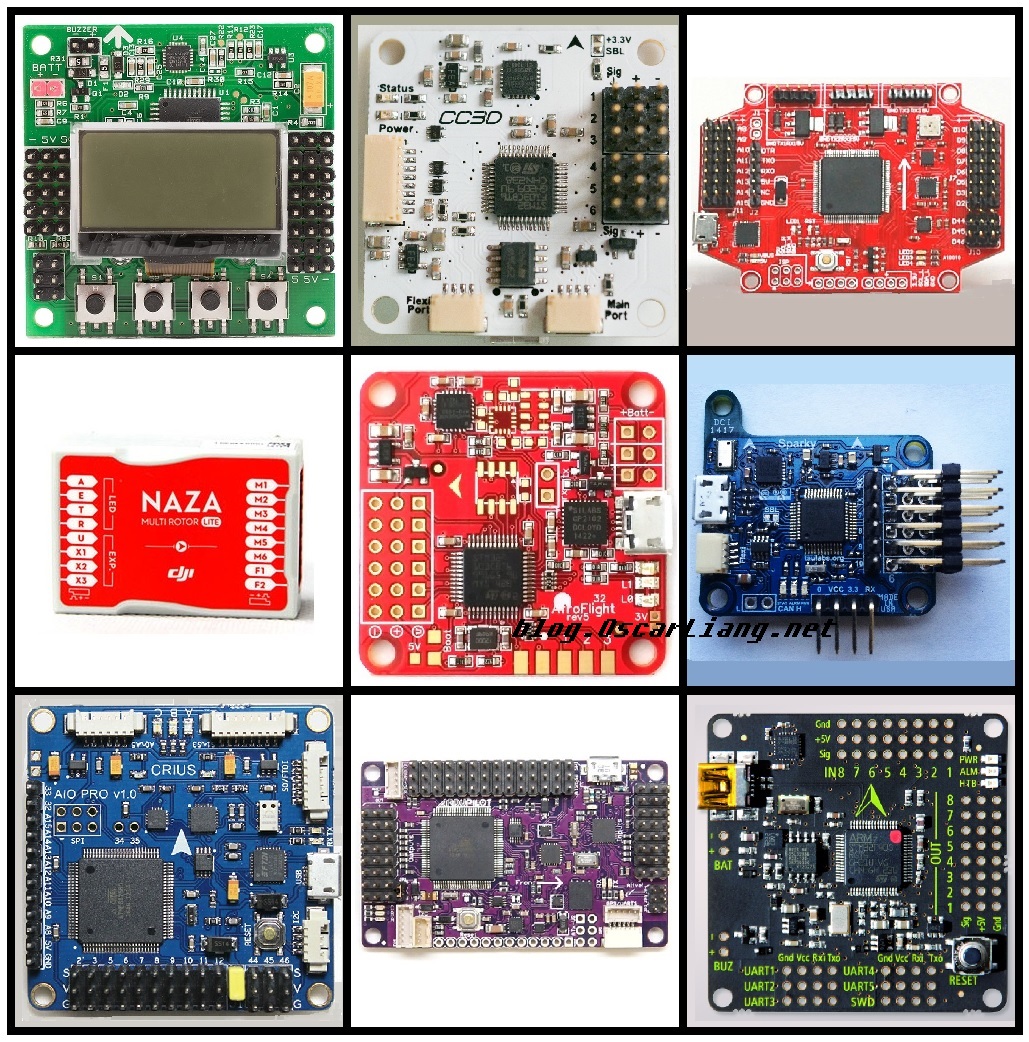 The number of mini quad flight controllers on the market can be overwhelming for beginners. This guide aims to explain some of the considerations in choosing the best flight controller for your quadcopter. I will also introduce you to some iconic and popular FC boards.
Index of Content
What is a Quadcopter Fight Controller
A flight controller (a.k.a FC) is the brain of the aircraft. It is basically a circuit board that has built-in sensors that detects orientation changes. It also receives user commands, and controls the motors in order to keep the quadcopter in the air.
Nearly all flight controllers have basic sensors such as Gyro (Gyroscopes) and Acc (Accelerometer). Some FC might include more advanced sensors such as Barometer (barometric pressure sensors) and magnetometer (compass).
Flight controller is also a hub for many other peripherals, such as GPS, LED, Sonar sensor etc.
FC Firmware
Apart from the difference in hardware, they might also use different firmware that are specialized in different applications.
Modern FC firmware normally can be configured via software on a computer or smartphone. "Tuning" is the term we use in the multirotor hobby when we configure our quads. Because when we change PID, rates and certain settings, it changes how the multirotor performs. The GUI and parameters are different from firmware to firmware, so there is certain level of learning curve getting into each of them.
Here are some of the major software choices for quadcopters categorized by applications.
The 3 major players in FC firmware currently are:
Betaflight (fork of Cleanflight, taking over Cleanflight)
Raceflight (support other FC, but primarily runs on their own board)
KISS (only support their own flight controller)
Other FC firmware for mini quad are also available:
Baseflight (dead)
Cleanflight (Based on Baseflight, but it's kind of going out of fashion)
dRonin (fork of Taulabs)
GPS and Autopilot Systems
Main features: Way-point, loiter, return to home, etc. Mainly used for Aerial Photography and filming, and Autonomous missions.
Ardupilot
Naza
iNav (fork of Cleanflight)
Other Open Source Projects
Multiwii (the beginning of mini quad flight controller firmware; started with the sensors in a Nintendo Wii Motion handle and Arduino board and later using dedicated 8-bit platforms; eventually it was ported to 32-bit platforms by Baseflight)
LibrePilot (previously known as OpenPilot)
Taulabs (fork of OpenPilot)
There are also flight controllers that don't use computer software. They might have a built-in LCD that allows you to change FC settings on the go, or It might not even allow you to change settings at all.
For GPS autonomous flying, you probably should be looking at either Ardupilot or Naza depends on the kind of boards you use.
Your firmware choice affects FC buying decision. A FC might support multiple firmware or locked down to one firmware. I recommend choosing a FC firmware you want to use first, then look at what FC are compatible.
In the rest of this article, we will focus on how to choose a good flight controller for mini quad FPV drone racing and freestyle.
How To Choose a Flight Controller for Mini Quad
Here are a list of considerations when picking up a mini quad FC.
Processor
Currently, you have 3 main types of CPU to choose from: F1, F3, F4; I would recommend buying a F3 or F4 for now, we have reached the limit of F1; There is news about F7 FC
Sensor: Type of Gyro and Bus
Some types of Gyro sensor are more vulnerable to noise (both electrical and mechanical noise); you want to avoid MPU's include MPU6500 and MPU9250. The type of "BUS" is how the sensor is connected to the processor. It can have a significant effect on sampling rate and maximum looptime. The preferred BUS is SPI, which allows you to run Gyro refresh rate at 8KHz+, while I2C limits you at 4KHz
Flash Memory or SD Logger for Blackbox
These are used for blackbox tuning and troubleshooting. Some flight controllers might have built-in dataflash memory, some might have Open loggers that allows you to insert a SD card.
Connector Types
I personally would avoid plastic JST connectors as they are less durable although they allow you to connect/disconnect easily. I like solder pads, but sometimes with low quality boards, they tend to peel off quite easily when you overheat them just slightly. I like "through-holes" which gives you the option of direct soldering or using header pins.
Integrated Voltage Regulator
with voltage regulator your board can provide 5V even 12V voltage outputs, which allows you to power the board directly from your LiPo battery (or even VTX and FPV camera). It also means the FC can monitor your battery voltage too without extra VBAT wiring.
Integrated PDB
with PDB integrated into the FC, your ESC can be connected directly to the FC and no additional PDB or wire harness is required (one board vs 2 boards). But the downside is usually the tiny soldering pads that is extremely hard to work with given the tight space.
Number of UART's
UART is the hardware serial port that allows you to connect external devices such as OSD, SmartPort Telemetry, Race Transponder, VTX control etc. F1 FC normally has 2 UART's, while F3 and F4 can have between 3 to 5.
Integrated Current Sensor
Having a current sensor has been proven invaluable: it's a much better indicator than VBAT for when you should land and great tool for testing.
More about current sensor and calibration.
Other extra features you might like
Bootloader button – a button you can press to "force" flash firmware, it saves you from trouble of soldering bridges (why use bootloader button on FC)
Integrated OSD
Integrated VTX
Baro/Mag (these are less important in racers)
RX Support – make sure the FC support the type of radio receiver protocol you plan to use, such as PWM, PPM, SBUS, Spektrum Satellite and so on
AIO options – "All in one" flight controller is one single board, but has nearly everything built into it that you need in a quad: FC, ESC, PDB, RX. The downside is if something fails it's likely that you'd have to replace the whole setup
Flight Controller Choices
For a more up to date list for mini quad targeted FC, check out my mini quad parts list: https://oscarliang.com/250-mini-quad-part-list-fpv/#fc
For recommendation here are a list of top 5 FC that were voted by our community: https://oscarliang.com/top-5-best-fc-mini-quad/