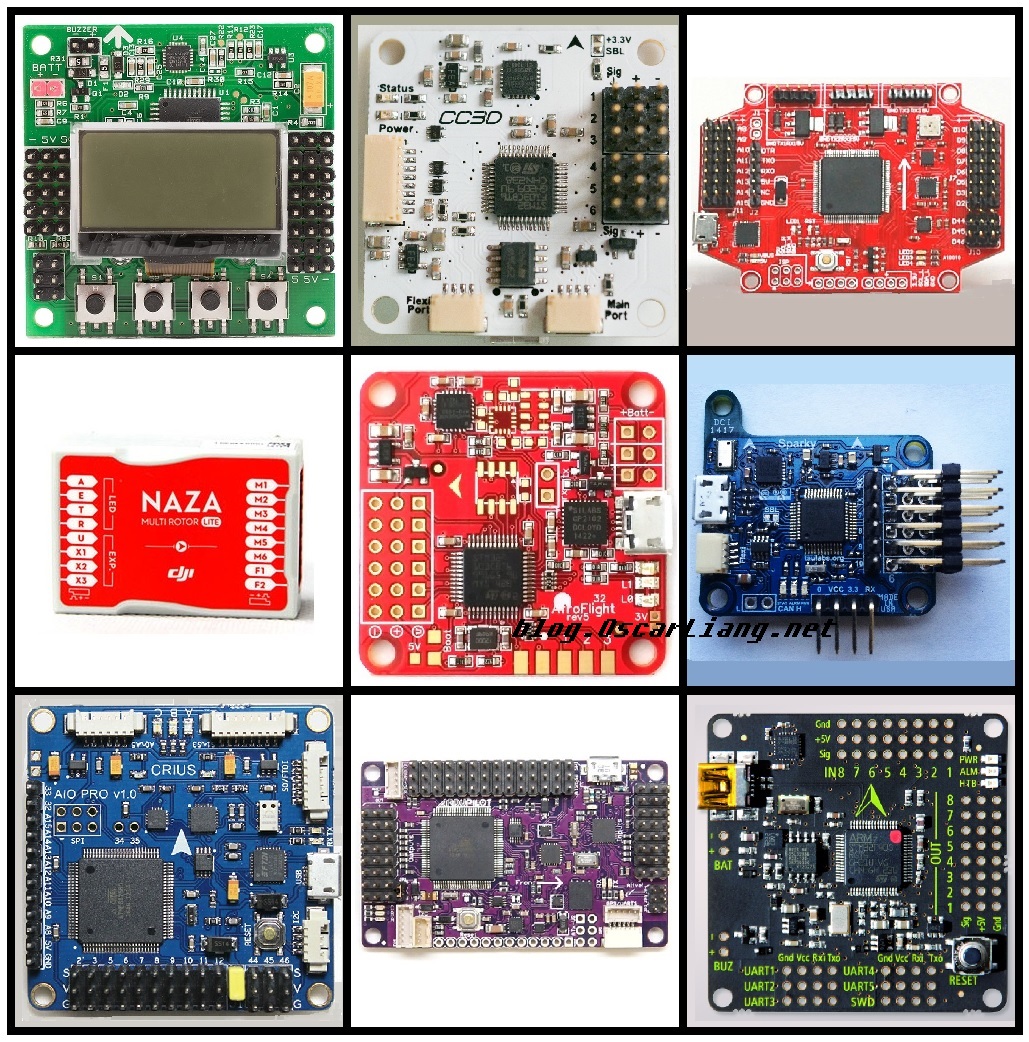 The number of mini quad flight controllers on the market can be overwhelming for beginners. This guide aims to explain the important factors in choosing the next flight controller for your quadcopter, FPV mini quad or racing drone.
If you are new make sure to check out our mini quad and racing drones guide for beginners.
Index of Content
---
What is a Quadcopter Fight Controller
A flight controller (a.k.a FC) is the brain of the aircraft, which is basically a circuit board that has built-in sensors that detects orientation changes. It also receives user commands, and controls the motors in order to keep the quadcopter in the air.
Nearly all flight controllers have basic sensors such as Gyro (Gyroscopes) and Acc (Accelerometer). Some FC might include more advanced sensors such as Barometer (barometric pressure sensors) and magnetometer (compass).
Flight controller is also a hub for many other peripherals, such as GPS, LED, Sonar sensor etc.
Flight controllers for quadcopters are rapidly evolving: smaller, using better processors and hardware and getting more and more features integrated.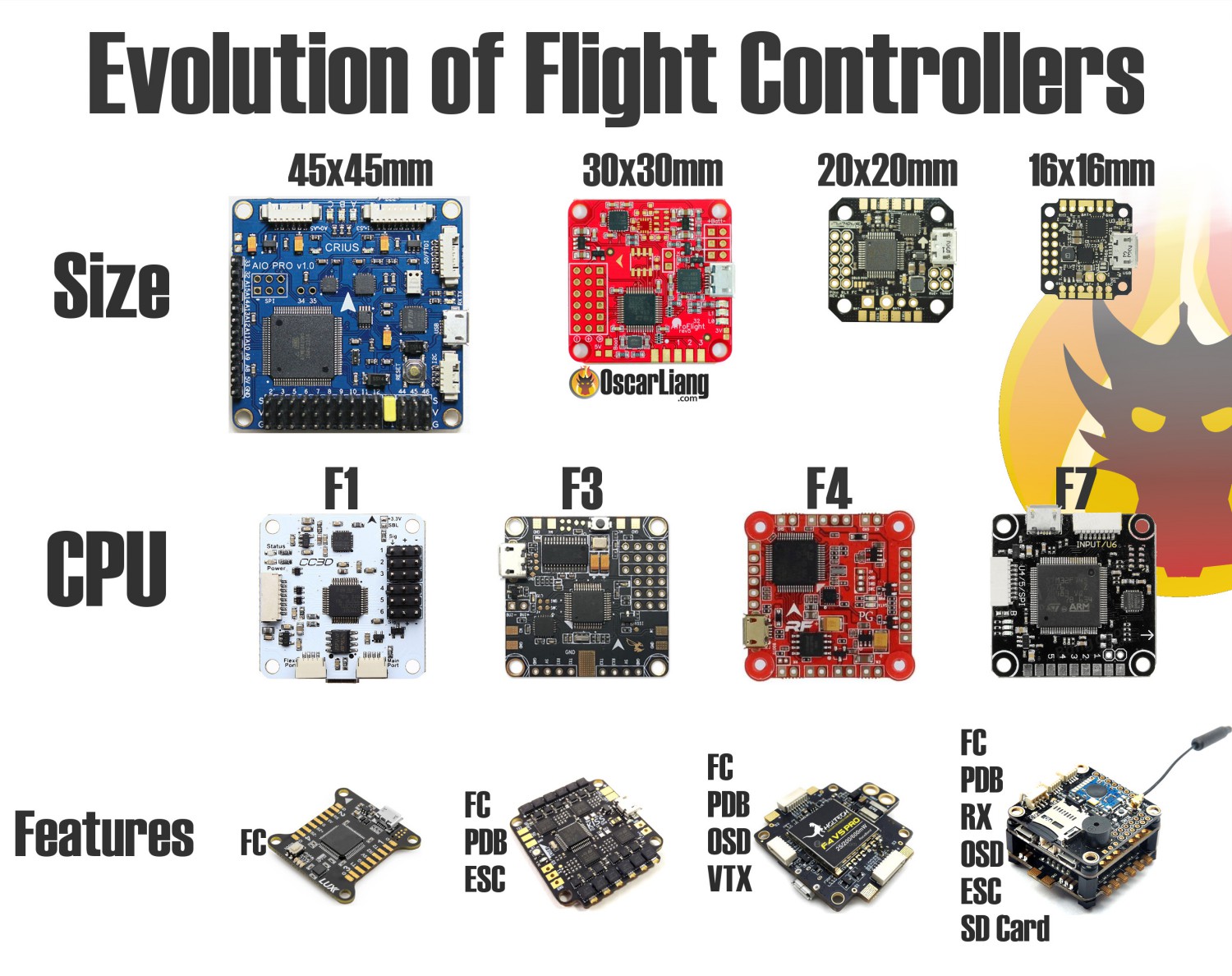 ---
FC Firmware
Apart from the difference in hardware, they might also use different firmware that are specialized in different applications.
Modern FC firmware normally can be configured via software on a computer or smartphone. "Tuning" is the term we use in the multirotor hobby when we change PID, rates and other configuration settings, and it changes how the multirotor performs. The GUI and parameters are different from firmware to firmware, so there is certain level of learning curve getting into each of them.
Here is a list of popular FC firmware available for mini quad. If you are totally have no clue which one to choose, my recommendation would be Betaflight, Raceflight and KISS. These all have excellent flight performance and you cannot go wrong with any of them.
Once you have picked a flight controller firmware, you can then look at what controller boards are compatible.
---
How To Choose a Flight Controller for Mini Quad
Here are a list of considerations when picking up a mini quad FC.
Processor
Currently, you have 4 main types of CPU to choose from: F1, F3, F4 and F7. We recommend getting a F3 or F4 FC for now, as we have reached the limit of F1, and F7 FC are still new and needs time to be improved.
| | | | |
| --- | --- | --- | --- |
| F1 | F3 | F4 | F7 |
| 72MHz | 72MHz | 168MHz | 216MHz |
To learn more about the differences between F1, F3, F4 and F7 processors make sure to check out this article.
Number of UART's and Inverters
UART is the hardware serial port that allows you to connect external devices such as digital receiver (SBUS and Spektrum), OSD, SmartPort Telemetry, Race Transponder, VTX control etc. Each UART has 2 pins, TX is for transmitting data and RX for receiving data.
The UART count depends on the type of processor and the board design, for example, F1 FC normally has 2 UART's, while F3 and F4 can have between 3 to 5 and F7 can have 8 or more.
UART stands for Universal Asynchronous Receiver/Transmitter.
| | | | |
| --- | --- | --- | --- |
| F1 | F3 | F4 | F7 |
| 2 UART's | 3-5 UART's | 3-5 UART's | 8+ UART's |
Because for some reason, Frsky SBUS and SmartPort signals are inverted, and therefore it requires an inverter in the UART's to read these signals.
F1 and F4 FC normally have none or very limited number of built-in inverters, and Frsky radio users could run into problems with these boards. There are workaround for this, e.g. using external inverter, or getting uninverted signal from the RX. F3 and F7 do not have this problem and all of their UART's have built-in inverters, so they work out of the box.
However in the case of running out of hardware serial ports, you can use the feature "soft-serial" which is a way of emulating UART port using software. The downside of this is the lower baud rate (update rate), and putting more load on your CPU. Therefore this is not recommended for timing critical tasks such as your receiver.
Gyro: the type of IMU and BUS
The IMU sensor used on a flight controller can be found in the following list. The job of an IMU sensor is to measure the quadcopter's movement and orientation.
| | | |
| --- | --- | --- |
| IMU | Possible Communication Protocol (BUS) | Max. Effective Gyro Sampling Frequency |
| MPU6000 | SPI, i2c | 8K |
| MPU6050 | i2c | 4K |
| MPU6500 | SPI, i2c | 32K |
| MPU9150 | i2c | 4K |
| MPU9250 | SPI, i2c | 32K |
| ICM20602 | SPI, i2c | 32K |
| ICM20689 | SPI, i2c | 32K |
There are two main properties of IMU we need to consider in a flight controller: max sampling rate, and how susceptible to noise they are (both electrical and mechanical noise).
Currently the most widely used IMU is the MPU6000 as it supports up to 8KHz sampling rate, and proven to be one of the most rubust IMU against noise. The general consensus is to avoid MPU's including MPU6500 and MPU9250 which are noisier despite the higher sampling speed.
Soft mounting your FC and adding low ESR capacitor to your flight controller might help reduce noise getting to Gyro.
SPI and i2c are the types of "BUS", or communication protocol used to connect the IMU sensor to the processor. It can have a significant impact on the effective sampling rate and therefore the maximum flight controller looptime. The preferred BUS is SPI, which allows you to run Gyro at a much higher refresh rate than I2C which has a limit of 4KHz.
Note that MPU9150 is effectively the MPU6050 with integrated AK8975 magnetometer, while the MPU9250 is the MPU6500 with the same magnetometer.
More and more FC now starting to use the ICM20602, for example the Raceflight Revolt V2, as well as the ICM20689 on the Kakute F4. They can both run at 32KHz, however it's reported that these IMU are more susceptible than the older MPU6000 therefore these FC's generally require soft-mounting.
The MPU chip model number can be found on the flight controller, for example this Invensense MPU-6000.
Flash Memory or SD Logger for Blackbox
Onboard flash memory are used to store blackbox data, which can be used to tuning and troubleshooting. Flash memory is more convenient and cheaper to use, but it's extremely slow to download data, and size (2MB to 16MB) is often limited to 2 to 4 mins of flying.
Many flight controllers these days comes with built-in "Open Logger" which allows you to insert your SD card and record blackbox data. A 2GB card is enough for days of recordings.
If your FC doesn't have flash memory or SD logger, you can also just get an external logger and connect it to your FC via serial port.
Connector Types
I personally would avoid plastic JST connectors as they are less durable although they allow you to connect/disconnect more easily. I like solder pads, but sometimes with low quality boards, they tend to tear out when stressed or overheated with solder iron. I also like "through-holes" which gives you the option of direct soldering or using header pins.
Integrated Voltage Regulator
With voltage regulator integrated in the flight controller, it can be powered directly from LiPo battery, or even provide 5V even 12V voltage outputs for other gear. It also means the FC can monitor your battery voltage too without extra VBAT wiring.
Integrated PDB
When PDB is integrated into the FC as one board, your ESC and LiPo battery can be connected directly to the FC and no additional PDB or wire harness is required (one board vs 2 boards). But the downside is usually the tiny soldering pads on the FC that is extremely hard to work with given the tight space.
Integrated Current Sensor
Having a current sensor has been proven invaluable: it's a much better indicator than VBAT for when you should land and great tool for testing.
More about current sensor and calibration.
Boot Button
A boot button (or bootloader button) can put FC into bootloader mode when pressed. This allows you to "force" flash firmware in case normal firmware flashing doesn't work  (why use bootloader button on FC).
Originally FC's provide 2 solder pads for you to bridge when bootloader mode is required. With a boot button it makes it so much easier.
Other features you might find on flight controllers
Integrated OSD – anyone who has worked with MinimOSD knows what a PITA it is to setup, if you like OSD this feature is a must have
Integrated VTX – the main benefit of it is the overall weight saving and compactness, some even allows you to change VTX settings directly from your FC
Barometer/Mag (compass) – these extra sensors are less important for racers and mini quad
RX Support – make sure the FC support the type of radio receiver protocol you plan to use, such as PWM, PPM, SBUS, Spektrum Satellite and so on
AIO options – "All in one" flight controller has everything necessary built into one single board, such as FC, ESC, PDB, RX and so on. The downside is if something fails, it's more likely that you'd have to replace the whole setup
Infrared transponder support – allows you to use IR detectors with the FC directly to measure your lap time in some race events
Flight Controller Choices
For a more up to date list for mini quad targeted FC, check out my mini quad parts list: https://oscarliang.com/250-mini-quad-part-list-fpv/#fc
For recommendation here are a list of top 5 FC that were voted by our community: https://oscarliang.com/top-5-best-fc-mini-quad/
Edit History
Dec 2014 – Article created
Nov 2016 – Added choices of flight controller firmware, updated FC features
Feb 2017 – Updated Processor and Gyro types
Apr 2017 – Added "FC Evolution" infographics, Updated MPU types