Let's check out the new Betaflight BLHeli_32 ESC – BetaBees! This Betaflight branded BLHeli_32 ESC is a collaboration between FPVModel, Betaflight, Airbot and BLHeli.
Some of the links on this page are affiliate links. I receive a commission (at no extra cost to you) if you make a purchase after clicking on one of these affiliate links. This helps support the free content for the community on this website. Please read our Affiliate Link Policy for more information.
The design looks very similar to the Airbot Wraith 35A (BLHeli_32), but with additional filtering capacitors on the power line. To learn more about ESC, check out this guide.
Pre-order is now available at FPVModel.
Spec and Features
Voltage Rating: 2S-6S
Current Rating (burst): 35A (45A)
TX pin available for future Telemetry support (connect to FC and you would get current sensing, motor RPM, ESC temperature etc)
DShot1200 support
Programmable RGB LED
Weight: 4.6g
Unboxing
It comes with electrical wires, 20AWG for signal/signal gnd, 16AWG for power. All these wires are 10cm long.
Closer Look
Here are some close-up shots of the Betaflight BLHeli_32 ESC.
I love the PWM signal and ground pads sticking out and the generous space of the solder pads for power, making this ESC much easier to solder and work with. All the solder pads are available on both sides too.
To access the settings on the Betaflight BLHeli_32, I had to download the latest BLHeliSuite32. It's loaded with BLHeli_32 V32.1.
Configurable RGB LED
As you can see in the BLHeliSuite GUI, there is an additional setting which is "LED Control". This is used to configure the colour of the LED on the ESC.
At the moment, it's not doing anything fancy, it's simply just a On/Off indicator: when the ESC is being powered the LED turns on. I hope it can do more in the future, for example, error indication, it flashes red light when ESC overheats; or throttle indicator, it flashes faster/slower depends on throttle level…..
You have a choice of 6 different colours by using the 3 RGB colours or mixing them. You can also turn the LED off by switching off all the colours.
As shown in the following photo, when I mix "blue" and "red", I get purple. It's a pretty bright LED! :)
ESC Dimension
Length: 37mm (including the signal tab), 34mm (excluding the signal tab)
Width: 16mm
Height (thickest part): 7mm
ESC Telemetry Connection to Flight Controller
Connect the "TX" pin on all the ESC's to the same UART "RX" pin on the flight controller, and enable "ESC telemetry in the port tab in Betaflight Configurator.
I really wish FPVModel can move the telemetry pad closer to the signal output and make the pad a little bigger for easier soldering.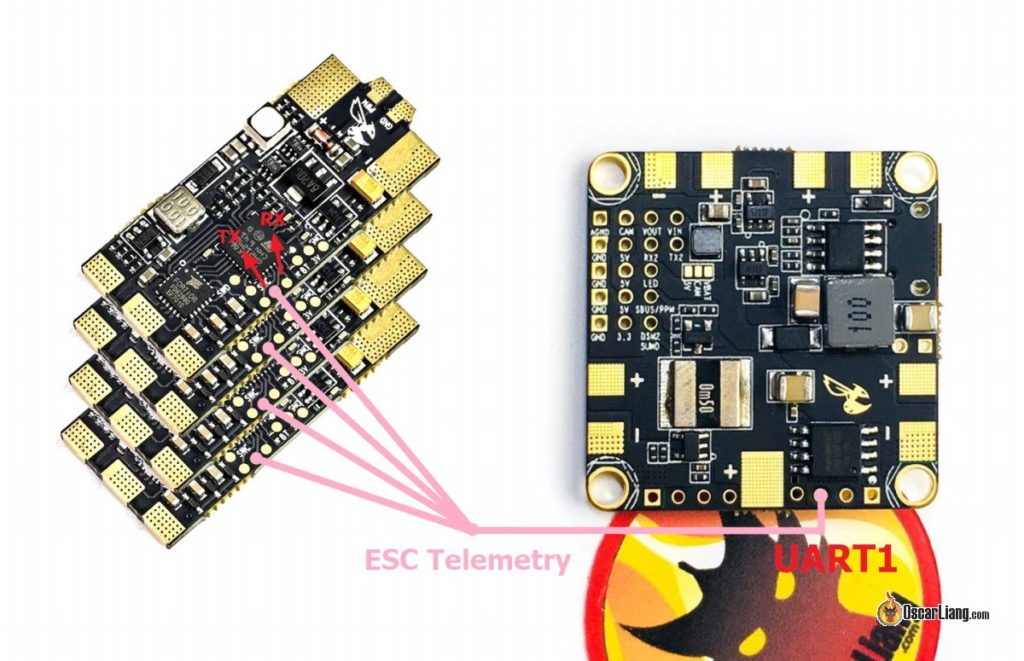 Quadrant or Betaflight ESC?
I will be testing these ESC's on my mini quad to replace the existing Quadrant BLHeli_32 ESC's.
Comparing the Betaflight ESC's and the Quadrant, I don't expect there would be a noticeable difference in performance. The Quadrant are designed to be flexible and can be used as a 4in1 or standalone ESC's. But because of the pin layout, it isn't the easiest to use as standalone ESC's mounting on the arms, also the wiring could get a bit messy because of that. They also don't come with any electrical wires which was a bit disappointing.
The Betaflight BLHeli_32 ESC's addresses all these issues: it has much better pin layouts, pads are very easy to solder and work with, comes with wires, and the RGB LED is just a great addition.
I will come back and update this review when I finish setting up and testing them.