In this tutorial I will show you how to connect BLHeli_32 ESC's to computer through "FC pass-through", and how to download and use BLHeliSuite_32 to flash BLHeli32 firmware and configure ESC settings.
Check out this article if you are new to BLHeli_32, it gives you an overview of the firmware.
Table of Contents
Download Software
The software we are going to use to configure our BLHeli_32 ESC is called "BLHeliSuite32". There's a different configurator called BLHeliSuite which is for BLHeli_S ESC, don't download the wrong one, or it won't work.
Download the latest BLHeliSuite32 configurator here: https://github.com/bitdump/BLHeli
The link is in the "READ ME" section at the very bottom of the page. Every time there's a new firmware you have to download a new BLHeliSuite32 configurator as well.\
Connecting ESC to FC
We will be using our flight controller (FC) as a programming tool to access your ESC's in order to flash its firmware and change configurations easily. This
This is called "FC pass through", a feature of Betaflight.
Just leave the ESC connected to the FC, plug in the LiPo to power the ESC's, and plug in the USB cable to the FC, and that's it! You do not need to change any wiring.
Configuring ESC in BLHeliSuite32
REMOVE Propellers before continuing.
Power ESC with a LiPo battery, and plug in the USB cable to the FC.
In the BLHeliSuite32 configurator, click "Select BLHeli_32 interface" in the top menu, and select the option "BLHeli32 Bootloader (Betaflight/Cleanflight)".
At the bottom left of the program, choose the COM port of your flight controller in "Port", leave Baud Rate at default (115200), and click "Connect".
Once it's successfully connected, click "Read Setup", or "Check" and your ESC settings will be populated. If you get a warning, check the FAQ section.
You can now change settings as you see fit. In this article I explained the relevant BLHeli_32 settings for FPV drones.
The ESC's you are working with are numbered.
ESC #1 should be blue, it means it's the "master ESC". If you make a change to the "master ESC", and press the button "Write Setup", the settings will be copied over to all the "slave ESC's" (2, 3 and 4 in this case).
ESC #2, #3 and #4 should be either green or orange – green means they are the "slave ESC" with exactly the same settings as the master. If they are orange, it means they have one or more different settings.
All four ESC's should ideally have the same settings. If you see an orange number, you should be careful and check. The only exception is "Motor Direction", sometimes we want to reverse the motor rotate direction. So in this case it's normal to see an orange number.
You can un-select an ESC you don't want to change, just click on an ESC number and it will disappear.
Oh, and this is how to use the "Music Editor" so your ESC sings a little song when powered up.
Flashing BLHeli_32 Firmware
When flashing firmware, make sure your computer is connected to the internet! BLHeli32 checks online whether your ESC is legit or not. But changing settings is totally fine without internet, so you can still configure it in the field.
Make sure your ESC's are indeed BLHeli_32 compatible. Mistakenly flashing BLHeli_S ESC with the 32-bit firmware can "brick" your ESC.
REMOVE propellers before continuing…
Connect your ESC's to BLHeliSuite32 program as I showed you earlier:
plug in a fully charged LiPo (losing power during flashing is bad)
plug in USB cable to FC
choose the right COM Port, and hit "Connect"
After it's connected, click the "Read Setup" or "Check" button. Here you will see the names of your ESC, and firmware version they are on.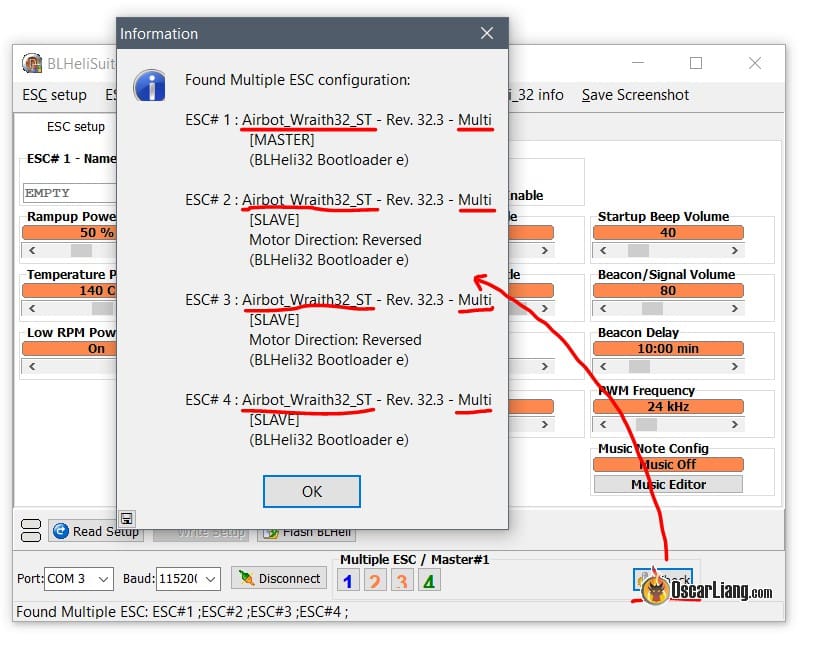 Before flashing, Back up your settings! Do this by taking some screenshots for each ESC.
In BLHeliSuite32, click "Flash BLHeli", and click the button "OK".
You will be prompted if you want to flash this firmware, click "Yes"
And the flashing will begin, which will take about 30 seconds for each ESC. Do not unplug battery during flashing, it can brick your ESC! That's why it's a good idea to make sure you use a fully charged LiPo for this.
When the firmware flashing is done, the program will ask if you want to write current settings to the ESC, click Yes if you want to retain your previous ESC configuration.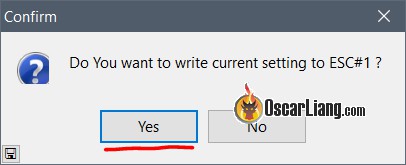 When this is done, it will move on to the next ESC. Repeat the same steps you just did until all 4 ESC's are updated.
The latest version of BLHeliSuite32 offers the option to flash all four ESC's at once. Just go to the ESC Flash tab, select all four ESC's and click "Flash Selected ESC".
When it's done, click "Disconnect" in BLHeliSuite32, unplug your battery and plug it back in to restart your ESC's. Press the "Check" button again to confirm the version numbers. (firmware version in screenshot below is outdated)
Check your ESC settings and make sure they are correct, such as motor direction and other parameters.
FAQ
I can't connect to my BLHeli_32 ESC with FC pass-through even with the latest BLHeliSuite32 app. My FC is loaded with the latest BF firmware. However I can connect to other ESC (not 32bit) without problem with the old BLHeliSuite.
Your FC probably has an older Betaflight firmware prior to V3.2. Update your FC with latest BF firmware and try again.
---
I am getting an error when trying to flash new firmware: "Unable to establish server connection!".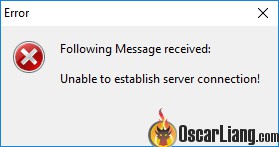 This error occurs when you have no working internet connection on your computer.
BLHeliSuite32 checks if your BLHeli32 ESC's are genuine before flashing new firmware to them. No internet, cannot check, and thus it fails.
---
I am getting an error "Initialization of serial 1wire passthrough or 4way interface failed! Please check Betaflight revision for support of serial 1wire passthrough or 4way interface!"

I was also getting this error when using my Naze32 (F1) flight controller, even with the latest Betaflight installed. I had no way around this error, and I had to use a F3 FC in the end. Maybe BLHeli32 passthrough is not supported in F1 FC's.
Edit History
Jun 2017 – Article created
Jan 2018 – Added steps how to flash ESC
Nov 2018 – Updated link to download BLHeliSuite32
Feb 2019 – Updated instructions and screenshots to the latest BLHeliSuite interface
May 2020 – You can now flash all four ESC's at once, added screenshot