The Tornado T2 2206 motor is a new product from Brotherhobby. In this review we will be taking a close look at the 2600KV version, and compare the performance with some other motors of the same class on a thrust stand.
Some of the links on this page are affiliate links. I receive a commission (at no extra cost to you) if you make a purchase after clicking on one of these affiliate links. This helps support the free content for the community on this website. Please read our Affiliate Link Policy for more information.
The T2 2206 motors are provided by BrotherHobby, the review is written by KonradS (IntoFPV)
To learn the considerations in choosing a good mini quad motors, read up on our motor for quadcopter guide.
Motor Spec
Stator Size: 2206
KV: 2600
Weight: 30.8g (stock wiring)
Physical Dimension (height x radius): 32mm x 27.5mm
Metal Material: 7075 Aluminum
Lipo Battery Rating: 3S, 4S, 5S
We've already tested its older brother – the 2205 T1 2600kv motor. This one is very similar in appearance and build quality. Motor bell and base are made of 7075 aluminium that is very nicely cut. The coils are also wound up very neatly. The unique cooling fin design is also visible in this model, which in theory should keep this unit cool during flight.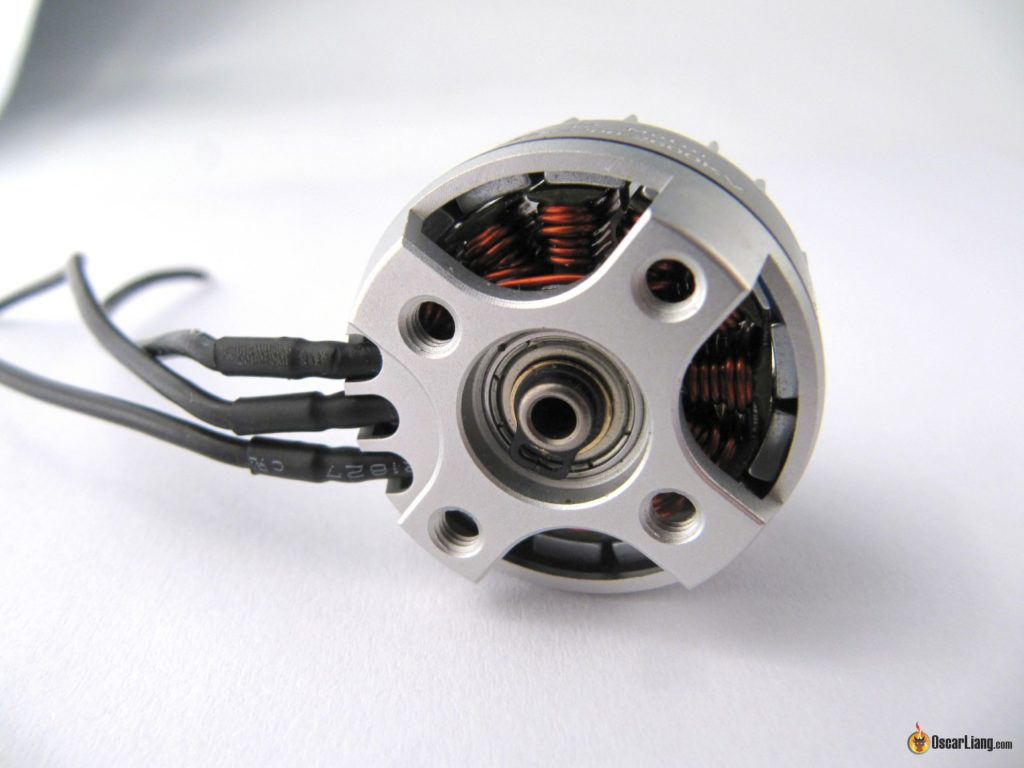 Unboxing
The motor comes in a simple small box together with one light weight and low profile lock nut  (nylon nut) and four M3 mounting Hex screws.
The motor spins smoothly when spun by hand, blue balancing goo is visible inside the motor bell. Lower part (about 3mm) of the motor shaft is hollow. The shaft is held inside the bell with a c-clip, which I don't personally like – it's hard to pull out without damaging it. I personally prefer clips such as those used on ZMX motors – they make entire unit more serviceable. There is also a single grub screw holding inner shaft in the bell.
Tolerances inside the motor are very tight. Brotherhobby is using arced N52H permanent magnets, it should provide more power than normal rectangular "slabs" used on older motors. We are going to find out how good they are on a thrust stand in the next section.
Thrust tests
Props

%

Peak Thrust – g

Peak Current – A

Max Power – W

Efficiency – g/W

Kingkong 5040

50

394

7.0

116.8

3.4

100

1272

34.2

545.9

2.3

DAL 5040×3

50

392

6.5

108.6

3.6

100

1206

28.0

452.3

2.7

DAL5045

50

357

5.7

94.1

3.8

100

1117

26.1

419.1

2.7

Gemfan 5040×3

50

467

7.3

122.4

3.8

100

1353

33.1

528.8

2.6

Gemfan 5045BN

50

467

7.3

122.4

3.8

100

1385

34.9

563.7

2.5

DAL 5045×3 HBN

50

512

8.5

140.8

3.6

100

1464

39.9

631.7

2.3
Please only use the above measurements as a comparison/reference of performance between motors. You can find other tests conducted on the same thrust stand here:
RCX SE2205 2400KV
ARRIS D2205 2300KV
Note: this time I had to conduct the test on a different ESC – the Racerstar MS35A. When running this motor with my old F330 Littlebee 20A, it was making some rough noise when spinning. At full throttle it was not instantaneous as it was ramping up very long.
Conclusion
Pros
Good quality, smooth and powerful motor
It wasn't getting hot, even on DAL 5045×3 HBN – looks like cooling fin design is doing the job
Tight tolerances + arced magnets = pure power :)
Cons
(wuss mode on) The cooling fin design is very efficient, but my hand hurts when I was holding the motor bell and trying to remove the prop nut (wuss mode off)
These powerful motors are battery killers :)
I had pleasure flying these motors for a few flights so far – my ESC's tend to reset themselves when pushing the limit. But those few moments were very pleasant – here's a short, smooth ride with KK5040 props, until the ESC reset hit me:
Author: Konrad Stepanajtys