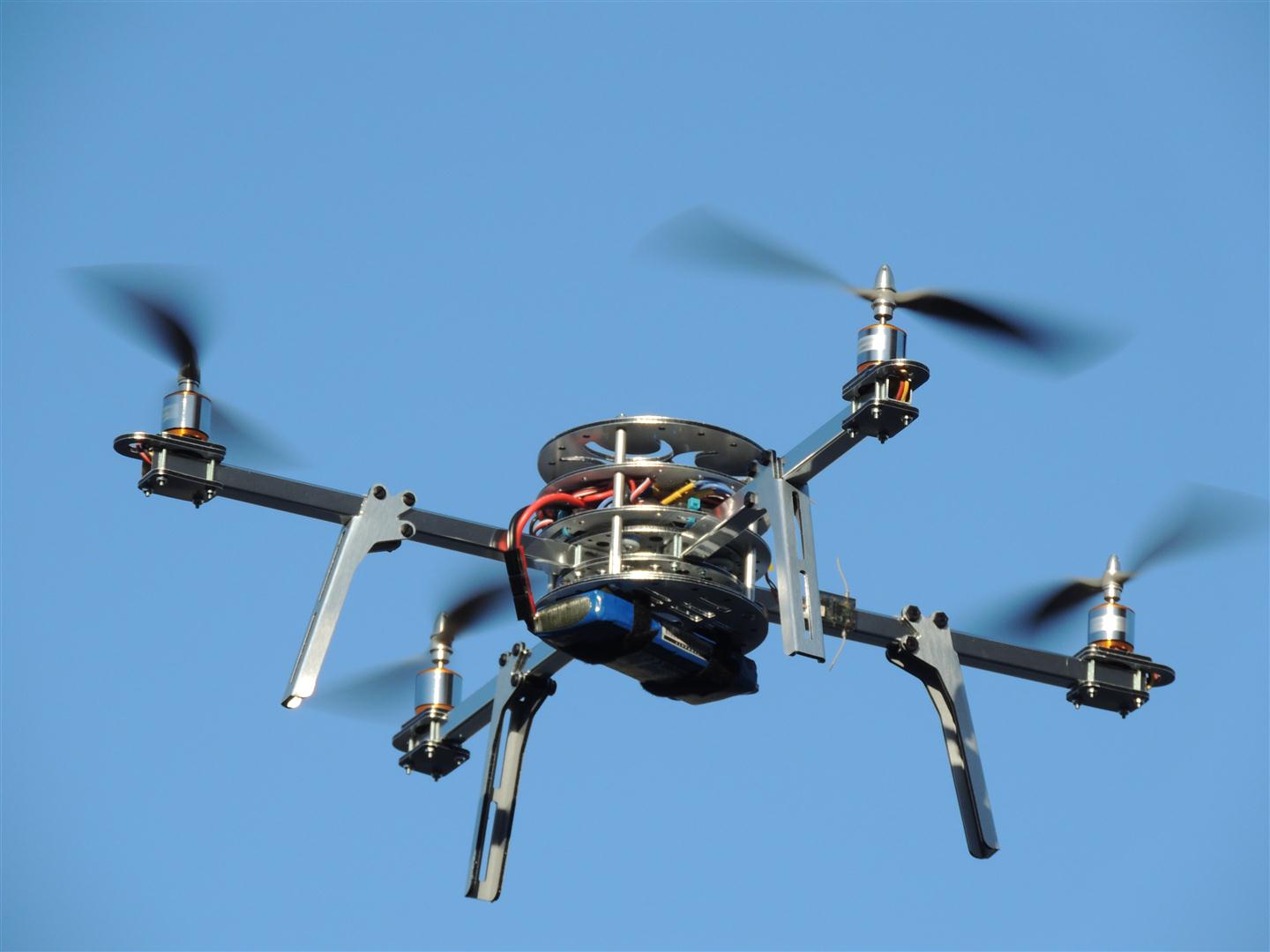 This article explains the anatomy of a quadcopter, and what each component does in a quadcopter. This tutorial is an essential part of learning how to build a quadcopter from scratch.
How To Build A Quadcopter – Choosing Hardware
If you are planning on building a quadcopter but not sure where to start, you might find this guide useful. Building a quadcopter from scratch takes a lot of time and effort, the hardest part would probably be the the software programming part. It's a lot easier and cost effective to use existing open source projects, or even simply pick up a flight controller that is already mounted with software ready to go.
My interests has mostly on mini quads, the ones that are used for racing and free-style flying. Here is a guide on how to get into building/flying a mini quad.
This blog post is divided into a 2 sections
What is a quadcopter
How does a quadcopter fly?
Going through each component on a quadcopter
What is a quadcopter?
A quadcopter is a type of multicopters. A quadcopter has some similarity to helicopters in terms of how they work, but with four rotors so it's also sometimes known as quadrotors. Because of its unique design comparing to traditional helicopters, it allows a more stable platform, making quadcopters ideal for tasks such as surveillance and aerial photography. And it is also getting very popular in UAV research in recent years.
Quadcopters exist in many different sizes. From as small as the size of your palm, to something big enough to carry a passenger.
How does a quadcopter fly?
On a regular helicopter there is one big rotor to provide all the lifting power and a little tail rotor to offset the aerodynamic torque generated by the big rotor (without it, the helicopter would spin almost as fast as the propeller).
Unlike a helicopter, a quadrotor has four rotors that all work together to produce upward thrust. Each rotor provides 1/4 of the lift, so we can use cheaper and less powerful motors. The movement of a quadcopter is controlled by varying the relative thrusts of each rotor.
These rotors are typically aligned in a square, two on opposite sides of the square rotate in clockwise direction and the other two rotate in the opposite direction. If all rotors turn in the same direction, the craft would spin just like the regular helicopter without tail rotor (if you are not sure what I mean, check out this video). Yaw is induced by unbalanced aerodynamic torques. The aerodynamic torque of the first rotors pair cancelled out with the torque created by the other pair that rotates in the opposite direction, so if all four rotors apply equal thrust the quadcopter will just stay in the same direction.
To maintain balance, the quadcopter must be continuously taking measurements from the sensors, and making adjustments to the speed of each rotor to keep the body level.
Usually these adjustments are done autonomously by a sophisticated control system on the quadcopter in order to stay balanced. A quadcopter has four controllable degrees of freedom: Yaw, Roll, Pitch, and Altitude. Each degree of freedom can be controlled by adjusting the thrusts of each rotor.
Yaw (turning left and right) is controlled by turning up the speed of the regular rotating motors and taking away power from the counter rotating; by taking away the same amount that you put in on the regular rotors produces no extra lift (it won't go higher) but since the counter torque is now less, the quadrotor rotates around yaw axis as explained earlier
Roll (tilting left and right) is controlled by increasing motor speed on either the left or right side, and lowering on the opposite ones
Pitch (tilting forward and backward, similar to nodding) is controlled the same way as roll
For example, to roll or pitch, one rotor's thrust is decreased and the opposite rotor's thrust is increased by the same amount. This causes the quadcopter to tilt. When the quadcopter tilts, the force vector splits into a horizontal component and a vertical component. This causes two things to happen: first, the quadcopter will begin to travel opposite the direction of the newly created horizontal component; Second, because the force vector has been split, the vertical component will be smaller, causing the quadcopter to begin to fall. In order to keep the quadcopter from falling, the thrust of each rotor must then be increased to compensate.
This illustrates how the adjustments made for each degree of freedom must work together to achieve a desired motion. And this is all done by the flight controller, all we polits on the ground only need to tell the quadcopter which way to go, or spin using a radio transmitter :) More advanced drones are even equipped with GPS and additional hardware/software to perform autonomous flights.
Quadcopter's Components
Before I got into multirotors, I thought these machines were sophisticated electronics that only smart people with a PHD degree can understand. But it turned out the anatomy of a quadcopter is very easy to understand, even for me.
A quadcopter consists of the following essential parts:
Frame – The structure that holds all the components together. They need to be designed to be strong, rigid and lightweight
Motors – brushless or brushed DC motors can be used on multirotors, they can provide the necessary thrust to lift the aircraft
ESC (electronic speed controller) – each motor is controlled by a separate ESC
Propellers
Battery – Power Source
Flight Controller
RC Transmitter/Rceiver
Optional parts
Frame
Frame is the structure that holds all the components together. The Frame should be rigid, and able to minimize the vibrations coming from the motors.
A basic quadcopter frame consists of the following parts:
The center plate where the electronics are mounted
Four arms mounted to the center plate (aka booms)
Popular materials for quadcopter frames are:
Carbon Fiber
Aluminium
Wood, such as Plywood or MDF (Medium-density fibreboard)
Plastic
3D printing such as PLA
Carbon fiber is probably the most popular choice due to its strength, excellent rigidity and light weight.
Hollow aluminium square rails is also popular for larger quadcopter arms because of its relatively light weight, rigidness and affordability. However aluminium could suffer from motor vibrations, as the damping effect is not as good as carbon fiber. In cases of severe vibration problem, it could mess up sensor readings.
Wood material such as MDF plates could be cut out for the arms as they are better at absorbing the vibrations than aluminium. Unfortunately the wood is not a very rigid material and can break easily in crashes.
The size of a quadcopter normally refers to as "motor-to-motor distance" or "wheelbase". This is the distance between 2 diagonal motors. The motor to motor distance affects what size propellers you can use. Make sure you have enough space between the propeller and hardware, and that they don't get caught by each other.
Brushed Motors
Brushed motors are basically DC motors. Those used in quadcopters are normally lighter than the brushless and they are often used in lower power builds. They are cheaper to replace, but have a much shorter lift cycle.
Brushless Motors
A little background of Brushless motor. They are a bit similar to normal DC motors in the way that coils and magnets are used to drive the shaft. Though the brushless motors do not have a brush on the shaft which takes care of switching the power direction in the coils, and this is why they are called brushless. Instead the brushless motors have three coils on the inner (center) of the motor, which is attached to the motor base.
On the outer side it contains a number of magnets mounted to a cylinder that is attached to the rotating shaft. So the coils are fixed which means wires can go directly to them and therefor there is no need for a brush.
Generally brushless motors spin in much higher speed and use less power at the same speed than DC motors. Also brushless motors don't lose power in the brush-transition like the DC motors do, so it's more energy efficient.
Brushless motors come in many different varieties, where the size and the current consumption differ. When selecting your brushless motor you should take care of the weight, the size, which kind of propeller you are going to use, so everything matches up with the current consumption.
I have written a more complete guide on how to choose Motor: https://oscarliang.com/quadcopter-motor-propeller/
Propellers
To learn the basics of propellers, here is a guide: https://oscarliang.com/choose-propellers-mini-quad/
You might or might not have noticed, the 4 propellers on a quadcopter are actually not identical. You will see that 2 propellers have different directions. This is because 2 rotors rotates in the opposite directions to the other two.
The propellers come in different diameters and pitches (tilting). You would have to decide which one to use according to your frame size, and when that decision is made you should chose your motors according to that.
To learn about what effects the type of material have, on flight performance, check out this post.
ESC – Electronic Speed Controller
ESC described here are for brushless motors. Brushed motors can be driven simply by power transistors which are normally built into the flight controller.
The brushless motors are multi-phased, normally 3 phases, so direct supply of DC power will not turn the motors on. That's where the Electronic Speed Controllers (ESC) comes into play.
The ESC generates three high frequency signals with different but controllable phases continually to keep the motor turning.
ESC is connected to the flight controller, and controlled by a PPM signal (similar to PWM). When selecting a suitable ESC, the most important factor is the current rating.
Here is a ESC selection guide for racing drones, which is partly relevant.
Battery
LiPo batteries are the power source of the quadcopters, LiPo is used because it has high energy density, and high discharge rate. In the old days, NiMH was also used, because they were more widely available and cheaper, however they are also a lot heavier than LiPo batteries.
To learn about the basics of LiPo batteries: LiPo Battery Beginner Guide for Drones and Quadcopters
This tutorial about battery I found very informative. I did a math model to estimate the flight time, which you might find interesting.
Flight Controller
Flight Controller (FC) is probably the most important piece of hardware in your quadcopter.
To learn more about FC: Choose Flight Controller for Quadcopter
Inside a FC, there is the sensor, which is known as the Inertial Measurement Unit (IMU). IMU is an electronic sensor device that measures the velocity, orientation and gravitational forces of the quadcopter. These measurements allow the controlling electronics to calculate the changes in the motor speeds. The IMU is a combination of the 3-axis accelerometer and 3-axis gyroscope.
The accelerometer measures acceleration and also force, so the downwards gravity will also be sensed. As the accelerometer has three axis sensors, we can work out the orientation of the quadcopter.
A gyroscope measures angular velocity, in other words the rotational speed around the three axis.
If you love challenges, you can attempt to build a DIY FC, such as using Arduino to build your own flight controller.
RC Transmitter
Optional Components
Other optional components for quadcopters are GPS modules, ultrasonic sensors, barometers etc. They can enhance the performance of your quadcopter, and bring in more features. However, you will need to make sure your flight controller supports these additional hardware.
A GPS module talks to the satellite and retrieve location information. We can use this information to calculate speed and path. GPS is essential for long range outdoor autonomous flights.
An ultrasonic sensor measures the distance between he aircraft and the ground, i.e. altitude. This is useful if you want to keep your copter away from the ground at a certain distance without manual control.
Ultrasonic sensors has a height limit, so you want measure higher altitude, you might consider a barometer. This sensor measures humidity and pressure to work out the altitude, so when the quadcopter is close to the ground (where these two factors doesn't change much), it becomes ineffective. Therefore it is also common to use both of them at the same time to achieve best result.
Multirotor build examples
Now you have an understanding of what components there are, and what they do, you can now take a look at some quadcopters that people have built. Multicopter Examples Page
Conclusion
Hopefully this article has given you a better understanding how a quadcopter work, and what hardware is in a quadcopter. To learn more about flying a Quadcopter, see this beginner guide about control.
Please do not hesitate writing a comment or giving us some feedback on this article. The next post will be about the software side of the quadcopter.
Article created in Jun 2013, last updated in Mar 2017.