Chinese Carbon Fibre 250 Mini Quad Frame
250mm size mini quadcopter exploded in popularity this year. Both high end and low end mini quad frames seem to be selling very well. Because of the high demand, there are almost one new frame comes out every month. I reviewed the FPV250 frame not long ago, and this time I am going to try this Carbon Fibre 250 mini quad frame, which look very much like the blackout mini-h frame.
Some of the links on this page are affiliate links. I receive a commission (at no extra cost to you) if you make a purchase after clicking on one of these affiliate links. This helps support the free content for the community on this website. Please read our Affiliate Link Policy for more information.
Some people call this frame the blackout clone, this frame seems to have many names, I am not sure which one is the correct one. Maybe they were made by different manufacturers but with the same design, or maybe branded differently by the re-sellers. You might see them on the market as ZMR250, H250, Mystery 250, QAV250 (there is another mini quad frame I know called the same name) or the C250.
I build a mini quad using this frame, build log.
It was really quick delivery, only took one week sent from China! You can also get spare arms for replacement.
Sellers:
One very important point is, arms from Gearbest has 3mm motor mount screw holes, those of Banggood are 2mm.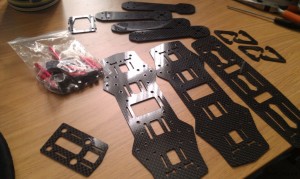 Frame Specification
Size: 220mm diagonally, 175mm wide, 130mm motor-to-motor distance; about 1/2 the size of a regular 450 quadcopter
Maximum Propeller size: 6″
Motor Mount: M2 12mm – 16mm (Tiger MN1806 2300kv, RCX 1804 2400kv), M3 19mm (Tiger MT2206 2000kv, Sunnysky X2204 2300kv)
Flight Controller Mount: 30.5mm x 30.5mm
Board Camera Mount: 32mm x 32mm
Frame weight: 138g
The above information is from my seller, this frame is about 40g lighter than the FPV250 V3 frame, slightly wider, and slightly shorter.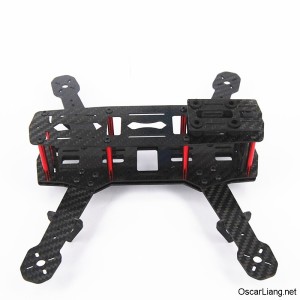 It uses M3 bolts and nuts, apart from the motor mounts can only take M2 bolts. That is inaccurate in the product description where it says it also take M3, it CANNOT! Which is a bugga because I use the Cobra motors and they have M3 bolts. I guess I need to drill the holes to make it bigger.
The main plates are around 1.5mm thick, and the arms are more than 3mm thick.
Close up look of the arm, you can see the layers.
Parts Included
Pictures supplied by my frame seller.
Recommended Component
While not compulsory, it's suggested to use the below parts for this frame. If you are new to this hobby, and have no idea what motors to use or not sure what ESC is, this would be a good starting point.
Propeller : GemFan 5×3
ESC: 12A Blue Series with SimonK firmware
Battery: 3S 1300mah – 1500mah
FPV Camera: SONY Super HAD CCD 600TVL Board Camera w/ 2.8mm lens – Settings to use on camera
Recording Camera: Mobius Action Camera, GoPro Hero Camera
Video Transmitter: ImmersionRC 5.8Ghz Video Transmitter, Boscam 5.8Ghz Vtx
Flight Controller: CC3D Opnepilot, Crius AIO,KK2, Naze32, Flip Pro, Naza Lite
This info is from my seller as well. Of course there are now so many choices when it comes to components, it all comes down to your budget, and personal preference.
Review
This frame seems to be very tough after assembly, the arms seem to be very sturdy, and don't have the flex as the FPV250 frame has. However the arms do look a bit narrower than the blackout arms, and likely to crack in crash.
I think I should replace the metal bolts and nuts with nylon ones, so those nylon screws break first and take some of the impact in a crash.
The millings do look a bit bad.
RCModelReview on Youtube talked about this frame too, and compared it to the blackout minih frame. As you can imagine, the quality difference would be considerable, since this Chinese carbon fibre frame is only 1/5 of the price of the blackout (US$30 vs US$150).
He compared two sample frames, one was very well made, the other one had bad milling which isn't very well cut and drilled. Obviously the quality control isn't there. That might be to do with their cutting machine parts wearing out, to keep the cost and price down they didn't replace them. Maybe that's why you only see this in some of the frames. These "bad quality" frames seem to be only fractional, many people commented on this video actually express positive feedback on this product. He also expressed concerns on the frame plates not being flat.
When it comes to the quality of product, it is not all about where it's made, it's how much you paid for it. Most products nowadays are made in China, from top notch expensive products to cheap craps. It's a stereotype that people always think of Chinese product being crap, while they are only willing to spend so little on it.
Anyway, this seems to be a tough little frame that should last a while. Let's see when and how I managed to break it, and I will report back here!
Frame Stress Test
Not a proper stress test, but I did have a few hard crashes when making this video. It's still in once piece.
Carbon Fiber? Fiber Glass?
On the two frames I received from an eBay Seller and Gearbest, the skin patterns on the frames look different, and the Gearbest frame feels more "bendy" (not as stiff as the eBay one). Both are conductive as Carbon fiber should be, when I put my multimeter probes on the frame surface.
Out of curiosity, I made a very simple comparison by snapping two landing gears (I don't use them anyway), and see what they are made of. Very surprisingly, they look like to be  two different type of materials inside.
This is from eBay Seller.
This is from Gearbest.