The Diatone SP3 VTX is a stackable video transmitter that can be mounted on top of the FC and PDB. In this review we'll discuss the pros and cons after using it in a quadcopter.
Some of the links on this page are affiliate links. I receive a commission (at no extra cost to you) if you make a purchase after clicking on one of these affiliate links. This helps support the free content for the community on this website. Please read our Affiliate Link Policy for more information.
This review is written by Grisha0 (intoFPV). The SP3 VTX was bought by Grisha0 and wasn't sent to him for free (now you know this is going to be a fair review! :) )
Unboxing
VTX comes in a nice package that well protects the electronics. Board itself was vacuum packed in electrostatic protective bag. Beside the electronics you get 2 set of cables needed to connect power and telemetry (which is nice if you break it there is a spare cable). One nice accessory is USB extension cable which you can mount on your quad and have easy access to USB (I didn't need to use it though).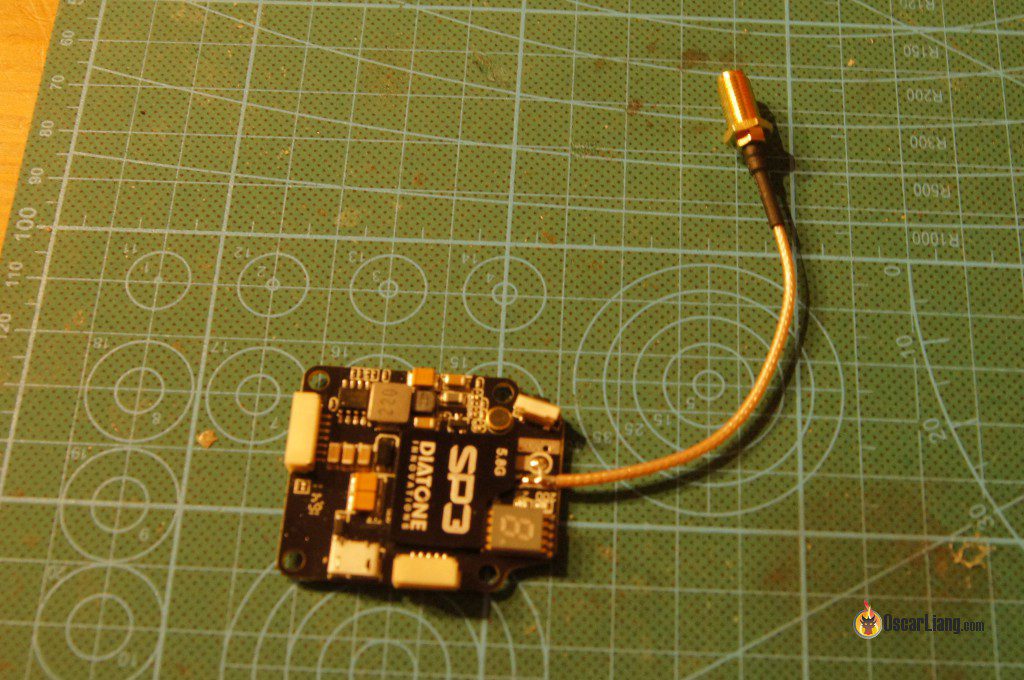 Spec and Features
The Diatone SP3 VTX can be powered directly from LiPo battery up to 25V, and able to output filtered 5V power for the FPV camera.
It comes pre-flashed with MW OSD R1.6, what you need to do is to download the GUI, drivers and you are good to go with configuring your OSD.
The SP3 VTX is designed to be stacked on top of the FC/PDB, and it's a potential space saver and makes quad builds cleaner.
SMA Pigtail (antenna connector)
Operating Voltage: 10V – 25V (input voltage)
5V 300mA voltage output (Filtered)
PAL/NTSC compatible
RF Output Power: 0.5mw, 25mw, 200mw, 600mw
Weight with Pigtail: 12g
Stack dimensions: 30.5mm x 30.5mm
48 Channels
Board Dimension: 35.97 x 43.59 mm, height 5.47 mm
Setting Up
Mounting the VTX was very easy, connecting cables took only a few minutes. The hardest part was counting cables (in power plug) to find which one of them is 5V. Next step was to setup OSD, connection via USB.
Remember to look in the manual and check what drivers you need (I had to install 2 drivers), afterwards download MWOSD 1.6 GUI. One thing that I noticed was the fact that every option in the OSD was turned on, screen looked like a mess.
Initial Thoughts of the Diatone SP3 VTX
On the quad I am flying, I am using 3-lobe cloverleaf antennas and 4-lobe on the FPV goggles (Cyclops). I was using 200mW power, even though I was flying with a friend I didn't notice any interference. Up until now I've used Eachine MT200 and Aomway 200mW – this is not comparable, stability and quality of the signal/image was much better with the SP3 VTX, even when flying behind trees etc. There is no additional filtering capacitor for the electrical noise and voltage spikes generated by ESC's, yet the image is rock solid.
One improvement i would suggest to Diatone, is to reinforce the button. As users you can do that with a drop of hot glue. Another thing is the LED display which I think they could have tilted it a little. Because currently the LED display is mounted flat on board, after you have mounted the frame top plate and battery etc, you simply can't see the readings.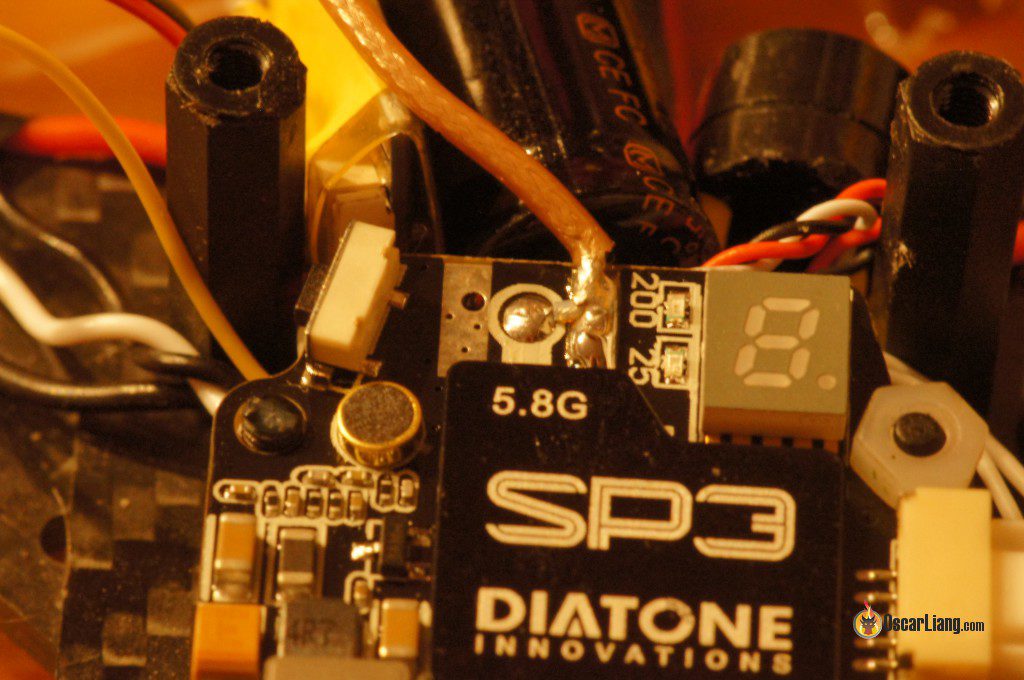 Anyway, I will buy more of those VTX – yes they are not cheap, but the quality is good.
Wiring (In My Quad)
Here is how I connected the SP3 VTX to in my quad with FPV camera (Runcam Swift), Flight controller (XRacer), and Lipo Battery.
One funny thing is that one of the cables is not used at all – yet it is in the plug, so you get one extra silicon cable that is not needed for anything.
Here is another connection image with a D-link F3 AIO FC from Diatone.
Power and Range Testing So Far
On 25mW, I got over 100 meters and image was still clear (open field, no obstructions)
On 200mW, I got over 500 meters and image was still clear, no distortion what so ever (no obstructions)
I was using 5.8GHz cloverleaf antennas on my quad and the receiver (no diversity)
I haven't yet tested the 600mW beside bench testing
Summary of Pros and Cons
Pros:
Ease of mounting
5V Power stabilization for FPV camera
External layer of connection cables is made of silicon
Cables are good quality (no problems with soldering them)
Cables are labelled (not necessary but nice touch)
Cables have clip in (it will not fall off nor disconnect)
Spare cables in set
USB extension cable
Pitstop mode (0 transmission as you change channels, you are not disturbing your flying friends)
Nice packaging (plastic box – can be recycled for storing nuts and bolts )
OSD already flashed with MWOSD firmware
Cons:
Out of box OSD had EVERYTHING turned on (most of us only need voltage/timer)
Heavy (if you are building ultra light quad, there are other lighter VTX options if you don't need the OSD)
Large size (due to stackability) – 35.97 x 43.59 mm (board dimensions) height 5.47 mm in the thickest place
The button might be hard to reach one the quad is built in some frames (I am using the Nox5 frame, and the standoff is next to the button)
Display is mounted flat on the board (when mounted in a stack you can't see what is current setting, it would be better if it's mounted sideways and reinforced with epoxy or hot glue) as you can see above on the picture
Lack of support for the switch (I've added hot glue, others will add epoxy, if you will not do it as you push the button eventually it will break off)
Button Operation and LED Indication
One button does it all

Short Press: Switches Frequency
Press & Hold for 2 Sec: Switches Frequency Band
Press & Hold for 10 Sec: Switches Power

0.5mw, 25mw, 200mw, 600mW options

Light off: 0.05mw
Blue Light: 25mw
Red Light: 200mw
Red & Blue Light: 600mw
Author: Grisha0 (IntoFPV)