DYS is releasing a new 4in1 ESC, the F20A. In this post I will share some close up photos and talk about the features of this ESC.
Some of the links on this page are affiliate links. I receive a commission (at no extra cost to you) if you make a purchase after clicking on one of these affiliate links. This helps support the free content for the community on this website. Please read our Affiliate Link Policy for more information.
Thanks to DYS for sending me this ESC to test, I will be putting it in a new quad and see how easy it is to use, and how well/reliable it performs. 4in1 ESC is a great way to simply building and wiring, also allowing more centralized mass in the quadcopter. The F20A will be available here: http://bit.ly/2nlhQS6.
Specification and Features
Power rating: 20A constant, 25A burst (10 seconds)
2S-4S LiPo
5V/12V 3A BEC output
Dimension (mm) : 36x36x8 (L*W*H)
Weight: 12.5g (excluding any wires), 23g including XT60 and wires
BB2 processor, runs BLHeli_S firmware
Supports DShot600 and Multishot out of the box, as well as other ESC protocols
There will be 10A, 20A and 30A versions.
Unboxing
The DYS 4in1 F20A ESC comes in a nice plastic box, along with nylon hardware (standoffs, nuts, screws), and some cables for ESC signals and 5V/12V power outputs.
Note that the XT60 connector is already soldered on the ESC, the wires are about 9.5cm long. I guess you can desolder it if you need longer or shorter wires for the XT60. Maybe they should have just left the XT60 unsoldered, so users could decide how long they want wires to be and do it themselves.
Motor connections at the 4 corners, great layout. Lots of filtering capacitors on there, hopefully it's low in noise.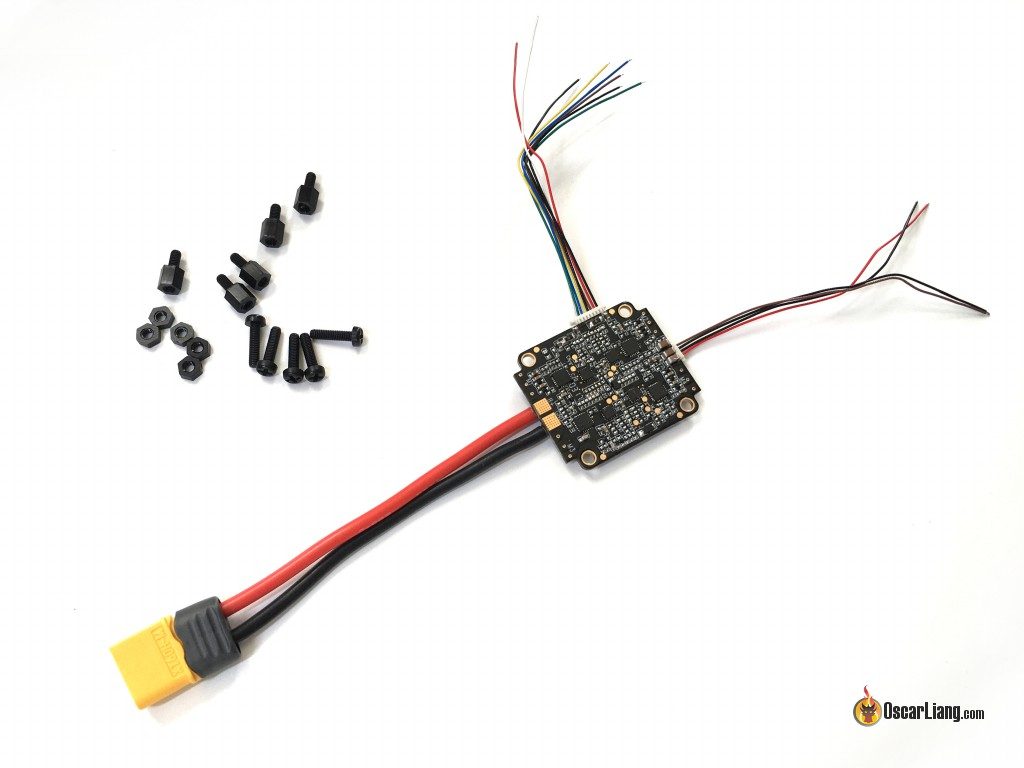 Personally, I don't like these connectors. Never a fan of tiny plastic JST connectors, and while it's might be totally okay in this case, I would prefer solder pads. Because it's more solid, and possibly a little lighter and more flexible to work with.
The wires that come with it are PVC coated, would be so much nicer to have silicon wires instead.
Anyway you can see in the following image, this connector carries the 4 ESC signals, as well as 5V, grounds, and a BAT+ pin (to connect to the VBAT on FC if there is on).
And in the follow image, we have another connector that gives 12V, 5V and grounds.
Looks like the components are coated with waterproof material. Note that there is also a 10-pin black connector. I believe it would be used to stack a FC on top to eliminate any wire connections. Maybe DYS is secretly developing a new FC? :D
Edit (Jun/2017): We were right, the connector is designed for the new DYS F4 Pro FC.
The pin-outs are:
(JST connector here) -------- GND GND 5V S2 S1 S4 GND GND S3 BAT+ --------
Okay so far so good! I will share my build with this ESC soon, stay tuned.