The DYS F4 Pro V2 FC is a new AIO (all in one) flight controller that has been very popular among mini quad builders. In this review we will take a look at the features and some close up photos.
Some of the links on this page are affiliate links. I receive a commission (at no extra cost to you) if you make a purchase after clicking on one of these affiliate links. This helps support the free content for the community on this website. Please read our Affiliate Link Policy for more information.
Make sure to check out this article how to choose flight controllers for quadcopter.
The DYS F4 Pro FC is available from:
What's Special about the DYS F4 Pro FC?
The DYS F4 Pro V2 FC is very similar in terms of features and capability to other Betaflight AIO FC's such as the Kakute F4 and Betaflgiht F3, which all have integrated PDB and OSD that enable much simpler and cleaner builds.
There are a few features that set apart the DYS F4 Pro from other flight controller boards:
Integrated vibration-damping mounting grommets, therefore no soft mounting bobbins required
Pin headers for connecting the DYS 4in1 ESC by stacking on top of it without any soldering
The board has waterproof Conformal Coating
One of the best FC layout designs IMO
However, there are some issues with this FC… please read on to learn more
Here is the specification of the DYS F4 Pro:
STM32 F4 with MPU6000 Gyro
Support 2S to 6S voltage input
Voltage output: 5V@3A
Integrated Betaflight OSD (how to setup betaflight OSD)
Bulit-in Current Sensor
Supports Betaflight, using Omnibus F4 target
Onboard flash memory for blackbox, 8MB
These AIO boards have very thick copper and thus require more higher temperature when soldering. If you are having trouble soldering these flight cotnrollers, make sure to check your solder's quality first.
Unboxing
The flight controller comes with a XT60 pigtail cable, a buzzer, FC standoffs, some nylon nuts and screws.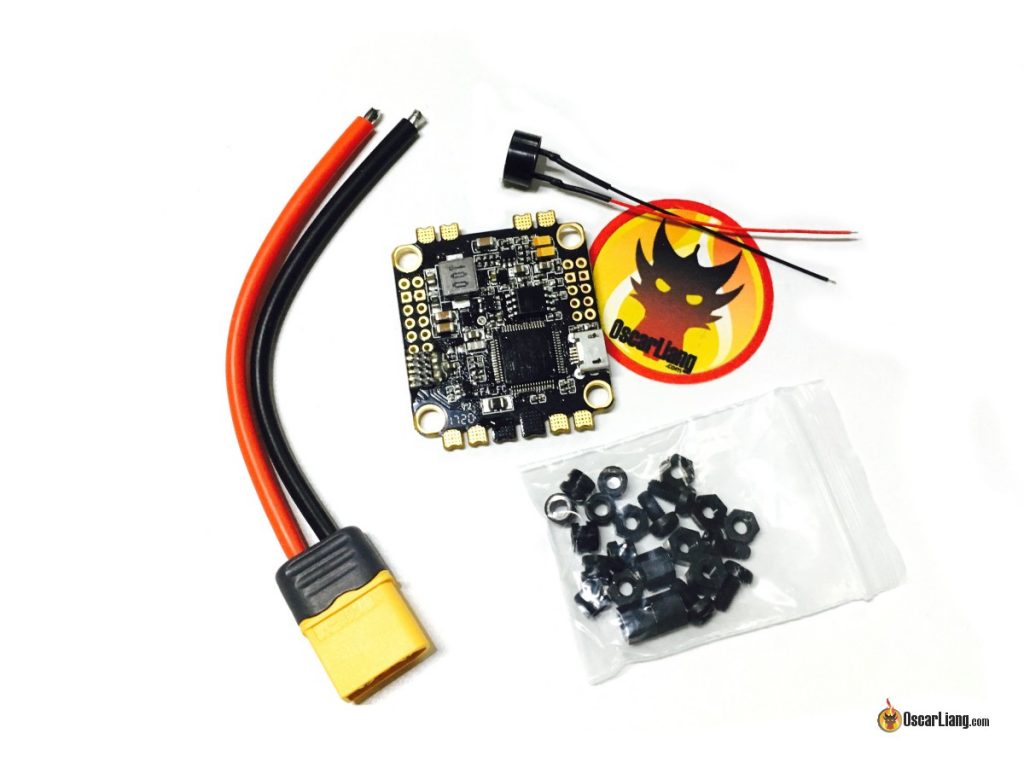 Close Look
The DYS F4 Pro FC has a very user-friendly layout: ESC power and signal pads are at the four corners, it even has a signal ground which I always love to see. The ESC power pads are sticking out from the board and separated so there is no risk of shorting one another when soldering, which could happen a lot in other AIO FC's because the pads are all crammed together.
All the pins and pads are available on both sides, so it doesn't matter which side you solder the wires to. That is a huge problem in the Betaflight F3 board.
The mounting holes on the DYS F4 Pro are much larger than normal (diameter about 4.2mm vs 3.2mm). The purpose of the larger mounting holes is to fit the vibration damping grommets that come with the FC.
These grommets are made of sillicone material and should help reduce the vibration from motors getting into your flight controller. The same technique is used on the Raceflight Revolt V2 and it's been proven working very well.
The FC comes with 2 sets of grommets.
The FC has a tiny 8-pin header. This is used to connect the FC to the DYS 4in1 ESC's. The connector is strengthened by epoxy glue.
Here is the DYS F20A 4in1 ESC we previous reviewed. Before the release of DYS F4, we suspected the connector on it was for FC connections and it turned out to be true. It is indeed a very clean and simple solution since there is no soldering or wiring necessary, the result is as simple as plug-and-play.
However when using this configuration, there are a few issues I realized:
Vibration from the quadcopter can be transferred to the FC through the PDB/FC header-pin connector. I would have probably used wire harness for that reason
The integrated PDB of the FC become pointless when pairing with 4in1 ESC, and the copper in the FC becomes dead weight (where you could have saved 5 grams using a FC without PDB capability)
You lose the current sensing feature, as there is no current sensor on the ESC. You could put the XT60 on the FC, and route the power down to the ESC, but then it gets a bit messy
Not enough hardware inversion! (SBUS and Smart Port Telemetry)
If you use Frsky and want to use Smart Port Telemetry with this board, then you have a problem. This FC only has 1 hardware inverter built-in, which is for the SBUS pin. If you want to use SBUS and Smart Port at the same time, you will have to get the uninverted signal for Smart Port on the RX. Here is how.
Also if you wish to use SBUS on a different UART, you will have to get the uninverted SBUS signal from the RX, because those UART's might not have hardware inversion.
Bug in Betaflight 3.1.7
Apparently there is a bug with the SBUS in this FC. If you flash this board with Betaflight 3.1.7, it will uninvert the already inverted UART1, which is designated for SBUS. If you are having trouble getting SBUS to work with this FC, try to downgrade your firmware back to 3.1.6 and you should be fine.
The stock firmware that comes with this FC is also Betaflight 3.1.6.
Another strange bug is that the firmware flashing wouldn't go all the way if you choose "erase all settings".
Update: There is a custom version of BF 3.1.7 that has fixed the issue, you can download it from here. The bug should be fixed in future 3.2.0 stable release.
Conclusion
Overall there is nothing new, but DYS has done a good job in some small details that were overlooked by other FC manufacturers. It would make this a great board if the performance and reliability can match other well established betaflight flight controllers. Also I would love to see the bugs we mentioned fixed in the future.