Checking out these new DYS Storm 2207 motors designed for FPV racing.
Some of the links on this page are affiliate links. I receive a commission (at no extra cost to you) if you make a purchase after clicking on one of these affiliate links. This helps support the free content for the community on this website. Please read our Affiliate Link Policy for more information.
Got these new mini quad motors in about a month ago, it took sometime but I will test these motors on a new build soon! In this post I will share a few photos of these motors and inspect the quality.
They come in pair in a plastic box. Each box comes with
2x DYS Storm 2207 motors
5x 5mm M3 screws
5x 7mm M3 screws
1x M5 wrench
2x M5 nylon prop nuts (0.7g)
These motors will be available at 2300kv, 2500kv (or 2550KV?) and 3000kv. The prototypes I got are the 2500KV. Maybe they have slightly adjusted the KV's from 2500 to 2550KV.
All motors have CCW prop shaft threads. They can run on 3S-6S LiPo.
According to BG, these motors will be sold at $21.99 each.
The motor weights 36.5g, but the motor wires on mine are 19cm long! So I think it should be close to 32g-33g with the wires trimmed to about 5cm.
That's not a heavy motor at all given it's has a 7mm tall stator. According to DYS, the motor is made lighter using titanium bearing. It's also more robust against crash impact. It has the same 0.1mm lamination like the Fire motors, this ensure the motor has great torque yet has good efficiency.
Compared to a 2205 or 2206, the increase in stator height of 2207 should give this motor more mid/top end power.
It's got hollow shaft, and the air gaps are really tight on this motor. It's not using curved magnets though. The quality of the build is excellent!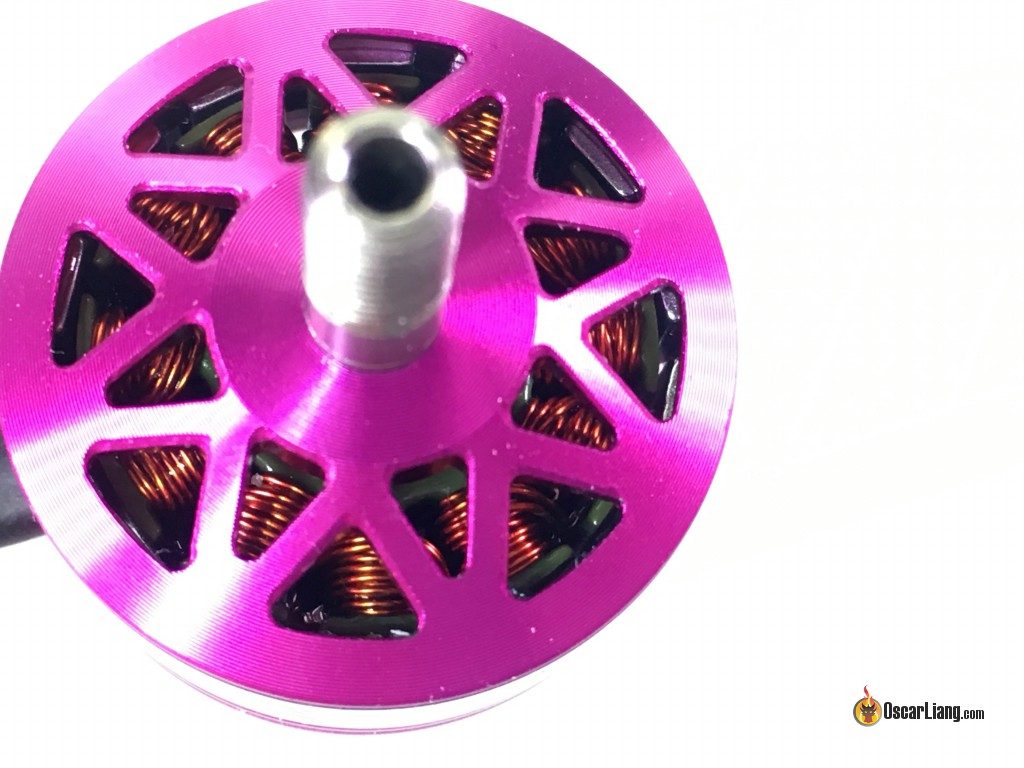 The Storm 2207 motos are using C clips, some people prefer it, some don't.
I personally don't go against it, as I have only ever had 1 incident with C-clip (popped off during flight) with maybe over 100 motors I used. I don't normally open the motors up for service either, I replace them or they die on me before getting to that stage.
The motor bottom has a good part cut out probably great for cooling.
Can't wait to put these motors a quad and try them out! The purple housing is really eye catching! :D
Update (10/Apr/2017)
One of the motors have some issue with the bearing. It makes a loud noise when spinning. Although it flies, but I have this oscillation that is hard to get rid off. The other 3 motors seem fine just the one.