If you are into mini quadcopter racing, but don't like building and soldering, the EMAX Nighthawk Pro 280 racing mini quad might be for you. In this article we will introduce and review the Nighthawk Pro 280 ARTF Kit.
Some of the links on this page are affiliate links. I receive a commission (at no extra cost to you) if you make a purchase after clicking on one of these affiliate links. This helps support the free content for the community on this website. Please read our Affiliate Link Policy for more information.
EMAX is a decent brand for budget RC stuff, and their products perform relatively well. The Nighthawk Pro 280 is an almost complete racing quad, which is a cheap alternative to the ImmersionRC vortex.
Is the Emax Nighthawk Pro 280 good value?
Just looking at the parts, it's a pretty good deal in my opinion. If you are going to buy those parts separately, it would cost more:
4 x Emax MT2204 motors = $60
4 x Emax 12A ESC = $40
Naze32 Full = $45
Emax Pro Frame = $60
FPV camera / VTX combo = $30
LED bar = $5
Tilted motor mounts = $10
That's $250 already excluding tax and shipping! And not to mention there is literally no soldering and assembling involved to get this kit working. For the ARF version, you only need a lipo battery, and a radio transmitter to start flying. (if you want to fly FPV you will also need a video receiver and Goggles or monitor to view the transmitted video, for more info on FPV systems check out this guide)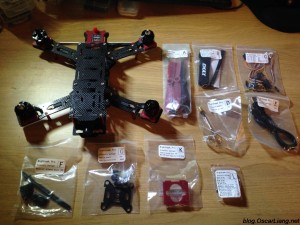 Review – Features and Things I Like
Flight Controller, ESC and Motor
The Flight controller of the Emax Nighthawk Pro 280 is called "Skyline 32", which has similar capability to the Naze32 Full board.
ESC's are EMAX 12A ESC, which runs SimonK firmware. The ESCs are Oneshot compatible and damped-light capable. However you need to enabled damped light yourself if needed. (will cover this later in this post)
All the ESC's and FC are integrated into one printed circuit board, and replacement board can be bought as spare which costs $62.
Motors are the EMAX 2204 2300KV. On the ARTF kit comes with 10 degree angled motor mounts. Here we talked about the benefit of using motor mounts on mini quad.
All ESC cables and power distribution wires come braided which is great.
Frame and LED Bar
The frame is made of full carbon fibre, and appears to be strong and sturdy. The Quad weights around 450 grams without battery, which is in the mid range in terms of 250-ish mini quad.
The Integrated LED bar is extremely bright. There are a few colours as far as I know such as orange and white. I don't think you can choose any particular colour and it comes with one randomly.
With the Skyline32 FC, you can add more RGB LEDs to the quad, same way as a Naze32 (Tutorial). Just connect LED signal pin to Radio pin #5 and run the power off the motor 5V and GND pins.
FPV System
It comes with a 700tvl 1/3-inch CMOS FPV camera, picture quality is pretty good. However, for the first time make sure the lens screw is tightly screwed on and get the focus right.
And the already installed 200mw 32ch video transmitter has selectable power between 20mw and 200mw.
VTX antenna is left-hand polarized with SMA connector. If you haven't got a left-hand polarized antenna on your video receiver, you should swap it out with your own right-hand polarized antenna.
Running 4S Lipo batteries!
Running 4S on this quad is doable according to manual, but you are doing it at your own risk. If you're running 4S you want to stay on 5″ props. 5030 will give you some headroom but 5040 and 5045 should be doable. DO NOT use 5045 Bullnose props, this motor/prop combo will draw way over 12A current on 4S.
There is lots of empty space since almost everything needed for a nice mini racer is already integrated into the bottom plate. Therefore you can fit the LiPo battery inside the frame for better protection. Here is my 4S 1800mah 65C battery tucked into the frame.
Another big advantage of flying a RTF or ARTF is that you can copy other people's settings and expect it to just work. That's because the frame dimension, FC, ESC and motors are all identical on the Nighthawk 280 kits.
Things can be improved
Vulnerable Electronics PCB
My biggest concern is just like anyone else's, the main PCB board!
Electronics like FC, ESCs are all built on the bottom plate, and although It has a layer of liquid tape to stop soldering joints shorting out for example from wet grass, it's exposed in terms of taking physical impact, and not protected by any carbon fibre. If you hit something hard in crashes with the bottom PCB it could get damaged.
But again, because all the electronics are integrated into one board, it makes it extremely easy to swap out faulty components, even on the field. Even though that also means if you damaged 1 ESC, you will have to replace the whole board which seems like a waste.
Misc. items
For voltage monitoring, you need to run a cable from main lipo Vcc out to the BAT pins yourself. Not sure why they didn't have this connection included in their PCB design.
A lot of the connections are made in vulnerable locations at the side. They could have just as easily been placed in-board.
It doesn't have any buzzer, which in my opinion should be included. Even have it integrated on the PDB, maybe even with an switch to turn it on/off by the user.
Quite a few people reported that their FPV camera lenses seem to get loose after flights due to motor vibrations, and lost focus. Tightening it properly during first setup should prevent this issue.
And Arm replacement might be a little tricky as you will have to remove the main PCB bottom plate first, which means you have to take all 4 arms off… looks like they didn't think it through in the frame design.
Missing OSD/Telemetry
Comparing to the Vortex, one thing that is lacking would be the OSD. Some people prefer to use low voltage buzzer, or telemetry. For me the OSD is a must have feature to know when the voltage is low before it sinking down or over-discharge your battery, even just a basic one.
Another missing feature would be the telemetry port, which is available on the Naze32 board. Telemetry allows you to pass flight information directly to your D4R-II radio receiver and transmit back to your TX.
Lastly, there is no serial connection (as far as I know). On the Naze boards, this is the TX/RX pins on top. The only way I can think of would be using UART2, which is RC Pins #3 (RX) and #4 (TX). So if you are running anything like a MinimOSD or Blackbox OpenLog that requires serial connections, you will be forced to use PPM, so you can free up these RC pins.
Review from "Brighton Til I Fly"
So those are the good's and bad's from me. Here my friend "Brighton Till I Fly" (Jack) also shared his view on this product.
The Nighthawk Pro 280 I reviewed was from RCGeeks, and the one Jack reviewed was from GearBest. Note that the arms designs are slightly different for some reason, maybe something to do with different batches. The one Gearbest is selling doesn't have any large cut-outs on the arms.
https://www.youtube.com/watch?v=0miQNbq7zQ0
Connecting Radio Receiver (RX)
For the ARF kit you can just plug in your choice of receiver. The most common types of receiver would be PWM and CPPM (aka PPM).
PWM means one wire for each channel, so you will end up with a bunch of cables in the end. PPM can handle 8 channels with 1 wire so it's cleaner, such as the Frsky D4R-II RX. Both receiver types work just fine. The above picture shows PPM connection.
SBUS is another 1 wire receiver type, such as the X8R in Frsky series, but they don't work with this board very easily just like the Naze32, because it requires a signal inverter and some more configuration in baseflight/cleanflight.
Enabling Oneshot / Damped Light on ESC
Here is some insight into what Oneshot and Damped Light are. The Emax 12A ESC is compatible with these features, but to enable them isn't very straight forward as the ESC is not compatible with BLHeliSuite apparently. Oneshot is enabled by default, but Damped light is not.
Anyway the good news is you can enable damping light by transmitter programming, according to the EMAX ESC instructions. Also this video might help you too.
Voltage Monitoring and OSD
To get voltage reading to the FC VBAT port, there are two ways:
scrape off the plastic coating on the battery plug solder joints, then solder a wire to the bottom of the battery plug, and run it to the VBAT port.
Or you can get the voltage reading from the output port right behind to the FPV camera, and connect it to the VBAT port. Make sure the switch next to it is turn ON.
What can you use this voltage info for?
To sound the buzzer (if you connected one) when the battery reaches a low voltage state;
To pass battery information over a serial connection to a minimOSD, or other OSD that can read a serial connection.
pass voltage info to telemetry
As we mentioned earlier, Telemetry pins are missing on this Skyline32 flight controller, but we can use SOFTSERIAL1 as telemetry output just like on the Naze32, leaving UART2 for minimOSD or any other serial devices.
Connect RC pin #6 of to D4R-II telemetry RX port.
In Cleanflight "Configuration" tab. Enable feature VBAT, SOFTSERIAL and TELEMETRY; "Save and Reboot".
In "Ports" tab. Select "Frsky" and 19200 in the "Telemetry" column for SOFTSERIAL1; "Save and Reboot"
"CLI" tab. type "set telemetry_inversion = 1" then "save"
GPS
You can connect a GPS module to the EMAX Nighthawk 280 if you want, although they don't do much yet in Cleanflight/Baseflight firmware.
If GPS feature is enable and CPPM receiver is used, CH3 and CH4 are GPS Signal Pin (CH3:TX,CH4:RX). If using standard PWM receiver, you will have to skip CH3, CH4, and use CH1, CH2, and CH5, CH6 for control instead.
Conclusion
Overall I think it's a pretty good mini quad for someone with experience in flying multicopter, who don't want to build one themselves. With just a little configuration, it almost works straight out of the box.
If you do happen to damage the ESC or any onboard electronics, I think there should be enough room to mount your own flight controller and ESCs, such a regular Naze32 FC and some standalone EMAX 12A ESCs on the arms.
By doing that you learn how to build your own quad and fix it. You could save money in the long run if more components get damaged.
Official Instructions
I found the Manual especially well written and helpful.
Manuals
http://www.emaxmodel.com/upload/index.php/s/YgYKgAV2on27X8H
Software Instruction
http://www.emaxmodel.com/upload/index.php/s/T5WQcuxYrVxmDAu