In this review we are testing the new RS2205S 2300KV motor from Emax. With better magnets and design from the previous version, we'll find out how they perform.
Some of the links on this page are affiliate links. I receive a commission (at no extra cost to you) if you make a purchase after clicking on one of these affiliate links. This helps support the free content for the community on this website. Please read our Affiliate Link Policy for more information.
These motors are provided by Emax for the review. This article is written by Grzegorz Piotrowski.
What is special about this motor are the arc magnets and the consistent tight gaps between stator and the bell (on regular motors, the gap can change due to position between stator and motor bell – magnet). This makes the magnetic field more consistent and provides better/faster throttle response.
One thing I was worried about was that mud and sand could get stuck inside the motors. This wasn't the case, the gap is so tight that no mud or sand could get in so far.
Emax has shaved 2g off these motors from the original version. In terms of temperature, I only found it a bit warm with DAL 5045×3 props in my testing, but I haven't noticed this during regular flights.
Spec
Manufacturer: Emax
Line: RS – S
Stator size: 2205
Physical size (height x radius): 28.42mm x 27.96mm
KV: 2300
Weight: 28-29 g (stock wiring)
Material: 7075 Aluminum + hollow steel shaft
Lipo rating: 3-5S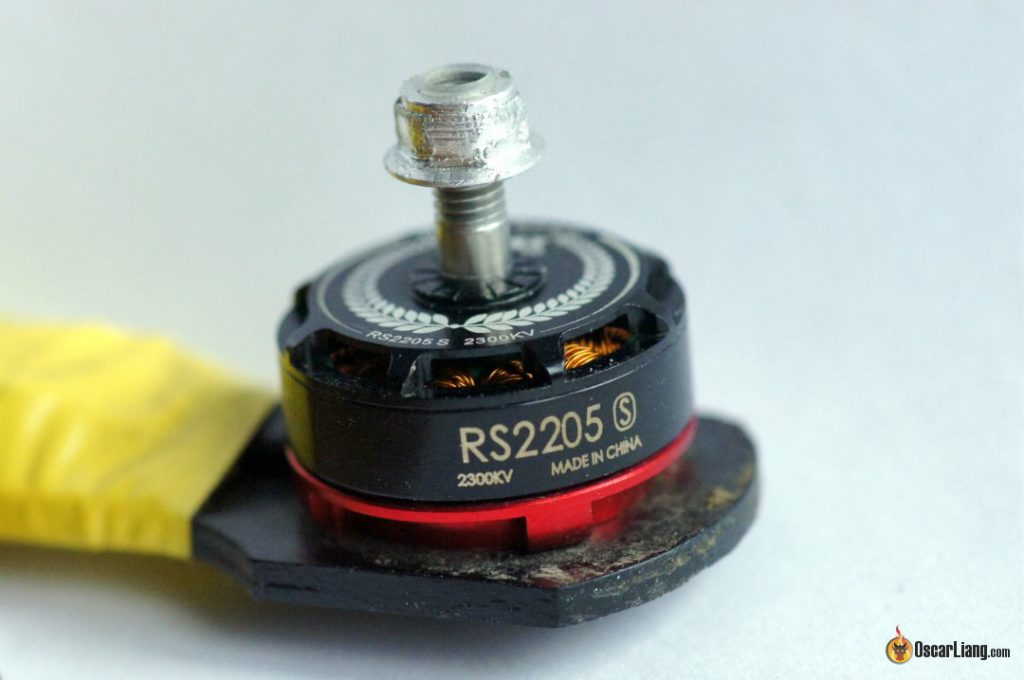 Appearancee
The RS2205S Motor comes in a nice plastic box together with 1 x propeller lock nut and 8 x M3 mounting screws. I love the Emax motors boxes, I often reuse them to store screws and stuff.
The RS2205S is very similar in appearance and build quality to it's predecessor, the "redbottom" RS2205 2300KV. Motor bell and base are made of 7075 aluminum, it's very cleanly cut, the coils are also wound up nicely.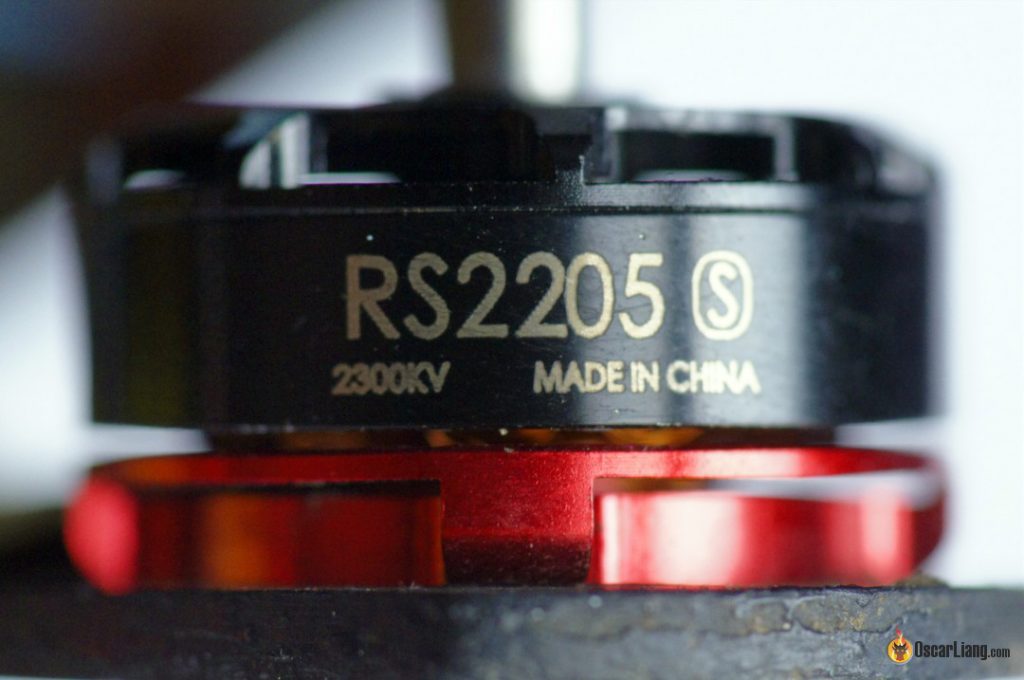 The Motor has strong arc magnets, I could feel the resistant when spinning the motor by hand, and the it stops very quickly.
The biggest change I can see is the removal of "C" clip – it has been replaced by a screw in the bottom of the motor shaft. In my opinion it's a better solution than C-clips. However I've read that someone had a problem that this motor shaft screw got loosened mid flight – their recommendation was to use loctite. In my case i didn't use it, and so far (I've had around 50-60 packs with these motors), they haven't fallen apart yet. From my perspective this one feature alone would make me jump on those motors… but the increase in "power" is a much more important reason for me to get them.
The shaft in this motor is hollow, which should improve the motor shaft strength and reduce weight.
Thrust tests
These tests were done with 4S 16V LiPo.
Below you can find thrust measurements of other motors I have tested in the past with the same equipment (a DIY thrust stand), as comparison:
Note: this time I had to conduct this test on a different ESC – the Racerstar MS35A.
Props
%
Peak Thrust – g
Peak Current – A
Max Power – W
Efficiency – g/W
KingKong 5040
50
364
5.8
98.2
3.71
100
1257
30.1
483.7
2.60
Gemfan 5040×3
50
441
6
103.4
4.26
100
1327
29.58
479
2.77
Gemfan 5045 HBN
50
442
6.2
104.8
4.22
100
1375
30.3
485.3
2.83
DAL 5045×3 HBN
50
488
7.21
121.9
4.00
100
1440
35.87
572.3
2.52
Racekraft 5051×3*
50
459
7.31
121.9
3.77
100
1313
50.61
810.4
1.62
* In my bench tests with RaceKraft 5051×3 propellers, the data was showing they were drawing too much current at full throttle. However I love how the RaceKraft props perform in my outdoor flights with the RS2205S motors. They have so much punch that saved me many times from crashing into the ground, which I probably couldn't pull off with DAL 5045×3 HBN.. Having said that, you should check what works for you, and use whatever your are comfortable with.
Verdict
Pro's
Good quality motor
POWER!
Short spin up time – as the motor magnets are strong the reaction time is very short
It was not getting hot even on RaceKraft 5051 – looks like cooling is more than enough
Tight tolerances – engine not blocked after crash with dirt
Arced magnets -> consistent gap size -> more power
Con's
Prop nuts attached to this motor are of mediocre quality. they can be easily stripped, I would recommend getting some separate ones
One of the shafts/nuts combination didn't want to work – I've changed the nut it is better but prop needs to be pushed a bit harder to get in place. I've noted this only on one motor
Battery "ripper" – they can drain your battery very quickly if you will fly aggressively.
I've been trying to "kill" these motors for about two months, they perform brilliantly and I really enjoy flying them. The reaction time is much better than any other motors I've used so far.
They had no problems with spinning very aggressive props like the RaceKraft 5051, and while flying on the lighter KingKongs 5040 it was very smooth.