I recently spotted the F210TX mini quad frame on BG, I thought it was a really cool design and immediately got two of them for testing. Oh boy, It was disappointing! In this review I will explain why you should not buy it!
Some of the links on this page are affiliate links. I receive a commission (at no extra cost to you) if you make a purchase after clicking on one of these affiliate links. This helps support the free content for the community on this website. Please read our Affiliate Link Policy for more information.
Further Reading: How to choose FPV Frames?
F210TX – Very Interesting and Original Design
Take a look at this product on Banggood.
Despite the random alphanumeric name that doesn't make much sense at all, the design of the F210TX is pretty interesting and unique.
It's light weight and roomy, price is also very good at only $27. You don't get to see many of these original frame designs on Banggood so I immediately got two of them to try out.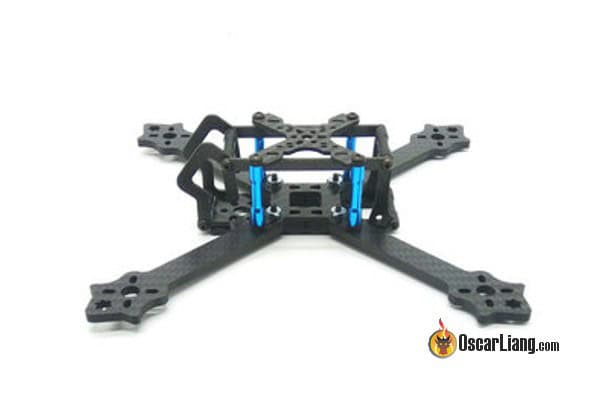 My Impression and Why You Shouldn't Buy It
It turned out to be pretty bad…
First of all, I didn't realize it has so many skinny and small carbon fibre parts. There are so many holes and cutouts in the plates making them even more vulnerable in crashes.
For a stronger design, they could have cut each side of the cage in one piece instead several, or made it in lightweight metal like aluminium. But I guess they tried to save material by cutting it into 3 smaller pieces… This also makes it harder to assemble.
Number 2, Carbon fibre quality is pretty bad.
As you can see in the following close up shot of the arm from the F210TX, the layers in the carbon fibre are curvy, this type of pattern has been easy to delaminate in my experience due to crashes. Also the thicker line in the centre suggests the carbon fibre sheets might be manually sticked together.
Good quality carbon fibre I have been using all seem to have very clean layers that look like this.
Number three, The screw holes on the arms are TOO small!
They are so small, I needed to use my screw drivers to get the screws through them… It was such a PITA!
Finally, the screw holes on the bottom plate are off! This is just unbelievable.
I spent 20 mins getting all the screws through the arms, and only realized this frame was not going to work.
I put the bottom plate facing the wrong direction, but it really doesn't matter here because of the screw holes are symmetrical. Just to demonstrate the issue, you can see the location of the holes doesn't match the screws.
Therefore the screws couldn't go through the holes in the bottom plate. Maybe wrong measurement in their CAD design? Or their CNC machine wasn't calibrated properly?
Oh, and I forgot to mention the screws for the cage are too short… the thread on the bold can get stripped easily in a crash! The designer contacted me, saying the long screws should be used here. But if I did that, there wouldn't be enough long screws for the arms, which is contradictory! Unless they have a different problem, which is missing longer bolts.
Both frames have the same issues.
This is the end of my review. Very disappointed, and I do not recommend this frame! :(
What To Do With My Frames?
Instead of returning them to China, I will just give them away to someone who is interested.
I think the F210TX frames are functional, they just need a bit of drilling to enlarge the holes in the arms and the bottom plate slightly. Someone with a drill bit or rotary tool should be able to do this easily.
I am giving the frames (2 of them) away for free on my Patreon if you are interested.