I will show you how to flash Frsky receiver firmware on your R-XSR, R9 Mini, XSR, D4R-II, X4R-SB, XM+ and some other RX. Updating RX firmware is useful when you have the wrong firmware that prevents you from binding, and getting the improvements and bug fixes in the latest firmware.
Some of the links on this page are affiliate links. I receive a commission (at no extra cost to you) if you make a purchase after clicking on one of these affiliate links. This helps support the free content for the community on this website. Please read our Affiliate Link Policy for more information.
The same methods described in this guide should also work on other D series and X series RX, such as the D8R-II Plus and X8R.
Why do we need to flash receiver firmware?
Firstly, updating firmware to keep your Frsky RX up to date with bug fixes and improvements. But beware that new firmware can sometimes introduce new bugs that break existing features unexpectedly. Therefore we don't recommend messing with new firmware if everything is already working for you, unless you know what you are doing.
Secondly, there are 2 different types of firmware for Frsky RX and the transmitter RF module, they must have the same type of firmware, otherwise they won't bind/work. The two types of firmware are:
Non-EU firmware (International)
EU LBT firmware
Note that your transmitter's internal RF module firmware is not the same as your Taranis firmware. The RF module is an internal device that sits inside of your Taranis.

Think of it as your Taranis is in charged of the interface, while the RF module talks with your RX and they are running 2 separate firmware. For example, flashing firmware on your Taranis, will not affect your RF module, and vice versa.
Differences between EU and Non-EU firmware?
Originally there was only 1 firmware which is the International version. But later on the EU (LBT version was added to comply with regulations in the EU. LBT stands for "Listen Before Talk")
All you need to know is that EU firmware won't work with non-EU firmware, so if you are having problem binding RX to TX, it's likely that your RX has the wrong firmware and need flashing.
What firmware do I have?

If you got your TX or RX from Chinese vendors like Banggood, Gearbest or Aliexpress, they will most likely come with international firmware.

If you are not sure, here is how to check what firmware you have on your Taranis.
The differences between these firmware in a more technical terms
Sensitivity: -90 dBm on EU version while the non-EU has -104dBm. Note that the reduced duty cycles, and software engineer magic supposedly makes the range the same. However if you are flying with something that might hinder your RF signal (like a carbon fiber frame), you might want to pay closer attention to antenna placement as your range will likely be lower on the EU version
Listen Before Talk (or broadcast) is now required by EU law
Flashing receiver firmware in a nutshell
X-Series Receivers (XSR, X4R-SB, X8R, etc)
We can flash firmware on these RX through the SmartPort telemetry port since it is a bi-directional serial port (aka half-duplex). You can even use your Taranis as a programming tool to update the firmware on that.
D-Series Receivers (D4R-II etc)
However, the ways we flash firmware on the D Series and X series RX are different due to the receiver hardware. (The telemetry port on the D series is not a bi-directional serial port)
Fortunately, the D Series RX do have a normal serial port (TX and RX), so you can wire it directly to an USB FTDI adapter.
R9 Mini, X4R-SB, XSR, R-XSR, X8R Receivers
This should work on any X-Series FrSky receiver (with an X at the beginning of the name, such as XSR and X8R), but this guide is focused on the X4R-SB. Flashing the new R-XSR is exactly the same as XSR.
Requirement
Summary of the steps
Download the firmware you want to flash
Boot your Taranis TX into bootloader mode
Connect Taranis to computer
Connect your receiver to the radio
Flash your receiver from your radio
Bind and fly
Steps
First of all, download the firmware you want from Frsky's website. The folder should contain both the Non-EU and LBT(EU) .frk files.
To start you are going to need to put your Taranis into bootloader mode. To do this, make sure your TX is swtiched off first, then press both of the lower trims (rudder and aileron) toward the inside of the transmitter.
While holding those two trims, now switch on the TX and it will turn into bootloader mode.
3. Now that you are in bootloader mode you need to connect your Taranis radio to your PC using the mini USB cable which connects into the back of your Taranis radio.
If you get a pop up window saying "installing device drivers", it is probably your first time connecting your Taranis to the computer under bootloader mode. The driver installation should happen automatically, so wait until the little dialog box disappears or states that the drivers were successfully installed.
After the drivers are installed you will have two newly mounted drives (F and G drives in my case). Ignore the Taranis drive as you are not going to be using it, it should be the other drive in our case "TARANIS1_SD" (it might be called something else in your case, if you are not sure, just verify it has the same folder structure as shown in the next step)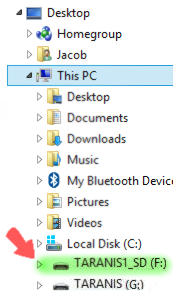 Check if you have "FIRMWARES" folder in there, if not, create it. This is where we are going to drop our receiver firmware files. Extract and copy the .frk files in your "FIRMWARES" folder. After that, unmount the drives (safely eject) and then unplug the USB cable. Now turn off your Taranis.
4. While your radio is off connect the receiver to the pins located inside the Taranis's external TX bay. You can use female to female jumpers to plug into the Taranis pins.
Warning:
Most Frsky RX's has an input voltage of 3.5V to 10V, so make sure you don't damage your RX by powering it with voltage above 10V.
The VBAT pin is your battery voltage.
If your Taranis is powered by 3S battery (11.1V), you could fry your RX if it's only rated for 10V max. In this case you might want to power your RX separately, e.g. by a 5V source or 2S LiPo.
Here is the connection between JR module bay and receiver. From your RX, ground goes to ground, 5V+ goes to VBAT, and Smart Port connects SPort, as shown in the following table:
| | |
| --- | --- |
| X-Series RX | Taranis TX module bay |
| | CPPM |
| | HB |
| VCC | VBAT |
| GND | GND (Ground) |
| Smart Port | SPort |
Make sure your servo cable has the correct wire order! Some cable that comes with most Frsky receivers are in the wrong order, some are correct, please check. Otherwise you can burn your receiver.
X4R-SB Connection to the Taranis X9D for firmware flashing
XSR Connection to the Taranis X9D for firmware flashing
Connection between the R-XSR and Taranis
R9 Mini to Taranis S.Port:
For those with a Taranis QX7, you need to use the "Smart Port" on the bottom of the radio, on the left of the SD Card slot. The pinout is different too, correct pin order is GND, +5V, S.Port going from left to right (SIG pin being closest to the SD Card slot). You can simply plug a servo cable into it.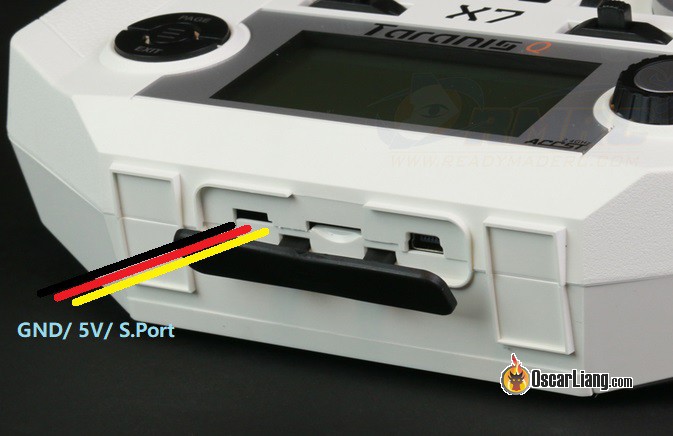 5. Now Turn your radio back on as normal (make sure USB cable is not plugged in, and without pressing the trim buttons this time), hold down the Menu button for about 2 seconds, and scroll to a page that says "SD Card". Scroll down to the folder where you placed the firmware files, select the file, and hold down the Enter button.
Warning for MAC OS users:
MAC sometimes generates an additional file next to your firmware file, which has the "_" (underscore) before the filename. For example, if the firmware file was called "abc.frk", you might see "_abc.frk" in the same directory.
DO NOT select the one with undersocre e.g. "_abc.frk", this will brick your RX. Instead only select the .frk file without the underscore symbol.
You should see the option "Flash external device", select that, and the flashing process will begin. The receiver will be powered on, and start flashing. You will also see "Writing…" on the Taranis screen and it should finish within 2 mins.
6. When it's done, your receiver will powered off, and you are okay to disconnect the wires, and you can now bind the RX with your TX.
XM, XM+ Flashing
Very similar to how we do it with the X series receivers above. You can flash it with the Taranis, but instead of connecting the "Antenna" Pin on the Taranis to Smart Port on the RX, you can connect it to the "SBUS" pin on the XM or XM+ receivers.
The rest of the procedures are the same.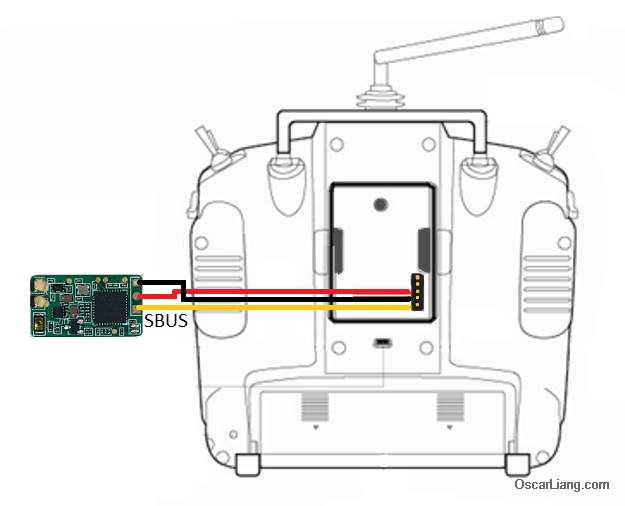 D series Receiver (e.g. D4R-II, D8R-II Plus)
What's required
Summary
Download RX Firmware
Bridge ch1 and ch2 pins
Connect Rx to PC
Use FrSky update tool
Bind and fly
Steps
To start out on this method you are going to need a USB-Serial adapter (aka FTDI adapter), which can make your target device talk to your computer. If you don't have one, check if you computer has a DB9 serial port which also works (explained at the end of the article)
First of all, download the desired firmware from Frsky-rc.com and make sure you get the correct firmware for the receiver you are flashing.
Short channel 1 pin and channel 2 pin. This will force the receiver into bootloader mode when it powers up. Connect power to your receiver. I like to use an ESC or BEC coming off from a lipo.
After the download completes extract the zip file to a folder on your PC, run the exe file provided with the firmware.
Connection is between the D4R-II RX and FTDI is fairly straight forward.
For other D series receivers you should be able to find the TX/RX pins somewhere on the RX, for example on the D8R-II Plus: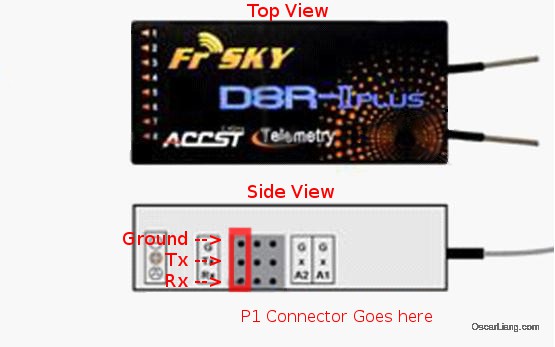 Then plug your receiver into serial or USB, wait a few seconds for the PC to recognize it. You should see a new COM port appearing, if nothing appeared you might have to close the frsky Update program and reopen it.
After selecting the new COM port, which is our RX, now select the .frk file that came in the firmware package, it should be the only one. Click to download. When the program finishes and goes to 100% you should now have an updated receiver!
Your D4R-II RX is now updated.
Edit History
May 2016 – Article created
July 2017 – Article updated for OpenTX 2.2, Added instructions for XM/XM+