Spoiler alert: the new Foxeer Monster Pro FPV camera has really good looking image! It's a mini size CMOS 1200TVL camera and I've heard they making a micro version too.
Some of the links on this page are affiliate links. I receive a commission (at no extra cost to you) if you make a purchase after clicking on one of these affiliate links. This helps support the free content for the community on this website. Please read our Affiliate Link Policy for more information.
You can buy the Foxeer Monster Pro Mini FPV Camera from Banggood | GetFPV | Amazon
Further Reading: How to choose FPV Cameras?
Spec of the Monster Pro Mini
16:9 Only
NTSC/PAL switchable
1.8mm & 2.5mm lens available
Supports 5V – 40V
1200TVL
8.7g
$36
Image Quality
I tested the new Monster Pro Mini FPV camera while I was testing various onboard DVR solutions, and I was truly amazed by how awesome the image quality is!
Without even changing any settings, the default worked great! The colour looks vibrant and natural, the image detail and sharpness are excellent, and there is no digital artifacts and shimmering at all.
The picture is just so lovely!
Although WDR and low light performance doesn't seem to be as good as the Eagle 2 as far as I can tell from my first flight, it's still a great option if all you want is beautiful image.
In my next flight I will try to play around with the settings and see if there is anything I can improve, but so far I like it a lot.
See the result for yourself, sorry there are some oscillations with my quad, she has a dying motor unfortunately :(
I have never tried the Monster V2, but from the footage I've seen online, the Monster Pro has fixed a lot of things that I didn't like, including the narrow FOV and cold blue-ish color.
Latency
Average latency of the Monster Pro Mini is only at 14ms, which is on par with the Runcam Sparrow 2 and Foxeer Predator. (see full latency results)
Some people are concerned about the latency of this camera because of the high TV Lines – 1200TVL. From my testing, higher TVL claimed by manufacturers doesn't seem to necessarily increase the latency of the camera, at least that's the case with the Monster Pro Mini.
Package Unboxing
The Monster Pro Mini includes the following accessories:
Mounting Bracket
"Mini to Standard" Adapter
Various screws and spacers
Cable
Camera settings joystick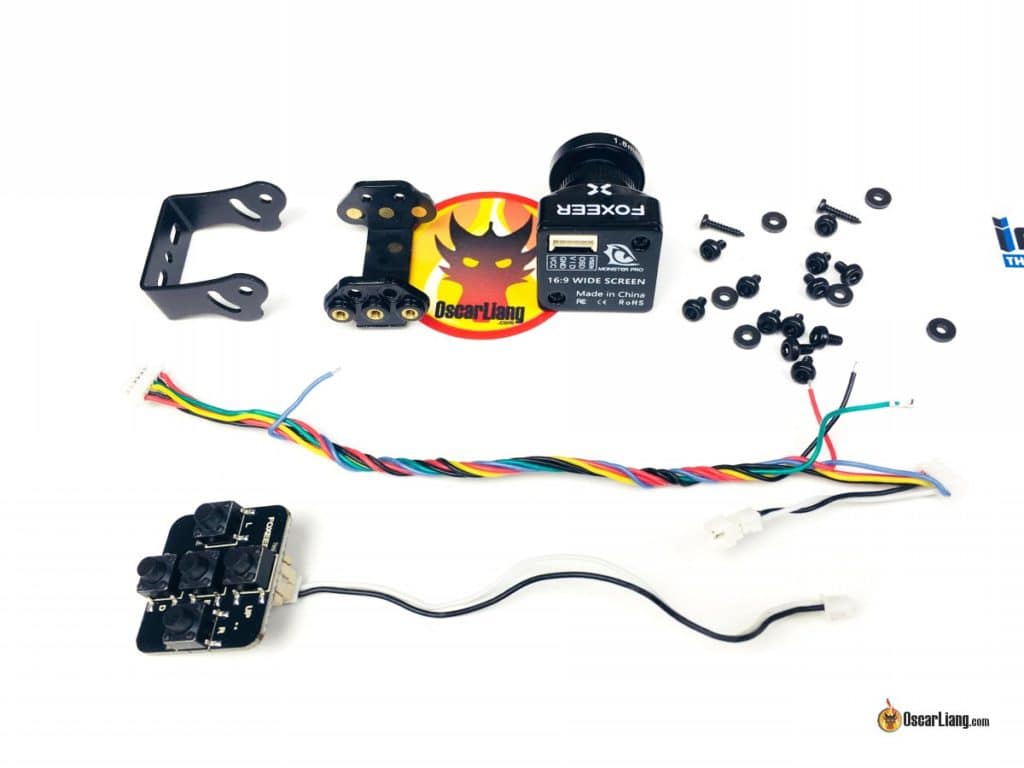 Close Look at the Foxeer Monster Pro Mini
The Monster Pro Mini camera comes in a shiny, sturdy black plastic housing, which is the same case used on the Predator Mini.
If you look closer, you will notice the Monster Pro has a larger, 1.8mm lens versus the common 2.1mm lens used on many other Foxeer cameras. As far as I can tell this is the first time they are using such a big lens on their cameras, which I think really makes a difference to the image quality.
However the Monster Pro only supports 16:9, in addition to the huge FOV, it makes image look a bit distorted in 4:3 FPV Goggles, so you might want to reconsider if you are using 4:3 display equipment.
The Monster Pro camera supports the "VSEN" feature – you can connect your LiPo battery to this pin and it will read the voltage and displays it on your screen.
But after complaining about it so many times, still, there is no OSD ground pin… and it doesn't come with the right cables… Errr! It just makes changing camera settings more difficult unless you go and make a custom cable yourself.
Mounting holes are metal inserts. Overall the build quality of this camera is great.
I will continue to play with this camera, and I will try to find settings that I like and share with you guys in future updates.