When talking about FPV racing, the first thing that comes to mind would probably be air gates! FPVModel is one of the few racing equipment suppliers that offers Air Gates, and we are going to test them.
Some of the links on this page are affiliate links. I receive a commission (at no extra cost to you) if you make a purchase after clicking on one of these affiliate links. This helps support the free content for the community on this website. Please read our Affiliate Link Policy for more information.
The Racing Air Gates are being sold at $59 each, and FPVModel offers international free shipping, which only took 4 days to arrive in the UK.
Get your Race Gates from FPVModel.
Here is a build/test video of these Race Gates.
FPVModel Race Gate Unboxing
It comes in a carry bag, which is really convenient for transportation.
It comes with 6 steel pegs, 1 long tent pole, 2 short tent poles and the fabric for the race gate (Polyester Oxford 210D fabric). Fabric looks a bit thin and durability remains questionable.
The tent poles are made of fibre glass, and they are pretty big which has a diameter of over 7.8mm. The collapsable tent poles are connected with strong elastic cord.
Setting up the Gate
The air gate's dimension is 2.6m wide and 1.45m high, however this can be adjusted slightly by tightening or loosening the belt underneath.
Once I put all the fibre glass poles together, and put them through the race gate sleeve, I simply buckled the belt. Note that the length of the belt can be adjusted if needed to change the width of the gate.
On each end of the Race Gate, insert the short fibreglass rod at the legs of the gate. This makes it more stable in the air.
And finally stick the pegs into the ground through the metal holes, 3 pegs each side.
And here we have it :D With a little practice I was able to set this gate up in 3 minutes.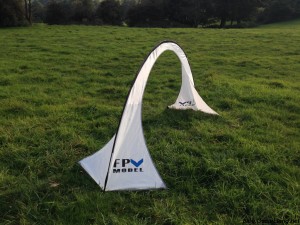 Air Gate Testing
If you set it up correctly, they stand up to impact very well. No matter how many times I hit the gate with my full speed mini quad, they just won't fall! Wind doesn't matter either, this gate is very sturdy and stable.
However just as I thought, the fabric is not the best material against those spinning propellers. After a couple of days intensive usage the gate start to show some damages.
It should last a while, but I think they could use some better, stronger material. These gates are not mega expensive and should be good enough for casual FPV racing practice, if you have no other better alternative or don't want to DIY your own gates.
Note that you also get discounts when buying multiple gates.