The FrSky's R9 receiver is designed to work with the Frsky R9M long range module, however it was just a bit too big for mini quads. Therefore Frsky made a smaller version, the R9 Slim, which we will check out in this review.
Some of the links on this page are affiliate links. I receive a commission (at no extra cost to you) if you make a purchase after clicking on one of these affiliate links. This helps support the free content for the community on this website. Please read our Affiliate Link Policy for more information.
You can get R9 Slim from HorusRC. This review is written by Artur Banach.
Features of R9 Slim Receiver
Designed for the Frsky R9M Long Range TX module
Much smaller than the original R9 Receiver
Two frequency available: 868MHZ for EU, 900MHZ for non-EU
Redundancy function
Supports SmartPort Telemetry
Dedicated RSSI Output
Theoretical Range: 10Km+
The R9 Slim RX has two JST connectors:
6 pin, on top, for SBUS and voltage in
8 pin, at the bottom, for servo channels
Wire harnesses come with the receiver.
From the pinout diagram, we can see that there is a SBUS_IN pin for connecting second receiver for redundancy, as well as a dedicated pin for RSSI output.
R9 Slim comes with dipole antenna with u.fl connector.
Antenna active element has 82mm of length. Receiver and transmitter antennas are meant to be set to vertical orientation for maximum performance according to FrSky,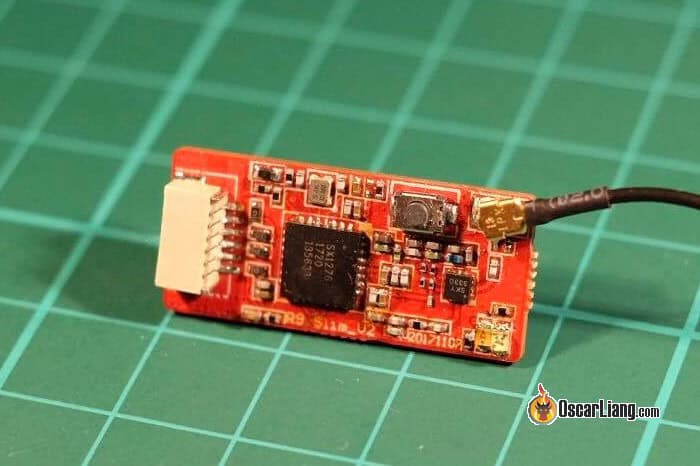 Configurations and Options
When shopping for the R9 Slim receiver, you have to choose one of the two versions on the product page:
EU LBT (Europe) 868mhz
FCC (International) 916mhz
Or you can flash the firmware to get it working in the frequency you want (firmware available on FrSky's website).
The power options for the EU LBT firmware are:
25mW (8 channels with telemetry or 16 channels without telemetry)
500mw (16 channels without telemetry)
FCC power settings (all with 16 channels with telemetry):
Notice that the EU LBT version is more limited compared to FCC. According to FrSky that's because of the harder restrictions of EU regulation regarding radio transmission power.
You need to bind your receiver again every time you change transmitting power or mode.
There is however a bug in OpenTX when using EU LBT. Before selecting 25mW mode with telemetry you have to switch the R9M to FCC and check the option "Module telemetry". Once that's done you can switch R9M back to EU LBT and bind with the 25mW mode.
I have some tips about long range flying you might find useful.
R9 & R9 Slim vs. Crossfire Micro & Nano RX
Here is a comparison table between the different popular long range receivers for their sizes, prices, and features.
Further Reading: How to setup Crossfire in Betaflight?
| | | | | |
| --- | --- | --- | --- | --- |
| | R9 Slim | R9 | Crossfire Micro V2 | Crossfire Nano |
| Price (Feb 2018) | $25 | $50 | $45 | $40 |
| Size (mm) | 30 x 14 x 5 | 43 x 27 x 14 | 40 x 14 x 9 | 11 x 18 |
| Weight | 3.2g | 15.8g | 3.3g | 0.5g |
| Voltage | 3.5-10V | 3.5-10V | 5V | 5V |
| Current | 100mA@5V | 100mA@5V | N/A | N/A |
| SBUS ? | Yes | Yes | CRSF / SBUS | CRSF / SBUS |
| Smart Port Telemetry ? | Yes | Yes | Yes | Yes |
The R9 Slim receiver is a bit shorter than Crossfire Micro RX V2 and much smaller than R9. (Sorry I couldn't show a comparison between the R9 and R9 Slim as I've broken the R9 receiver)
Performance
I have been testing R9 Slim receiver for about 6 weeks. Receiver was being regularly flashed with latest firmware available to keep it up to date.
My testing setup:
I soldered the RSSI wire on the receiver to the Matek RSSI pad to get RSSI displayed in OSD regardless of whether I have telemetry or not. I only tested the EU LBT firmware because I'm in Europe.
I flew the quad in a big open field with few patches of bushes and some trees. The field is about 1km long and 800m wide.
I tested both power settings:
25mW with telemetry
500mW with no-telemetry
In both power settings, I flew 1km out and there was no signal dropouts, although RSSI value was jumping between 60 and 98 constantly while I was at the end of the field. There was no failsafe or any noticeable issues with the radio link, even when I was flying behind trees at distance. Latency level feels similar to the Crossfire, I didn't notice the difference personally.
Good things about R9 Slim
Small form factor – suitable for mini quads
Affordable option at only $25
Good selection of power settings with telemetry in the FCC version
The dipole antenna is easier to attach on a mini quad compared to the R9 receiver
RSSI out pin for convenience
Things to improve
Inconsistent RSSI readings hopping during the flight. Could be a firmware related, but this definitely needs FrSky attention
Poor selection of power settings for EU LBT version. Only 25mW with telemetry. R9 Slim FCC version feels like a better version of the same product
Telemetry only shows RSSI and Receiver Voltage Input sensors
It would be nice to allow frequency selection in the setting without flashing the firmware, like in the Crossfire. But it's not that a big deal since most of us don't travel around the world with our models
Conclusion
It's great to see there is a smaller FrSky receiver dedicated for R9M long range module for mini quads. It performed well in my tests but there is certainly room for improvement, especially regarding RSSI value and power options for the EU LBT version.