A new Frsky receiver option for light weight and tiny mini/micro quad builds – the Furious Mini RX! It's even smaller than XSR!
Some of the links on this page are affiliate links. I receive a commission (at no extra cost to you) if you make a purchase after clicking on one of these affiliate links. This helps support the free content for the community on this website. Please read our Affiliate Link Policy for more information.
Thanks to HeliDirect for sending in this FuriousFPV Mini RX for testing. For a list of Frsky Compatible RX's, please check out our list.
Furious Mini RX Features
Dimension 17mm x 24mm.
Weight: 2.4g (with antenna) and 1.9g without antenna.
Uninverted SBUS output
Telemetry HUB
Input voltage: 4-6V
Compatible with FrSky Taranis, Taranis Plus, & XJT module
Range: 500m (by manufacturer)
The signal output is SBUS without inversion! Which means it works even on Naze32 Rev5 without any hacks. But because of this, SBUS inversion needs to be turned off on F3 FC in CLI:
set sbus_inversion = OFF save
Another thing to be aware of is it only provides 8 channels instead of 16 normally.

Why you should or shouldn't use it?
Firstly, it's small and light weight compared to the X4R/D4R-II (5.8g), even the XSR (3.8g).
However, the Furious Mini RX doesn't have diversity, like the XSR or X4R-SB does (only using single antenna instead of two). This could affect range. But I imagine whoever use this RX, would be putting it on a micro quad. They probably only fly around within a few hundred feet. Even if you are using it for racing, you don't need long range so this should not be a problem.
I haven't tested the range of this unit yet. But I tried it within 300 meters with perfect signal. Although I did occasionally get "signal low" warning on my Taranis, when flying behind trees 200 meters out (where I didn't have problems with X4R-SB). There are other similar micro Frsky RX out there (which I used for my micro brushed quad), but the range is normally less than 100 meters.
Anyway, it's also good to know that FuriousFPV are currently working on a diversity version. (According to FuriousFPV's facebook page)
It doesn't have S.Port Telemetry! Only support telemetry Hub according to the spec.
There is no mention of failsafe anywhere, but after using it on my Toretto 130 quad, I think the default failsafe action is low throttle for 1 second, then cut throttle. (I need to come back and confirm, and find out how to set user failsafe)
And finally, it's a perfect match with the PiKo BLX FC on a tight build :)
One problem I had though was the end points and mid points wasn't what I was expecting. The range seems to be shifted to the right by about 20us.
A quick fix was to change the settings in your Servo page as follow (or Output page depends on your Taranis firmware version).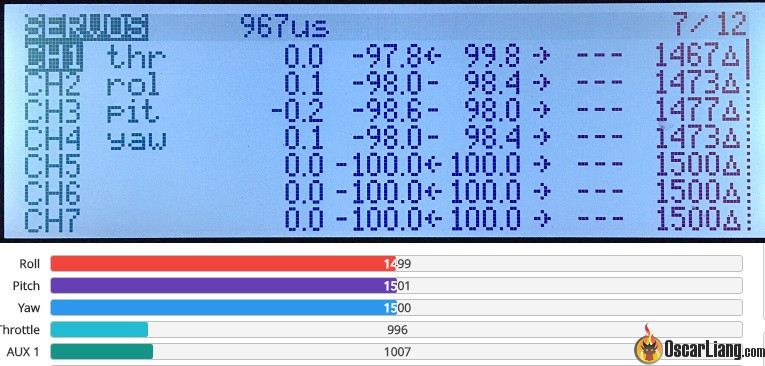 Fun Fact
Did you know that if you strip all the pins off a X4R-SB or D4R-II, and replace the 2 antennas with thin magnet copper wires, you can get the weight down to 2.7g?!
Yes, someone has done it before LOL.