After testing the Holybro Tekko32 4in1 ESC for about 3 months now, I can finally recommend it with confidence! Top notch build quality, easy to work with, and performance is just impeccable!
Some of the links on this page are affiliate links. I receive a commission (at no extra cost to you) if you make a purchase after clicking on one of these affiliate links. This helps support the free content for the community on this website. Please read our Affiliate Link Policy for more information.
The Tekko32 4in1 ESC runs BLHeli_32 and it's rated at 35A per channel (140A total). You can purchase it individually, or you can buy it with the Kakute F4 V2 flight controller as a combo.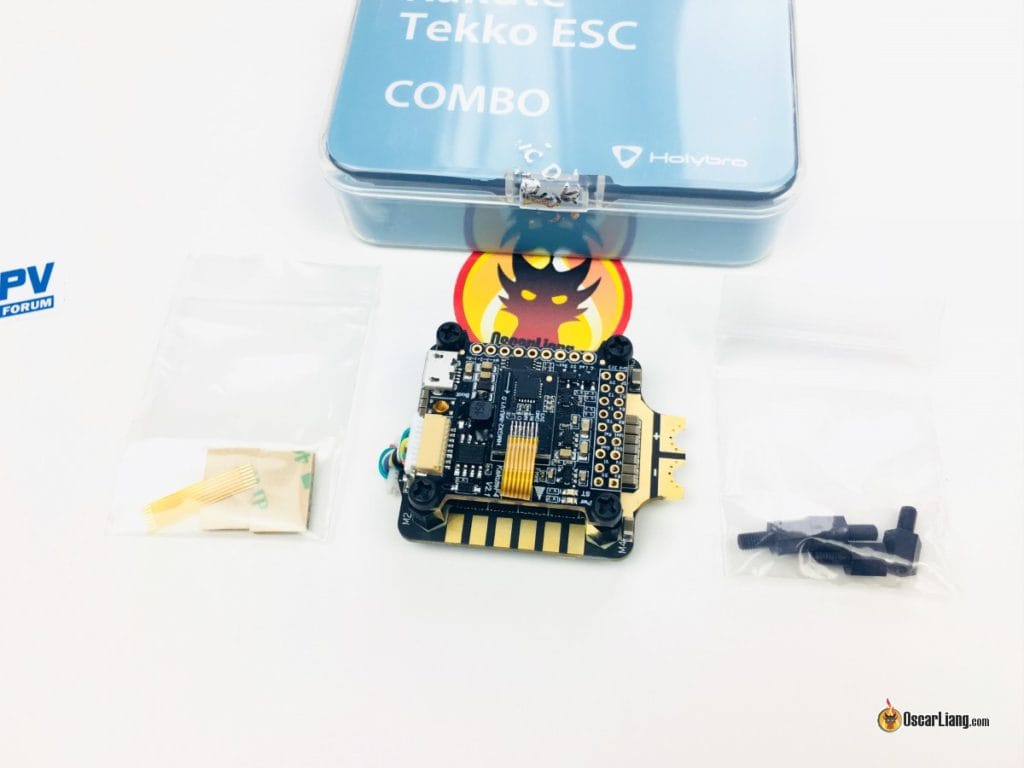 Specifications
3S – 6S LiPo Input
35A Continuous Current Rating, 50A Bursts (10 seconds)
Dimension: 55x40x6.4mm
Weight: 15.8g
It supports all the BLHeli32 features:
Separate current sensors for each motor
ESC telemetry
DShot1200/Multishot
PWM Frequency of up to 48MHz (why?)
A Close Look at the Tekko32 4in1 ESC
First of all, I can't tell you how much I like the shape of this 4in1 ESC. It doesn't have that "extruded" solder tabs for the motors that takes up extra space. It's just a square board with the tabs for the main power. It definitely fits a wider range of frames especially tight racers.
Older version:
New version:
As you can see there are a large amount of capacitors on the board which has proven to be very effective for reducing noise in the power.
Old version:
New version:
You can get the current sensor data by selecting "ESC sensor" in the power tab of Betaflight Configurator, but you would have to setup ESC telemetry first. The default current sensor scale in BLHeli_32 is pretty accurate and I didn't need additional calibration.
There is a current sensor data pin in the header, so you can probably select "Onboard ADC" in the power tab without the need for ESC telemetry. But I haven't tried it, and I am not sure how it's going to work because there are 4 individual current sensors… Just setup ESC telemetry and save yourself from headache.
Pinout of the connector between ESC to FC, starting from the red wire: LiPo voltage (for VBAT), ESC Telemetry, GND, Current Sensor, M1, M2, M3, M4. It's a direct connection with the Kakute F4 V2 FC.
How does it perform?
Well, when it comes to soldering, it was effortless. The pads are very nice to work with.
I also like the silicon spacers they have provided to compensate for the height of the FET's, so your standoffs can sit snugly on the ESC.
I have only tested this ESC on 4S so I can't comment on its 6S reliability and performance yet. But so far I've only heard good things about it.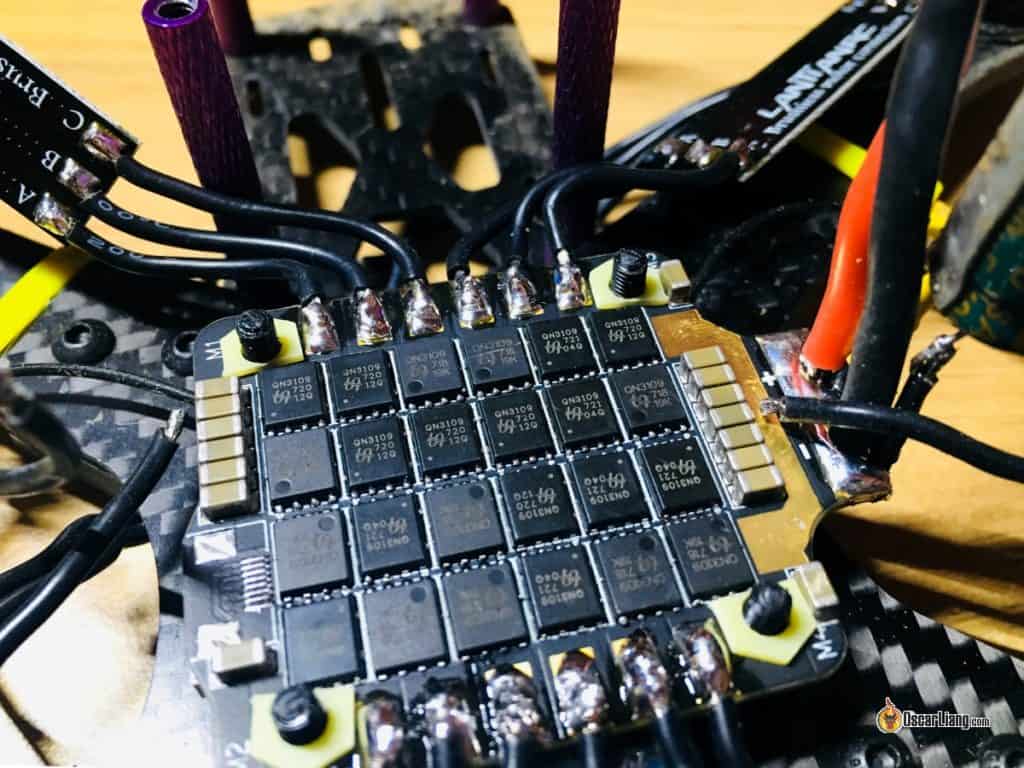 One complaint I have about the Tekko32 4in1 ESC is the lack of 5V BEC. In fact it doesn't have any BEC (voltage regulators) built-in, so you will have to make sure your FC can provide power to whatever you need, like the FPV setup and RX etc.
But it's not a problem if you are using the Kakute F4 FC which is a perfect match for these ESC's.
These videos are shot with the quad using the Tekko32 4in1.
Comment from a visitor, Johan Eriksson:
They have one more thing you should know about and that is that they generate a lot of EMC. This is normally not a problem but if you use a FC with the gyro on the side facing the ESC, the gyro can be effected. This is a problem if you use Helio Spring IMU-F. The solution is to tape the ESC with electric tape for isolation and then copper tape on top of that for EMC shielding. The alternative is to flip the FC over so that the gyro is located on the opposite side from the ESC
Therefore in the new version, they've supplied a shielding (copper tape) on top of the FET's. Apart from shielding EMI it also acts as a heatsink.
Edit History
Jun 2018 – Review created
July 2018 – Updated with new version with copper tape to reduce EMI