2.5″ Micro Quad is getting more popular and I am checking out some pre-built options. The iFlight Razor X125 is a PNP quadcopter designed specifically for 2.5″ propellers. Let me show you the good things about this quad and the things that aren't that good.
Some of the links on this page are affiliate links. I receive a commission (at no extra cost to you) if you make a purchase after clicking on one of these affiliate links. This helps support the free content for the community on this website. Please read our Affiliate Link Policy for more information.
Buy the iFlight Razor X125 here: https://goo.gl/A22mho
iFlight Razor X125 Basic Spec
F3 FC with MPU6050 Gyro (5V/1A BEC, Betaflight OSD, 20x20mm)
10A BLHeli_S 4in1 ESC (2S-3S, DShot600, 20x20mm)
iPower IX1106 6000KV Motors (2S-3S)
Gemfan Flash 2540 Propellers
FPV Setup: VTX/Camera Combo (25mW 40ch VTX, 600TVL 120FOV CMOS Camera)
It seems to be a pretty good deal given the pre-assembled kit only costs $110. My last DIY 2.5inch build costed $60 for only the four 1108 motors, then the rest of the stuff is worth $120+.
So the value looks good, but how's the quality of the components and build? Let's find out.
Here are some flying.
Unboxing
The Razor 125 Micro Quad comes in a nice cardboard box, useful for transportation.
It has a unibody design, the arms are 3mm thick carbon fibre. The red 3D printed TPU canopy is flexible and crash-resistant, it's held in place by four M3 screws.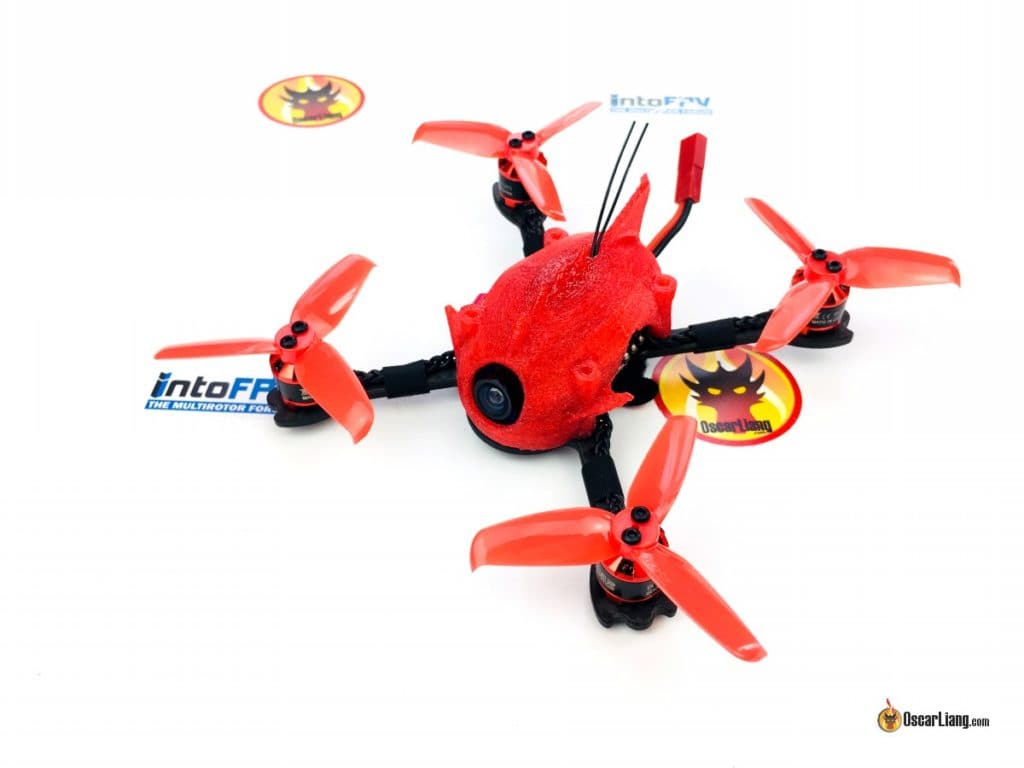 The available PNP kit doesn't come with the receiver and you need to get your own. Thanks to iFlight for providing me with a Frsky XM+ receiver that was already installed in the quad, though the antennas weren't attached properly to the frame.
A Closer Look at the iFlight Razor X125
Removing the canopy reveals the electronics. The FPV setup, radio receiver and buzzer are all loosely attached with double sided foam tape. The design just feels a bit lazy to be honest.
The flexible canopy presses on the components and they don't move at all. While that's not a critical problem, I think it would be nice to have some sort of structure to mount these parts securely inside the frame, instead of just leaving them hanging around loosely.
Buzzer is often forgotten in pre-built micro quads due to space limitation. I am glad iFlight managed to put one in, given how easily you can lose one of this tiny beasts in the bushes.
Let me show you how everything is connected by taking the FC out of the stack. The wiring is pretty simple, this makes repairing and trouble shooting the micro quad much straight forward.
By the way, iFlight did a great job with the soldering. Very solid joints.
Here are some close up shots of the flight controller, and where to solder the SBUS receiver to.
Getting Started and Modifications
Here is how I install the RX antennas. Simply get some zip ties and heatshrinks to fix the antennas to the arms. The advantages are they are not blocked by the carbon fibre, are roughly 90 degrees apart, and unlikely to be damaged by spinning propellers (hopefully).
The biggest disappointment to me so far, would be the FPV camera.
First of all, you cannot adjust the camera angle because the design of the canopy restricts the tilt. Also, the camera is simply sticked to the frame with foam tape, so I tried adding some more tapes at the bottom to increase the tilt, but it was still far from enough.
15 degree is the maximum I can get it to tilt, I think it would be more comfortable to fly with 25, 30 or even 35 degrees on this quad.
Another bad thing was the VTX antenna, it was by design hidden inside the frame. You get much better protection for sure, but it's not the best practice when it comes to video signal.
So I decided to drill a hole on the canopy and pass the VTX antenna through. It's a dipole antenna wrapped in heatshrink anyway, so I am not too worried about damaging it in crashes.
Finally I was recommended to use 2S on this quad when talking to iFlight. But it was really slow, and it just feels lacking power. It flew a lot better on 3S. I think 3S 550mAh – 800mAh is a good battery size for this build.
And because most 3S batteries of this size come with XT30 battery connectors, you would have to either replace the JST connectors on the quad, or make a male JST to female XT30 adapter.
Video Quality and Flying Experience
The FPV Camera is NTSC format, so make sure you pick NTSC in Betaflight OSD.
Because it's using an F3 board, you can only run 8K/4K with Dynamic filter enabled. But that's totally fine for a tiny quad this size.
Honestly, image quality isn't great, it looks washed out especially under bright sun light. I wish they had used a brand name FPV camera, either the Foxeer, Caddx or Runcam. However, surprisingly, video signal is way better than I expected even though it's rated at 25mW.
It's a good quad with potential, with some tweaking and improvement on small details it can fly great and give pilots much better user experience.
What I am going to do next, is to replace the camera with a better one, maybe the Foxeer Micro Monster Pro or Runcam Sparrow 2. And also I want to replace the canopy with standoffs, and a top plate that I can 3D print by myself.
I will probably also upgrade the existing 1106 motors to RCINPower 1108 6800KV (purchase: http://bit.ly/2IerCzE) in the future, I really like them!