Today I will be reviewing this light weight quadcopter from GearBest. This quad is suitable for people who wants to learn flying for the first time. It has what we called "self-level", which means when you are not controlling it, it should just stays where it is. It also has several features that are great for beginners, or younger pilots.
Some of the links on this page are affiliate links. I receive a commission (at no extra cost to you) if you make a purchase after clicking on one of these affiliate links. This helps support the free content for the community on this website. Please read our Affiliate Link Policy for more information.
https://www.youtube.com/watch?v=ySVNEimysR8
I was recommended a cheap, simple quadcopter like this one when I started as a beginner. They are more crash-resistant and affordable, that way you can learn to fly it and not worry about crashing and wasting a lot of money. Unlike jumping straight onto a big quad like the phantom, because you are likely to crash and destroy it.
The size of this quad is 25cm x 25cm x 5cm. It's really light weight, only about 83gram.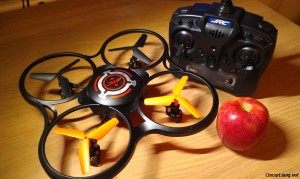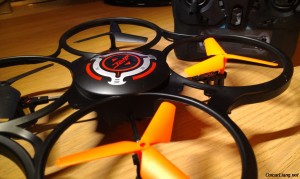 Good Features
Prop Guard
This is the biggest advantage of this quad in my opinion. Because of the light weight, crash impact is generally very small, and the prop guard is strong enough for most crashes. I tried to crash mini from about 20 feet into the ground, and it's still holding up well.
This is especially great for beginners who are likely to crash. As a owner of several multicopters, I know as a fact that one of the biggest costs of flying one, is propellers (props). With this prop guard it keeps your props safe and untouched in a crash. Also it keeps objects, humans, animals safer as well in unexpected encounters! (Of course you should always try to avoid collisions away from these things)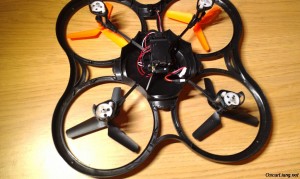 Acrobatics
You can also do flips and rolls on this quad, but the control is not what I expected. Normally you switch to manual mode (self-level mode off), and you pull the roll or pitch to the maximum to do flips. However on this quad, there is a button you have to press before making a flip, once you have finished a flip it will switch back to self-level mode again.
Quadcopter Review
I had fun flying this quad. Having flew 2 other similar entry level mini quad (Syma and Hubsan), this is not the most stable quadcopter, but it is still good because of the prop guard. This quad I received has a drifting problem. It keeps moving left when I am not controlling it, following the manual for calibration couldn't fix the problem. Applying some trim on the radio controller seemed to help a bit, but still it's not as stable as I would imagine it should be.
Battery life is fair, flight time is about 4 to 5 mins. It takes 60 mins to charge up the battery using the USB cable provided (claimed 45 mins in the manual). The battery is removable so you can probably get a few more batteries so you can fly while charging the spares.
I was thinking to attach a light weight camera and a video transmitter so i can fly FPV on it. But unfortunately this quad cannot take much weight, not even a 808 keychain camera. So you will have to upgrade if you want FPV.
And lastly, they should hire someone with better English to write their manual booklet. Some of the instructions are confusing and difficult to understand.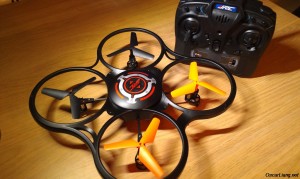 Discount Coupon For Purchasing
With this coupon you will be able to get this quadcopter for $38.99. (GBJJRX)
The product can be found: http://www.gearbest.com/rc-quadcopters/pp_75442.html