This page is written by a group member who entered our build log contest. We are sharing the info hope it would be useful to someone.
My buddy and I spent entire Saturday building our first quads, and they both fly like a dream! Building/configuring was 11 hours of pure fun!
Some of the links on this page are affiliate links. I receive a commission (at no extra cost to you) if you make a purchase after clicking on one of these affiliate links. This helps support the free content for the community on this website. Please read our Affiliate Link Policy for more information.
Thank you folks for sharing knowledge, we really appreciate it!
Parts list of The Twin Quads:
Frame: ZMR250
Motors: DYS BE1806 Black Edition
ESC: EMAX "Simon" 12A
FC: CC3D clone
Batteries: 1600 30C/60C + 1800 45C/90C
TX/RX: FS-i6 + stock FS-iA6 (cheap and have failsafe in stock, and uhm… "telemetry")
Don't remember exact weight, but both were around 470g with 1800mah strapped on. No FPV, no camera yet. Runcam HD on the way

One with white tape is mine, Grzegorz wrapped arms with black tape.
Maiden was funny as hell as we both did a flip on ground level. Gyro calibration helped
I dont have any data on flight time, my first true flight was just cruising on a 1800mah batt with a few sharp turns. I guess this was about 5-6 minutes – I didn't start the timer and my battery alarm goes off on 3.3V, so I didnt wanted to discharge too much. Second flight ended in my neighbour's backyard after 5 minutes
Grzegorz only tested his "Potato" on a gentle cruise on 1800mah and landed on a tree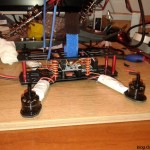 Conclusions
soldering motors directly to ESCs is actually easier than it sounds even considering we had practically no soldering experience
building can be messy! We probably would do everything a lot faster if tools were in the same place everytime
ALWAYS read every single word of instructions in CC3D wizard especially the big bad red words that say "take your props off". Mine went full throttle on me during ESCcalibration. My bad, but props were off so I still have my face
i have to buy a decent battery alarm and set it to 3.5 so I can fly till i hear the beeps,
4 months of learning to fly on a micro quad pays off!
We didn't do a full documentation of the build, we only have a few blurry photos, but if anyone wants to see them, we will share