Circular polarized antenna is the most popular antenna for FPV flying with 5.8Ghz FPV system, such as skew planar or cloverleaf antenna. Although they do allow better range and reception, there are situations where you are better off using simple linear polarized antenna, such a dipole antenna.
Some of the links on this page are affiliate links. I receive a commission (at no extra cost to you) if you make a purchase after clicking on one of these affiliate links. This helps support the free content for the community on this website. Please read our Affiliate Link Policy for more information.
Linear polarized antenna is a type of FPV antenna, and it can be made very small and light weight, especially useful for weight-critical application, such as on a micro quadcopter.
In this tutorial I will show you how I make my own dipole antenna to be used on my DIY 5.8Ghz FPV combo with good result.
What's inside a Dipole antenna
If you open a dipole antenna that comes with every 5.8Ghz video transmitter or receiver, you will find it's just a simple Coaxial Cable inside.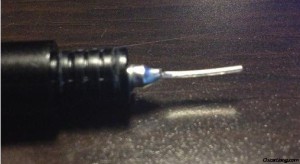 But what we really need to know is the length of the exposed wire (without shielding) affects the signal frequency that it receives. If the wire was about 12.92mm then it's tuned for 5.8Ghz, but only just a little shorter e.g. 12.70mm, and it becomes tuned to 5.9Ghz. The same theory applies to 2.4Ghz system, it's the same such as radio receiver.
In this example below, you can see the antenna element is not very precise for 5.8Ghz, it could have been be a little longer.
Build from scratch using Coax cables
If you don't have a ready-made linear antenna available from VTX/VRX, you can make one using coax cables.
There are many choices of coax cables:
The thicker usually means the shielding is better and it should work more effectively. But if you want something as light weight as possible while range is not the most important factor, you can consider using RX replacement cables, these have the thinnest possible shielding.
You might also need a SMA connector. But if you are soldering the antenna directly to the video transmitter than you won't need one.
Calculation of wire length for antenna
If the antenna is a quarter wave monopole antenna, then its length should be a quarter of the signal wavelength.
Length (m) = c / frequency / 4
Where c is the speed of light.
The more precise wire length is, the better signal you should get ideally. If you are using Coaxial Cable, it doesn't matter how long the cable is with shielding, all that matter is the exposed wire (the part that is without the shielding). Alternatively if you are using a wire like copper wire, just cut it to the calculated length and you have a monopole antenna :)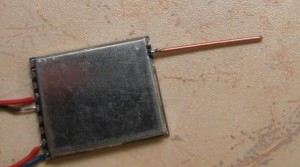 Further reading: 5.8Ghz Frequency Bands For different FPV brands.