Quadcopters aren't the most efficient aircraft compared to planes and fixed wings, therefore they tend to have relatively shorter flight time. I will explain the many factors that affect flight time on a drone, and how to keep you in the air for longer.
Some of the links on this page are affiliate links. I receive a commission (at no extra cost to you) if you make a purchase after clicking on one of these affiliate links. This helps support the free content for the community on this website. Please read our Affiliate Link Policy for more information.
It's important to understand the difference between "flight time" and "hover time". You can almost always get the same hover time on the same quadcopter and battery under the same condition. But flight time can vary considerably depending on how fast you fly and the wind is.
Having longer flight time is important to a long range FPV quadcopter.
Let's dive into what affects flight time and how you can maximize it.
"Warming Up" Battery
As mentioned in this article, LiPo battery has the best performance when it's around 35°C. In colder condition, your battery might appear to be less "punchy" and have worse voltage sag, which can result in shorter flight time.
Therefore it's a good idea to warm up your batteries to its optimal temperature before a flight, for example, putting it in your pocket.
Change How You Fly
To increase flight time without touching any of the hardware, the obvious is to change the way you fly.
Every movement you make by touching those sticks on the radio transmitter, changes the rotational speed of the motors. When motor speed changes, more heat is generated and it uses up your battery more quickly.
If you just want more time in the air, the best thing to do is fly gently and avoid unnecessary turns. Having steady throttle management also helps.
Basically, the closer you are to hovering, the longer flight time you get :)
Weight
Every gram you save is a few extra seconds in the air.
In a heavier quad, the motors have to work harder and so the battery doesn't last as long. By reducing the overall weight of a quad can improve performance too, making response more snappy and acceleration faster.
Here are some ideas to help your quad to lose some weight:
Shorter XT60 pigtail, motor and ESC wires
Avoid using connector, direct solder whenever possible
Remove HD camera (GoPro, Runcam etc) when it's not recording
Choose light weight parts (frame, motors, etc)
Use titanium and aluminium hardware over steel, but beware of the possible reduction in durability
I talked a bit more about the benefits of ultralight racing drones in this article.
Choosing Battery for Longest Flight Time
A larger battery provides longer flight time for your drone, but it's also heavier which requires the motors to run faster. It's a trade-off between battery capacity and weight.
Capacity vs. Weight
Battery capacity directly affects flight time. But interestingly, bigger battery doesn't necessary give you longer flight time because the weight of the battery increases with capacity.
You can keep increasing the capacity of the battery and gain longer flight time. But eventually it will reach a point where the battery is simply too heavy for the quadcopter to handle, and it even loses flight time.
The additional weight of a larger battery can also affect your quadcopter's flight characteristics, which you should take into account given the type of flying you plan to do.
For example, a 5″ acro mini quad can probably carry a 4S 3000mAh battery with ease. However the optimal choice for battery size has been proven to be 1300mAh to 1600mAh on 4S because pilots prefer the nimble and agile response.
You can experiment with batteries of different sizes, measure the hover time and determine which can give you the longest flight time. Here is an example how I choose the optimal battery capacity (very old post).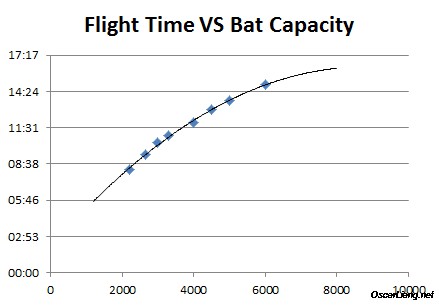 C-Rating
LiPo Battery C rating does not only affect the max continuous current draw, but also flight time. Surprised? Allow me explain.
Ideally, when you have consumed roughly 80% of the battery capacity, the voltage would drop to 3.5V per cell and this is normally when you want to land to avoid over-discharging.
However low C rating LiPo batteries tend to have much worse voltage sag. You might only have consumed 60% of the capacity, but the voltage is already at 3.5V. After landing the battery will recover to a higher level e.g. 3.8V. As you can see, batteries with poor discharge performance can limit the effective capacity and possibly give you shorter flight time.
Lower C rating batteries also tend to get hotter due to higher internal resistance, thus more energy is wasted in heat.
Battery Condition and Maintenance
This could well be a whole new topic, and there is simply too much to cover. But basically, your batteries will get old and the capacity they hold will start to decrease. It's important that you keep them in good condition, avoid over-charging and over-discharging.
Here is a guide on how to use and look after LiPo batteries.
Motor and Propellers
it's important to carefully choose motor and propeller combination depends on your need, such as power and efficiency.
Motor/Propeller efficiency can be calculated by dividing thrust by power, which is gram per watt (g/W). The higher g/W, the more thrust is generated at a given amount of power. For example the Cobra 2204 1960KV motors with 6045 propeller has a higher maximum thrust than 5030 props, but the 5030 propellers will give me longest flight time thanks to the higher efficiency on that motor and propeller combination.
Here is a guide on how to choose mini quad motors and propellers.
Fewer blades in a propeller are usually more efficient due to the fewer points of trialling vortices wasting energy.
Propeller balance is beneficial to flight time. Unbalanced propellers introduce vibration to the aircraft, which means constantly changing motor RPM and more energy is consumed.
Generally low KV motors with higher voltages is a better option towards longer flight time. Low KV motors swinging large propellers is another good option for higher efficiency. That's why larger rigs usually have longer flight time.
I explained the benefits of 6S to mini quads, and if it's actually more efficient than 4S.
PID tuning!
As mentioned earlier, vibration translates into heat in the motors and wasted energy. A well tuned, smooth, and stable multicopter is more efficient and gives you longer flight time.
Check out my PID tuning guide for mini quad.
Wind
When flying into headwind, it requires higher throttle to move at the same speed, therefore shortening your flight time.
Wind can also cause instability to the quadcopter, and the motors have to work harder to stay level. This means that flying in windy weather can drain battery faster than flying in a calm day.
Additional Components
Should I be worried about the small components I have in my quad? Yes and no.
Additional peripherals such as LED, FPV gear, camera gimbals etc can reduce your flight time, but they draw so little power it's usually not something to worry about (less than 1%). It's the weight that has a more noticeable impact on flight time.
If you truly want to increase flight time, remove any unnecessary parts.
Less is more!
I hope the article has been useful. There are so many little ways that help increase flight time, maybe not by a significant amount, but they all add up.
Edit History
Jul 2015 – Article created
May 2018 – Updated
Nov 2018 – added info about temperature