Moskito70 is a BNF 70mm micro quadcopter made by Furious FPV. It's one of the smallest racing drone running brushless motors. In this review we'll look at the construction, quality and performance.
Some of the links on this page are affiliate links. I receive a commission (at no extra cost to you) if you make a purchase after clicking on one of these affiliate links. This helps support the free content for the community on this website. Please read our Affiliate Link Policy for more information.
The MOSKITO 70 is available at FuriousFPV (link).
Moskito70 VS Tiny Whoop
The Moskito70 is only about 2cm larger than the Tiny Whoop, the biggest difference is probably the weight, The Moskito is 47g while my Tiny Whoop is 21g.
After flying the Moskito around the house a few times, my first impression is how much more powerful it is compared to the Tiny whoop. Although it hovers at around 50% throttle, it still feels very fast, perfect for indoor racing and acro flying.
It also performs great outdoor, handles the wind very well where the Tiny Whoop tend to struggle to stay level.
However I found it to be really loud compared to the Whoop (since it's brushless motors running 2S batteries). Your family might find it a bit annoying if you fly it around them in the living room too often.
The quad came pretty much ready to bind and fly. From unboxing to take-off, the setting up only took about 15 mins. It already had Betaflight V3 pre-installed, so all I needed to do was to bind my Taranis and configure Betaflight.
The construction of the Moskito70 is pretty similar to a Tiny Whoop or other brushed micro quadcopters: flight controller, FPV setup, motors etc, with the addition of 4 ESC's. They are cleverly hidden in the plastic "feet".
Specification
FC: RACEWHOOP F3
Motor: 1102 10,000KV Brushless Motors
ESC: 7A BLHELI_S DSHOT Capable ESC's
VTX: FXT FX806T 25mW 5.8Ghz 40 Channels
VTX Antenna: 1.7dBi LHCP Video Antenna
Radio Receiver: LR1000 FrSky Receiver
Props: 45mm Quad Blade Propellers
Total weight: 45g without battery specified, but my measurement 47.4g.
Components
Here I will take the Moskito70 apart and inspect each component.
Frame
The frame is a mix of carbon fibre and plastic. The centre plate and arms are 2mm thick carbon fibre. The camera pod, ducts (prop guard) and feet are made of red injection molded plastic. They originally used 3D printed material in their prototypes, but the new plastic material is a lot more crash resistant.
The camera tilt angle is fixed at 10 degree, non-adjustable.
LiPo battery is designed to be mounted below the copter under the carbon fibre plate, where you can use rubber bands to hold it in place. The battery is also protected by the plastic feet. However it limits the size of the battery if you want it to fit between the feet properly, the width of the battery shouldn't exceed 23mm.
This copter uses small philips 5mm long screws, the 4 screws used on the FC are 8mm long.
Ducts size from one side to the other is around 104mm. Height of the quad excluding antenna is 50mm, including antenna is 70mm.
Flight Controller – RaceWhoop
The brain of the Moskito70 – RaceWhoop – is developed by FuriousFPV. This tiny 20x20cm board has 16x16cm hole pattern, and is packed with features:
F3 Processor
PDB built-in
Current Sensor built-in
Supports 1S-2S LiPo
DShot Ready
It uses the Piko BLX FC firmware target, just like the Radiance.
Soldering looks solid!
VTX + Antenna + Camera – FPV Setup
The FPV system is not the AIO (all in one) units we normally see on the Tiny Whoop, such as the FX797 or TX01. The VTX and camera are separated and connected with wires.
The VTX is a modified FX806T 25mW made by FXT. The detachable antenna is a circularly polarized antenna with 1.7dBi gain.
Radio Receiver – LR1000
The LR1000 RX is only 1.4g, it supports SBUS and full telemetry, works with D8 and D16 mode. Currently the Frsky version is compatible with Taranis, Taranis Plus, X9E, Horus X12S, XJT Modules with International Firmware.
Features includes:
Uninverted SBUS signal
8 channels of outputs + 9th channel dedicated to RSSI.
Input Voltage Range: 3.5V – 10.0V (5V Normal Operating Range)
1KM of range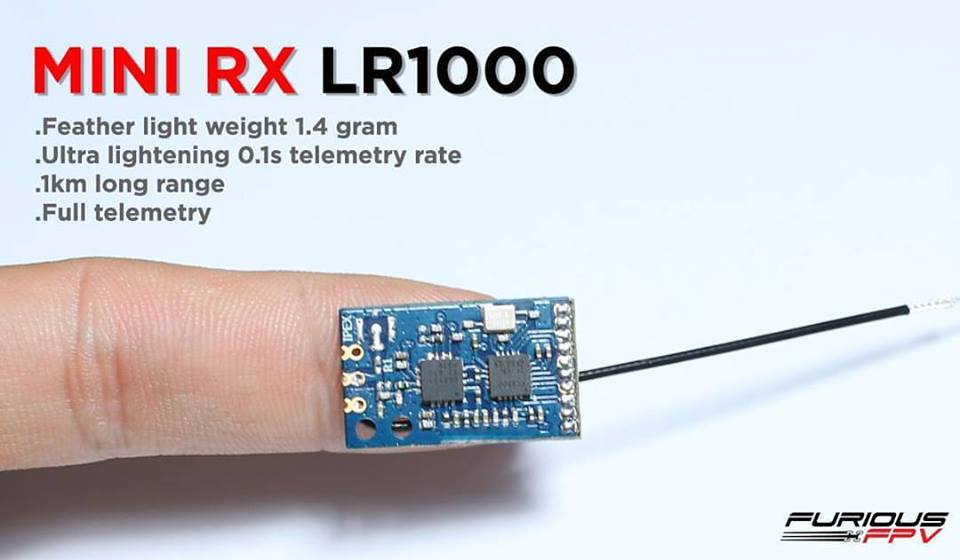 Spektrum version will be available at the end of February. According to their FB group, Futaba might also be available in the near future.
To setup Hub telemetry, simply select Frsky on Telemetry TAB, and display Vfas (or Cells) and Fuel on the Taranis telemetry page.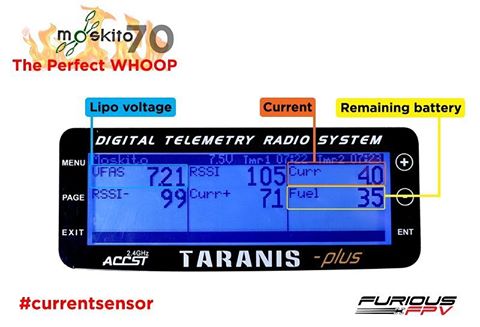 Motors
These little 1102 motors are rated at 10000KV! FuriousFPV claims the setup can produce a maximum 4:1 thrust to weight ratio. However I found the quad to be hovering at about 50% throttle and I expected more power. This probably has something to do with how good the battery is also (max discharge current – C rating). My current batteries are around 30C-35C, I want to get some with higher discharge current.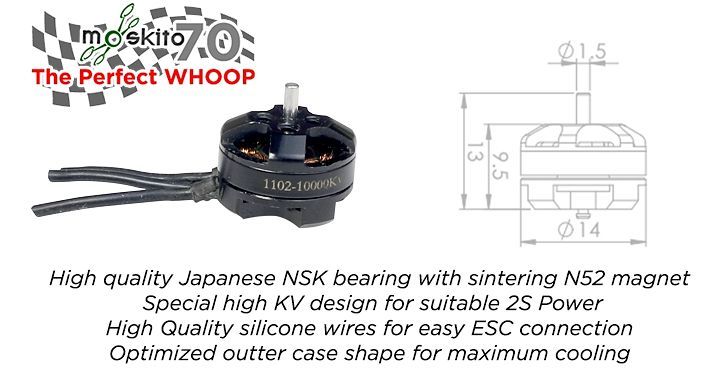 ESC
The ESC's are protected inside the feet, this design reminds me of the Helix frame. They are rated at 7A, and supports DShot ESC protocol out of the box. When I recieved the quad, DShot300 was already selected in Betaflight.
Propellers
Propellers are quad-blade, 45mm in diameter. There is no prop nuts and they are simply pushed into the motor shaft. It's easy to install/remove propellers, but one downside is that they tend to fly off if they come loose from the shaft. So every flight before take off I always press them to check if they are installed firmly.
By the way, the motor shaft has a diameter of 1.5mm.
2-blade props will be made available soon from Furious.
Buzzer
Buzzer provided weights 0.7g, and they are reasonably loud, although not as loud as the full size ones we use on 5″ racing quads.
LiPo Battery
Battery isn't included, it's recommended to get 2S 300mah – 450mah with red JST connectors.
I found the Moskito 70 is particularly picky about battery. I have a 400mah 30C (30g), 300mah 35C (18g), both suffers from massive voltage sag and feels lack of power. It sags to 2.7V per cell when I do a flip! Making it very difficult to recover and cutting my flight time.
I think discharge current – C rating is clearly not high enough. I would probably get some 65C+ if possible.
Improvement I want to see
Camera tilt angle made adjustable
Supply recommended battery at their store
VTX Antenna protector – my antenna got beat up very badly after a few crashes, maybe I will replace it with a whip antenna
Any way to make it quieter? Maybe look into using different props
Different colour of props to help orientation when flying LOS
Setting Up For 1st Flilght
Here is how I setup the Moskito70 from taking out of the box to taking off, hopefully this helps you set up yours when you get it. Like I said the quadcopter was nearly ready to fly, you only need to bind it and configure Betaflight.
Binding
Here is a detail guide how to bind the RX with XJT and Taranis, and setup Telemetry. Here is a summary how I bind with Taranis.
On your Taranis, simply use D8 in the model.
Remove the 4 screws and the camera pod to reveal the radio receiver, where you will have access to the bind button. Luckily we only need to do this once, so it's not a big deal.
On your taranis, enter bind mode. Hold down the bind button on your RX, and power on the quad, this will enter bind mode on the RX.
Once it's bound, the LED will go off after about 5 seconds, now power off the quad and exit bind mode on the Taranis.
Configuring Betaflight
If you are familiar with Betaflight and you know what to do, just do your things. If not, you can follow these steps to get it flying in no time.
Plug in USB cable (I have to say, the port is really easy to access even my biggest USB cable fits in there)
Calibrate Accelerometer
Making sure channels in receiver tab are responding to your sticks correctly
Setup modes – arm switch, beeper, angle/horizon mode
Further Review and Test Video
Coming Soon!