The new Omnibus Fireworks V2 flight controller covers a lot of bases and attempts to meet the many needs from pilots in flight controllers today.
Some of the links on this page are affiliate links. I receive a commission (at no extra cost to you) if you make a purchase after clicking on one of these affiliate links. This helps support the free content for the community on this website. Please read our Affiliate Link Policy for more information.
Further Reading: How to choose flight controller?
| | |
| --- | --- |
| | I compiled the specifications of all FC's for mini quad in this spreadsheet so you can compare them more closely. |
Features Run Down
F4, ICM20608 Gyro
3S to 6S LiPo
5V 1A BEC output
8V 1A BEC with LC filter output for the camera and VTX
Betaflight OSD
Hall Current Sensor
Lots of caps built-in to reduce noise in power
5 UART's (UART1 for SBUS, UART3 shares with i2c, UART4 for ESC telemetry, UART2 for SmartAudio, UART6 are spare)
Betaflight firmware target: OMNIBUSFW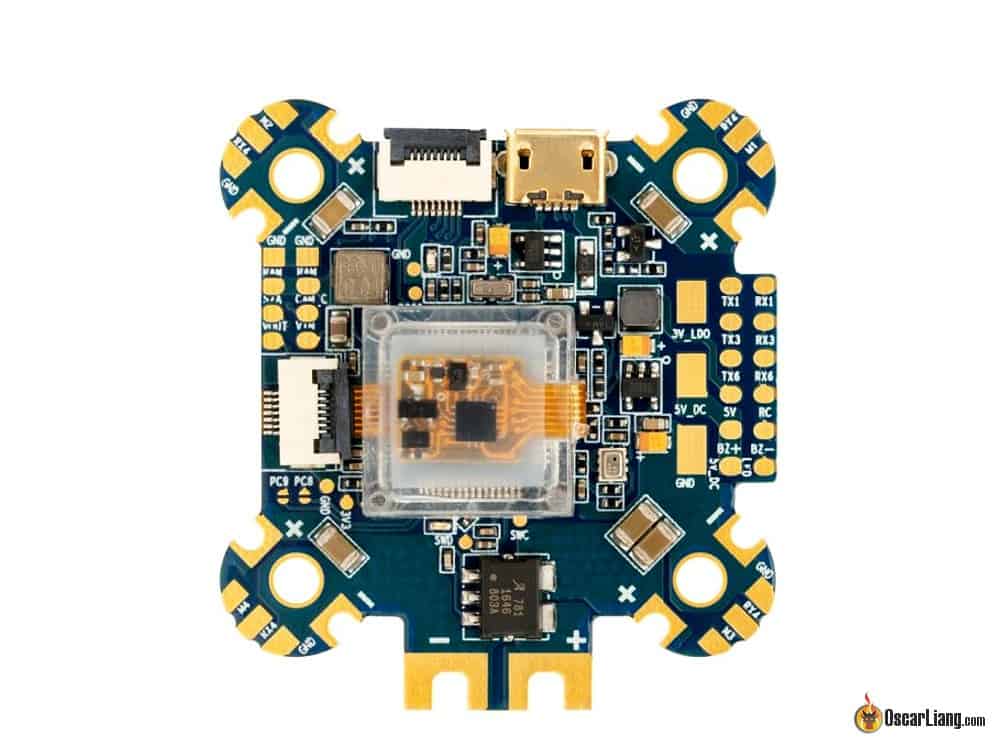 Soft Mounted Gyro
The Omnibus Fireworks V2 has a soft mounted gyro in a protective case, and the ribbon cable that connects the gyro is also reasonably protected. Because of that you no longer need to soft-mount the board, potentially saving you from spending more on rubber bobbins :)
The Gyro sensor is a ICM20608 which allows for 32K/32K sampling rate and looptime. There is a spare SPI connector, so you can plug in a different gyro such as the MPU6000 if you wish according to the manufacturer.
Hall Current Sensor
Instead of using the traditional shunt resistor to measure current, the Fireworks V2 uses a different approach. It uses a hall effect current sensor to detect current by measuring the magnetic field induction.
One benefit is that you no longer need to calibrate the current sensor! (at least that's what the manufacturer promises). The current scale you need to enter in Betaflight is 175.
Shut resistors also have resistance which can cause a small amount of power loss. So it's good to know we no longer need to worry about that on this board.
The default current sensor is rated for 150A, if you need a higher rating you can solder an additional resistor to the board to increase the limit to 320A. But seriously 150A is more than enough for us, because it's pretty hard to find a battery than can put out that kind of current :)
8V for FPV Gear
It's nice to see there is a dedicated 8V/1A power for FPV gear, and not just 5V. Most FPV components support direct LiPo input, but the lower input voltage means less heat, as well as additional power filtering.
Board Layout
The Omnibus Fireworks V2 is kind of an upgrade from the Omnibus Corner we have been featuring in our list of "Best Flight Controllers", which share a similar style.
First of all, the solder pads appear to be nicely sized and easy to work with. They are separated into 2 groups by their functions, and duplicated on both sides of the board which is convenient.
There are solder tabs for the ESC extended around the mounting holes for standoffs. Not only this creates room for the FC it also makes soldering easier and wiring cleaner. Notice the small cutout is a nice touch to the design so you can fit the power wires inside the cutout and nothing will be sticking out on the top of bottom.
At each corner, there are ESC ground and ESC telemetry pads alongside every ESC signal pads. There are solder pads at each corner for you to "surface mount" extra SMD tantalum capacitors if you use some really noisy components, and don't want to have electrolytic capacitors hanging off the board.
4in1 ESC Support?
It has a ribbon cable connector for 4in1 ESC's. But as far as I know there isn't many 4in1 ESC's that use ribbon cables, apart from their own Typhoon32 4in1 ESC.
Where to Buy?