Polycarbonate Mini Quad Frame
This time we have something very special to review. Received a mini quad frame from Chaney Aerospace that made of transparent polycarbonate. It's common knowledge that quadcopter frame should be made of material that are stiff, light, and hard to break. You can buy it from here.
Some of the links on this page are affiliate links. I receive a commission (at no extra cost to you) if you make a purchase after clicking on one of these affiliate links. This helps support the free content for the community on this website. Please read our Affiliate Link Policy for more information.
This frame only weights less than 90 grams, and it appears to be pretty tough to break. So this frame meets the later two requirement, but it's really bending and flex a lot when you put pressure on it! I could literally bend this frame 180 degree by hands. :D
I am seriously doubting if this frame can actually fly stable in the air. But if it does, it will be so tough to break. These are some build pictures from the seller.
What is Polycarbonate
So what is Polycarbonate? It's a type of plastic that is well known for its strength, high impact resistance and long durability properties. Therefore it's used widely in day to day products such as casing for electronics devices, light weight suitcases, tableware etc.
Here is a bending test of the frame using hands.
https://www.youtube.com/watch?v=Gh34CaS4jXg
Specification, Weight, Dimension Size, Includes
It comes with two plates, a top and bottom plate. The arms and bottom plate are in one piece. It includes:
Top plate
Bottom plate
8 x metal stand off for the frame plates
4 x Nylon stand off for the Flight Controller
screws and nuts for the stand off.
The frame weights around 89g. Motor to motor distance is exactly 250mm (25cm)
Motor mount holes are 2.5mm, and frame plate holes are 3mm.
Both frame plates are 3mm thick (~1/8 inch).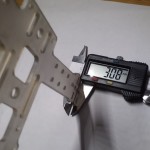 Slightly narrower than the ZMR250, but a bit longer.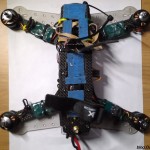 Improvement Suggestions
After building/flying this frame, here are some of my ideas for improvement. Will keep this list updated as I use this frame more.
Need FPV camera mount for board cameras.
3mm motor mount holes, and 2mm motor mount holes, giving users more options.
Holes for VTX antenna extension cable.
There is warning in the manual about over tightening screws could damage the frame around the holes. Maybe include spare washers in the package, which could help spread the pressure when tightening the screws.
Make thicker frame plates will help the flex problem, further strengthen the frame, and also helps the cracking issue due to over-tightening screws.
Update
unfortunately, this frame does not perform well. The arms flex too much, and it just wobbles no matter how I tuned it. So… Failed!