Here are a ton of tips and tricks on building, maintaining and flying mini quad (aka FPV racing drones). Some of which also apply to RC models in general.
Quadcopter Building Tips
Build a smoke stopper before building your first quad!
Beginner soldering guide – I will show you what the best soldering iron and solder are to get, and how to solder properly
Prepare/chamfer frame edges – Sometimes your new carbon fibre frame comes with very sharp edges, it's a good idea to file them
Test your FC by connecting it to the computer before soldering anything on it. Discovering the FC is defective before burying it in your build will save you a ton of time and work trying to troubleshoot
FC won't connect to computer? Make sure you are using an actual data USB cable! Some USB cables are made for charging only and missing the data wires
Avoid running wires along/on top of your flight controller, as this will increase the chance that something vibrates against the Gyro – this will make tuning MUCH harder later on
Bind your radio receiver before burying into the bowels of your quad
When building your quad, check if your motor screws are touching winding, this is very important as it's probably the #1 cause of motor related issues
Soft Mounting FC and Motors – Soft mounting FC and/or motors can reduce the amount of noise getting to your gyro and improves flight performance
What AWG (gauge) wire to use? – This post answers some of the common questions what wire sizes to use in a quadcopter for different components
Adding Low ESR Capacitors in a quadcopter – extra capacitors can help reduce noise in the power, improve your FPV video and the quad's flight performance
Use Loctite glue on your motor screws – Loctite glue prevents screws from loosening especially important in a moving/oscillating aircraft
How to keep FC/PDB stack low – in situations where the frame has a limited height (such as micro quad) you would have to keep the FC stack as low as possible
Mount your 900MHz RX antenna properly – (Crossfire or R9M) in order to get the most range out of your long range RC system
Quadcopter Maintaining Tips
How to repair RX (radio receiver) antennas – don't panic when you damage your RX antennas, fixing/replacing them is easier than you think
How to remove stripped aluminium screws – aluminium screws can strip and become impossible to remove, here I will show you how I tackle that
Protect your LiPo batteries from physical damage – An excellent way to protect our LiPo batteries is to cover them with protection such as rubber heatshrink and PVC corners
Keeping LiPo balance leads out of the way – or they can get damaged by spinning propellers in the air – simply use a rubber band
Don't throw away broken 4in1 ESC, replace and solder a single ESC off the power and ground and signal wire, you might be able to keep flying with that
Quadcopter Flying Tips
Don't make any adjustments to rates or the tune, specifically PID and filters until you are well past the beginner stage. People focus too much on perfecting their quad before focusing on improving their skills
Use ESC/Motor beeping as lost model alarm – your motor and ESC can make sound and they can replace or backup your lost model beeper
Common quadcopter technical issues – there are many common issues we tend to have with FC, ESC, motors, and FPV system
Other Little Tips That Help Your Flying and Building
Use all 4 motor screws!
I see people often use only 2 or 3 bolts mounting their motors on the arm. But it's best to use all 4 motor screws whenever possible, unless you are really striving for light weight. Motors make vibrations and your screws can get loose over time. Having 4 screws minimizes the chance of losing your motor mid air.
ESC / Motor Wires Protector
Your propellers are flexible plastic, and they can bend (aka prop deflection) and strike your ESC or motor wires mounted on the arms in a crash. To avoid this, simply put a piece of stiff plastic sheet on top of the arms. You can get the material from broken propellers, or water bottles.
Cover Electronics with Tape when Soldering
You can accidentally drop solder on components when soldering and destroy it! Cover it with tape so it won't happen! I prefer to use masking tape, kaptain tape also works.
How to Mount Vibration Dampers – The easiest way!
DIY GoPro/XiaomiYi Camera protective Case
Best camera mounts are usually 3D printed in TPU, but no 3D printer? No worries, you can make one out of foam.
I love recycle motor foam packaging (this one is from Cobra 2204 motor ). Cut some holes big enough for the USB connection, SD card, and the record button.
Put an extra piece of foam to cover the LCD screen as well. And it also works well reducing jello as the foam absorb some vibration.
Use Antenna extension lead to protect your VTX
If you install the antenna directly on the VTX, chances are you can break it in a crash, pulling the antenna connector off along with the solder pads on the PCB. The damage is irreversible, and very difficult to fix. Try find the copper trace and scrape off the mask as shown here.
To prevent this from happening, I recommend using an antenna extension lead between the VTX and antenna. You can mount the extension lead on the frame so that it relives the strain off the VTX connector in a crash.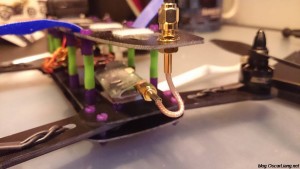 Edit History
Aug 2015 – Article Created
Jun 2017 – Article updated with 8 more tips
Oct 2018 – Updated with a few more tips
July 2019 – Added a few more tips, removed a few obsolete ones