RCX is known to make cheap mini quad motors that are relatively powerful for their price. They have recently released the "V3" of their flagship motor – RCX SE2205.
Some of the links on this page are affiliate links. I receive a commission (at no extra cost to you) if you make a purchase after clicking on one of these affiliate links. This helps support the free content for the community on this website. Please read our Affiliate Link Policy for more information.
Unboxing
Motor is made of 7075 CNC aluminum, which should make it more resistant in crashes than previous edition.  There is no noticeable change in appearance of the motor bell, but the RCX SE line is following the "red bottom" trend.
Unfortunately they didn't specify the exact type of alloy. They are motion balanced – blue goo is visible inside the bell. In my thrust testing I didn't notice any vibrations, it spins very smoothly.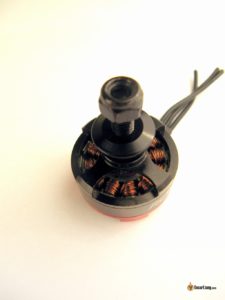 Motor specs:
kV: 2400
Weight: 25g
Suggested battery: 3-4S
Only one thread direction available – CW
Closer Look
Bell shaft is held by a large c-clip that can be easily removed with small pliers. Entire unit can be easily disassembled. Bearings pop off easily when shaft is removed, and the shaft is held in the bell with two grub screws.
Spare parts such as bearings, circlips, shafts are available for $1/pc.
The bell design with protruding spinning parts can make it vulnerable in certain crashes, but the same issue is faced in numerous motors now, like Tornado F1 and EMAX red bottoms for example. I guess this design helps cooling when spinning. I didn't experience any issues with it so far in terms of durability.
Pros:
Light design
Long motor wires
Only one direction of propeller shaft thread (no CCW/CW thread confusion)
Can be bought very cheap if user is willing to give up on warranty
Spare parts available
Cons:
Thrust values are below top performers
Lower Efficiency compared to other motors, take DYS SE2205 for example, the RCX motor delivers 50g less top thrust on the same amperage
Overall, I am impressed by this motor. Machining is a little bit rough, but to be honest I noticed it only when I was doing macro photo shots of the motor base.
After flying with this motors for about 20 packs, I like them a lot. I had a few serious crashes (including 10m free fall on asphalt) and they are holding up like a champ.
My experience so far is that this motor should be used with lighter props. It can spin heavier 5" without problem, but I really prefer to stay on either biblade or 5040 triblades. 5045HBN triblades proved to be a battery killer for me.
If you are looking for motors to put on a new build you should also consider SE2205 bigger brother, the SE2206 motor. That one should be able to handle heavier 5" props more effectively.
See some flight footage:
RCX SE2205 2400KV Thrust Test
Props
%
Peak Thrust – g
Peak Current – A
Max Power – W
Efficiency – g/W
Gemfan 5040×3

50

373

5.6

87.6

4.3

100

1094

25.7

416.7

2.6

Gemfan 5045BN

50

378

5.5

90.7

4.2

100

1102

25.8

418

2.6

DAL 5040×3

50

325

4.5

76.1

4.3

100

994

20.7

293.8

3.4

DAL 5045

50

306

4.2

70.9

4.3

100

938

20.1

331.4

2.8

DAL 5045×3 HBN

50

425

6.1

160.1

2.7

100

1219

30.3

494

2.5

Kingkong 5040

50

324

4.9

82.7

3.9

100

1051

24.7

403.5

2.6