T-Bone FPV shared with us his crazy rescue operation of his newly re-built Bixler fixed wing plane, from the very top of a high tree. I found the story very entertaining, but it must be a massive headache if you were the guy in it. :D
Some of the links on this page are affiliate links. I receive a commission (at no extra cost to you) if you make a purchase after clicking on one of these affiliate links. This helps support the free content for the community on this website. Please read our Affiliate Link Policy for more information.
The story is written by T-Bone FPV, you can visit his Youtube channel.
Bixler Getting Stuck in a Tree
As a mini quad pilot I tend to not worry about wind speed that often. I forgot to check the wind before heading out to maiden the bixler and it didn't cross my mind until I was airborne. The winds were roughly 15mph with 25mph gusts that day. On top of that I put a very heavy 4200mah 3s battery in the Bixler making it even less responsive.
The first LOS maiden went fine, only kept it up for a minute and brought it back down unscathed. Strapped the Runcam2 on the wing and went back up for an FPV flight. Everything was going well until I turned and let the wind pushed me down the field. The bixler was not responding to inputs and eventually landed right in the very top of a huge tree.
I throttled up hoping to be able to force it out of the limbs.  Of course that didn't work so I was stuck. The plane was about 60-65ft (20 meters) in this tree. The sun was going to set in about 2 hours and the park has a locked gate not allowing access to anyone.
Calling the Firemen!
I started going over all of the tree magnet horror stories I've read and trying to decide on a plan of action. Nothing sounded like it had a remote chance of working so I did what any little old lady with a stuck kitten would do…  I called the fire department!
While the fire department is on their way my wife got hold of the park manager and had the gate unlocked and opened for any help we were able to find.
Just like any good fire department they arrived in style.  They walked up to the tree with me, looked at the plane, and promptly apologized since they had nothing that would not even come close to reaching it.
My kids loved seeing the fire truck and the fire fighters however, so that was great!
Helps from Spider Man
My next idea was to call a tree-trimming service.  They cut trees for a living… they should have stuff that would reach the top of trees…  right?   About 20 minutes later the owner of a local tree cutting business came to check out the plane and he too apologized due to his bucket truck will not come close to the plane either.
He had another idea however.  He knows a 'professional tree climber' that has helped him with cutting down large trees and will call him and put him in touch with me.
About 20minutes later I got a call from 'spider man' – by that I mean the professional tree climber.  We worked out a deal that will benefit us both (time isn't free) and I asked if he could come now and try to get it out.  He assures me he would get it down no matter what and will start heading my way.
This dude showed up with ropes, spurs, chain saws, you name it.  He isn't playing around.  The sun is starting to set at this point and he started going at this tree like a monkey.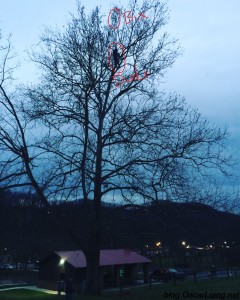 I still don't know how the tree was strong enough to hold the weight of this guy's balls but he did exactly what he said he would do.  He climbed almost to the top of this tree and tied a safety rope off and then started making his way over to the thinner branches where the bixler was hanging.
Plane Saved and Lesson Learned
By this time about 3 hours had passed since the plane 'landed' in the tree.  I had assumed the runcam2 had been on the wing recording (battery dead by this time) the entire time.  Once the plane was on the ground I found the runcam2 on the ground.
After reviewing the footage the camera had fell off as soon as the plane hit the tree and has been laying on the ground all evening! Here is the footage from the camera.
The only damage the bixler had sustained was the rudder was ripped off.  Nothing a bit of glue and tape couldn't fix.  The battery was only down to 3.8v/cell so it was just fine!
All in all it was a good day.  It didn't cost nearly as much to get it down as building a new FPV bixler would.  And it made for an interesting story and we got to meet a lot of cool people in the process.
The next time I go to maiden a fixed wing I'll be sure to check the wind speed!