The Holybro Kakute F4 FC is an AIO flight controller with built-in power distribution and Betaflight OSD. In this review we will go though the features and test it on a mini quad.
Some of the links on this page are affiliate links. I receive a commission (at no extra cost to you) if you make a purchase after clicking on one of these affiliate links. This helps support the free content for the community on this website. Please read our Affiliate Link Policy for more information.
The Kakute F4 is available from: GetFPV, Banggood, Amazon
Update (Sep 2018): Holybro released an F7 board and you might want to consider it over the F4.
Update (Jan 24 2018): you are looking at the Kakute F4 AIO V1. Holybro recently released the V2 and here are the changes.
After trying the Betaflight F3, I fell in love with "All-In-One" flight controllers. Only one single board in the whole quadcopter makes it so clean and easy to build and repair. Therefore I was particularly excited to testing the new Kakute F4 AIO FC from Holybro. Not to mention this is only my second F4 board surprisingly :)
To learn more about flight controllers, make sure to check out my guide on mini quad FC.
What is special about the Holybro Kakute F4 AIO FC?
The first thing that caught my eyes was the Gyro sensor.
This is the first "mini quad flight controller" that has a "soft mounted" IMU, so we don't need to soft mount our FC or motors.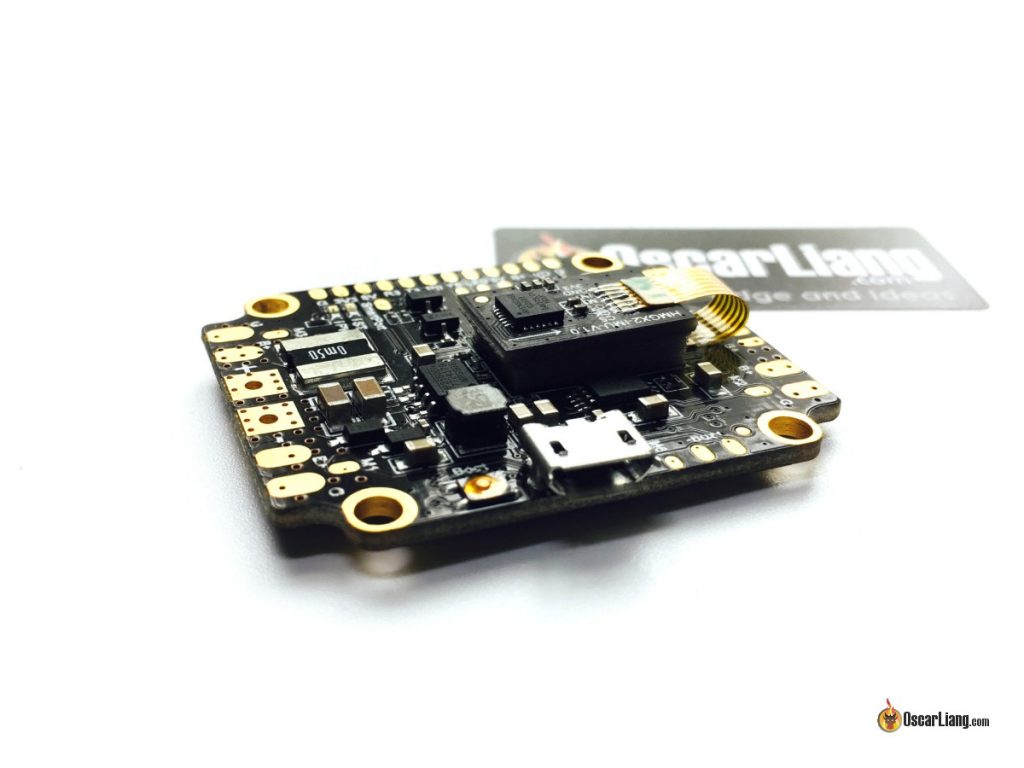 On the Kakute, the IMU is a separate module which is mounted on foam and it's connected to the main board with a ribbon cable. The cable appears to be pretty fragile, I think extra protection might be required to keep it safe from crashes. Anyway they have included an extra ribbon and more soft mounting foam tape in the package just in case.
Another concern I have is the effectiveness of the vibration damping due to the light weight of the IMU module. Only tests will tell.
The IMU is not the MPU6000 that we see a lot on other FC's, but a high performance Invensense ICM20689 which is capable of running at 32KHz sampling rate. Not exactly the same but similar to the one on the Raceflight Revolt V2. Right now it probably doesn't mean much in Betaflight, but if in the future they decide to go with faster Gyro sampling frequency the Kakute F4 would be ready for it.
Apart from the Gyro, the Kakute basically has the same capability as the Betaflight F3 FC, including Betaflight OSD and PDB. The OSD allows the pilot to change settings and PID using sticks through the OSD. You can even change VTX settings/channel/power if you have the Tramp or Unify Pro.
This guide shows you how to setup betaflight OSD.
To Summarize:
Soft-mounted Gyro
The Gyro is capable of 32KHz
Betaflight OSD and Integrated PDB
Spec of the Kakute FC
Here is a full list of specification of the Holybro Kakute F4 FC.
F4 Processor (differences between F1, F3, F4 and F7)
IMU: ICM20689 (Gyro and Accelerometer) with SPI
3 hardware UART's available
16MB of flash memory for Blackbox logging
Built-in OSD – fully supports Betaflight
Integrated PDB with filtered 5V/1.5A voltage output
PDB rated for 120A continuous current
Bootloader button
Input voltage: 7V – 42V, supports up to 6S
Built-in current sensor
Designed for Betaflight, firmware target is "KTV1" (KAKUTEF4)
Holybro made a F3 AIO FC back in Oct/Nov 2016, and this F4 AIO is an upgrade of that so we can expect it to be a fairly mature product with the experience they had previously.
Thoughts so far
Build quality looks good, the only thing I notice is the current sensor which is soldered on with a slight angle. I checked online for a few other reviews and it appears to be the same in their boards.
The flight controller was plug-and-play for me when connecting to my computer (Windows 10), driver installed automatically as I plugged in the USB cable. The Kakute F4 is pre-loaded with April version of Betaflight V3.20. If you want to use "Dynamic Filter" you will need to update to a newer version of BF3.2. I also had to fix the DFU driver issue when flashing.
The board supports SmartPort telemetry out of the box, without any mod or inverter like other early F4 FC's.
There is no ESC signal grounds, so you would need to solder the signal ground to the power ground if required.
The Kakute F4 doesn't work with PPM/PWM receivers and only support serial receivers such as SBUS, iBus, Spektrum satellite etc
It also doesn't have 12V output, that meas you cannot power any devices that require 12V directly from the Kakute F4; You have to choose whether to power your electronics with 5V or battery voltage. One confusion is the 5V current rating, on the product page it says 1.5A while in the manual it's 1.2A (edit, 1.5A is correct)
Excellent manual, very clear instructions
The problem with the attached gyro is that you can mount anything on top of the board, such as a RX. Due to the foam tape, it also raised the height about 3-5mm taking up more verticle space
Although this is an AIO board with many features, it doesn't looks that massive in size compared to other basic flight controllers, such as the Naze32 in this example.
Build and testing, and more feedback
I used this FC in the GEPRC LSX5 build.