Recently we received this NIHUI U807 RTF (Ready To Fly) quadcopter kit from GearBest. It is a beginner level mini quad featuring VGA camera capable of recording video and taking stills. In this review we will take a look at it's features.
Some of the links on this page are affiliate links. I receive a commission (at no extra cost to you) if you make a purchase after clicking on one of these affiliate links. This helps support the free content for the community on this website. Please read our Affiliate Link Policy for more information.
Get yours NIHUI Toys U807 with 60% discount on from here..
Unboxing: NIHUI Toys U807 Quadcopter
The package includes:
U807 quadcopter
Transmitter (using 4xAA batteries)
Set of spare props (x4)
Set of prop guards for indoor flying (x4)
Removable camera module
3.7V 650mAh Battery
USB Micro SD card reader
Micro SD card 4GB
USB battery charger
Instruction manual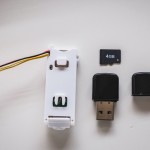 This quadcopter is 240mm diagonally (motor to motor distance) between the prop shafts, and about 60mm tall. Total weight including battery and camera module attached is 110g, which makes it very lightweight and suitable for both indoor and outdoor flying.
At a closer look
Build quality
U807 is entirely made of light weight plastic but feels very sturdy. Arms have LED lights underneath them. Front arms have blue LEDs and back arms red – same colour coding as car lights. It helps to identify quad orientation during the flight. Quad is symmetric in shape apart from the top case.
It is using 5.5" props with 8.5mm brushed motors. Propellers are quite long and provide surprisingly good amount of thrust.
It looks futuristic with the top case stylised into some sort of car or StarWars inspired vehicle.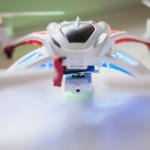 The U807 can be used indoors as well as outdoors. Because it is bigger than typical micro quad and yet it comes with a dedicated prop protector. This safety feature helps reduce the change of house interior damages. I have tested the protectors by deliberately flying into things and they did well surviving all crashes.
Camera
By default, the supplied camera is detached and in order to connect it to quad, it needs to slide into the dedicated rails and connected via cable to the main circuit board. The camera angle is adjustable.
The Camera can record with a HD resolution and take still photos. It is controlled remotely via the top right button on radio transmitter. By pressing this button we can choose to start recording or to take a still picture.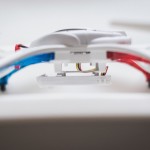 The only problem with the camera module is that, after the flight with camera turned on and recording, if radio transmitter was switched off, any footage would not be saved at all. It happened to me a few times. I would expect that even when forgotten to turn off video recording, switching off transmitter should stop it as well. Just bear that in mind.
Here is a short flight video recorded with onboard camera.
Video quality is not the best, but reasonable given the price and size. I notice a little bit of jello in the footage during my flights. Due to little weight and power of this quad, it was unable to lift any other better cameras.
Radio transmitter
Dedicated radio transmitter looks pretty cool. Feels good in hands. It is 2.4Ghz radio that is factory bind with U807. It requires 4 x AA batteries (not included).
There is a little flaw in the transmitter I received for review, one of the springs in the battery compartment tension is too tight, and when the back door was opened, two batteries always eject themselves from the slots. QC missed it obviously.
This type of transmitter is commonly used in toy grade quadcopter. It has two sticks in mode 2, trimmers, two buttons on the top (left and right hand side) and ON/OFF switch.
Top left button changes the flight mode. Top right button switching between video recording and taking stills. Headless mode is active when right stick is pressed vertical down (toward transmitter).
Pretty simple to operate. LCD display shows the percentage of stick movement and trim values. It lights blue when radio is on.
I haven't tested the range but specification states 150 meters. That's more than enough for Line of sight flying IMO.
Battery and charging
The quad comes with a one cell 3.7V 650mAh Battery. Charging can be done only via dedicated USB charger. It takes about an hour to fully charge the battery.
Flight time is about 5 to 8 mins, depends on how fast you fly, not bad for such small size quadcopter.
This type of battery is widely available in RC shops, if you ever need more flight time.
Flying experience
Before I describe flying experience with this quad I need to mention the provided manual. This is the first piece of information that novice pilots are looking at when starting with this quadcopter and I must say, I am not impressed.
Manual is in Chinese and English, but the translation is poor. It's difficult to understand some of the instructions.
The following flight modes are available on the NIHUI U807:
Mode 1
Mode 2
Mode 3
Headless mode
They are similar to other small quads like Hubsan or Syma. By pressing top left button on the radio modes are activated and number of beeps indicates the current flight mode.
Mode 1, 2 and 3
Mode one is the "beginner" mode. It restricts any sudden movements in roll and pitch, which allows nice and smooth hover. Mode 3 allows for the most rapid movements. Mode 2 is somewhere in between mode 1 and 3. In theory you can also do acrobatics in Mode 3, i.e. flips and rolls. Not sure if this particular quad I was reviewing had a fault. Tried my best and it ust wouldn't flip at all.
Headless Mode
Headless mode, which I have never used on any of the quads flown before, is being activated by pressing down right hand side stick and there is a audible signal repeating to indicate that we are in headless mode.
This mode allows for flying the quad using magnetic compass to find its way and this is the coolest feature of this quad. During my testing it was flying well in this mode. It is great for recording the video because we can rotate freely in any direction (using rudder stick) without calculating in the head what should be the quad orientation like with typical LOS flying.
Conclusion
I think beginners that want to find a way into the hobby and to learn how to fly a multicopter, will benefit from learning on this quadcopter.
U807 has few more features than those cheapest toy grade copters, so for the price it is rather impressive piece of kit. To summarize:
Pros:
Dedicated camera..
Replaceable battery
Prop guards for indoor flying included
4GB memory card included for recording video
Headless mode – great addition
Cool looking LED lights, especially in the dark
Good quality transmitter
Very stable
Easy to fly
Cons:
Confusing, poorly translated manual
Camera resolution isn't great
No replacement parts included, such as spare props or frame. If it breaks, it's the end of the fun and you need another quad
Switching off transmitter during camera operation delete last video
Unable to perform flips and rolls (on reviewed quad)
Quality control could have been a little bit better (batteries compartment in transmitter)
I had tons of fun reviewing this little flyer, and I would recommend this quadcopter to a beginner, who is looking for their first mini quad to practice. despite the small flaws I came across.