I got this RCbenchmark 1520 thrust stand to replace the Turnigy thrust stand I have been using for my motor, ESC and propeller testing. Here is a quick comparison and review.
Some of the links on this page are affiliate links. I receive a commission (at no extra cost to you) if you make a purchase after clicking on one of these affiliate links. This helps support the free content for the community on this website. Please read our Affiliate Link Policy for more information.
Here is a list of tools you should get for building/flying mini quads.
The 1520 series thrust stand is made by RCBenchMark.com. For the rest of the article I will refer to this stand as RCBM. It's also available at Hobbyking if shipping is easier for you.
Two Stand Models – RCbenchmark 1520 vs 1580
There are 2 thrust stand models from RCbenchmark. The basic 1520 is priced at $165, while the more advanced 1580 is $495!
The 1580 does a lot more like measuring motor torque, vibration (detects motor/prop balance), temperature, motor wilding resistance etc. I think the 1580 is more for R&D, for our hobbyists I think the 1520 would suffice.
For a more detail differences check out their comparison table.
Note that there is no upgrade kit for the 1520 to 1580, so make your decision carefully. Since I have the 1520 I will focus on this model for the rest of the article.
Comparing to the Turnigy Thrust Stand
The more affordable Turnigy Thrust stands are standalone solutions with built-in LCD screen, pretty nice if you just want to quickly test a motor/prop and ESC combo. The Turnigy V2 even has a power analyser (power meter) that measures the voltage, current and wattage. Although the RCBenchMark stands also has power meter, it doesn't have any servo tester knob or LCD display built-in. Therefore it requires connection to a computer to control the motor and to read the values.
However the RCBM stand has better thrust precision than the Turnigy. As an owner of a Turnigy stand, I am not confident with the accuracy of the results. Often times after a test the scale doesn't even return to 0.
The RCBM also has a built-in electrical RPM probe (rotation per minute), as well as being capable of running powerful automation scripts for your tests.
Side by side comparison with my Turnigy thrust stand.
To sum up the advantages of the RCBM thrust stand:
Built-in power meter (up to 35V, 40A current)
More accurate data
Direct measurement and continuos data logging (in a spreadsheet)
Measures motor RPM
Manual control as well as automation scripts (for large scale standard tests)
Light weight and small (less than 300g)
The scale works both way: push and pull (range of -5Kg to 5Kg)
Integrated ESC signal controller (no additional servo tester required), but you can so use external servo tester
High sampling frequency – The load cell refreshes at a constant rate of 8Hz
Ability to perform calibration is very important to ensure test result consistency
Disadvantages or things I think they can improve on
No heavy flat base, therefore it requires additional clamps or mounting bolts already installed on a workbench
No physical control or LCD screen built-in, and it have to be connected to a computer in order to use it (wireless option isn't available so cable is required)
Expensive (but you get what you pay for)
Only support up to 40A of current – although it's pretty much enough for what we test right now, but it's hard to say RC multirotor motors won't evolve and exceed this limit in the future
ESC control signal is only standard PWM – maybe they can impletement Oneshot or even Multishot in the future (although you could use external ESC signal from a flight controller for now)
Unboxing and Assembly
What's included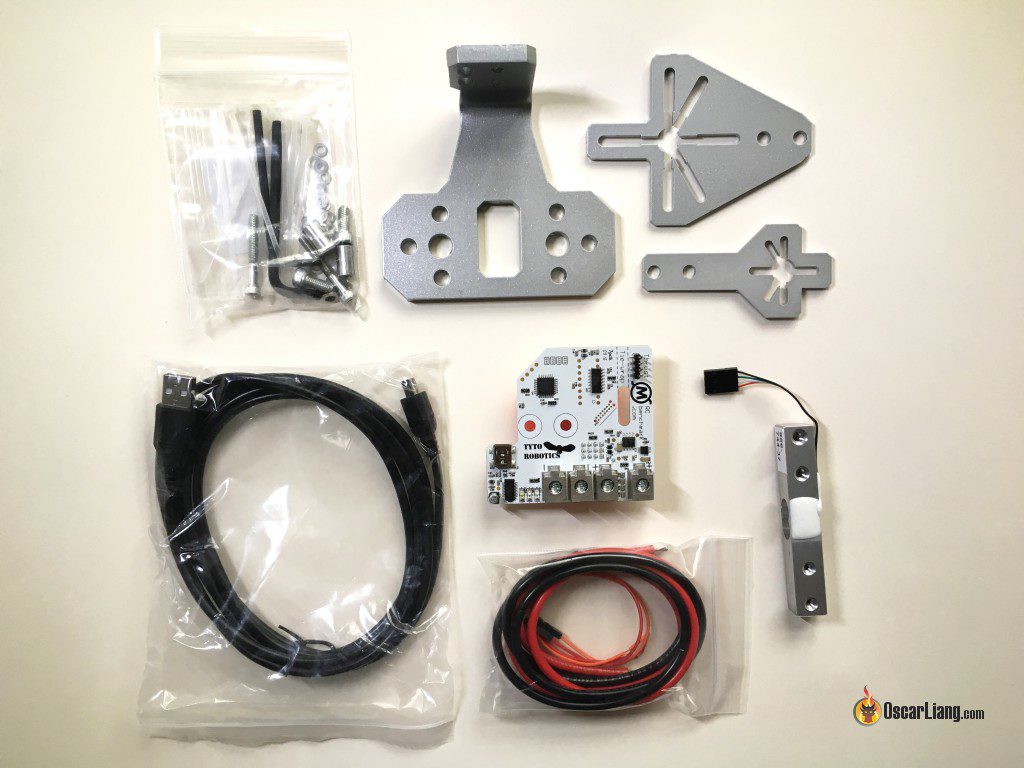 From top left to bottom right:
bolts, washers, 2 Allen hex wrench and a few zip ties
thrust stand lower structure and 2 motor mounts
a mini USB cable (15 feet long)
a measurement circuit (controller board)
2x power cable (2.5 feet) and wires for RPM probe
a load cell
Here is the controller board (measurement circuit) close-ups.
It comes with 2 motor mounts for different motor sizes, and the manual which is also available here in PDF format.
Here we begin to put the thrust stand together following the instructions. Note that the load cell is rated for 5Kg, which is more than enough for most RC hobbyists. For us mini quad flyers, even the most powerful motors only generate under 2Kg thrust (normally) so we should be fine.
Installing the motor mount on the load cell.
And installing the power cable on the control board's screw terminals. I love using screw terminals as they are soldering-free, i have been using them on my ESC's to motor connection also when I am doing thrust tests.
The power cables are 12AWG, 2.5 feet long.
Now since the RCBM thrust stand has been assembled, we can now install our ESC and motor. There is a dedicated area where you are supposed to mount your ESC on with double sided tape or zip tie. You can simply insert the ESC power wires into the screw terminals.
And here is the motor mounted on the stand.
To measure electrical RPM, we need to connect a wire to one of the 3 motor phases. We are provided with wires to do that, they even pre-stripped the end for us, how thoughtful! :)
And finally the stand needs to be mounted on a table with Clamps. Mine are still on delivery, that's why I can't test the stand yet.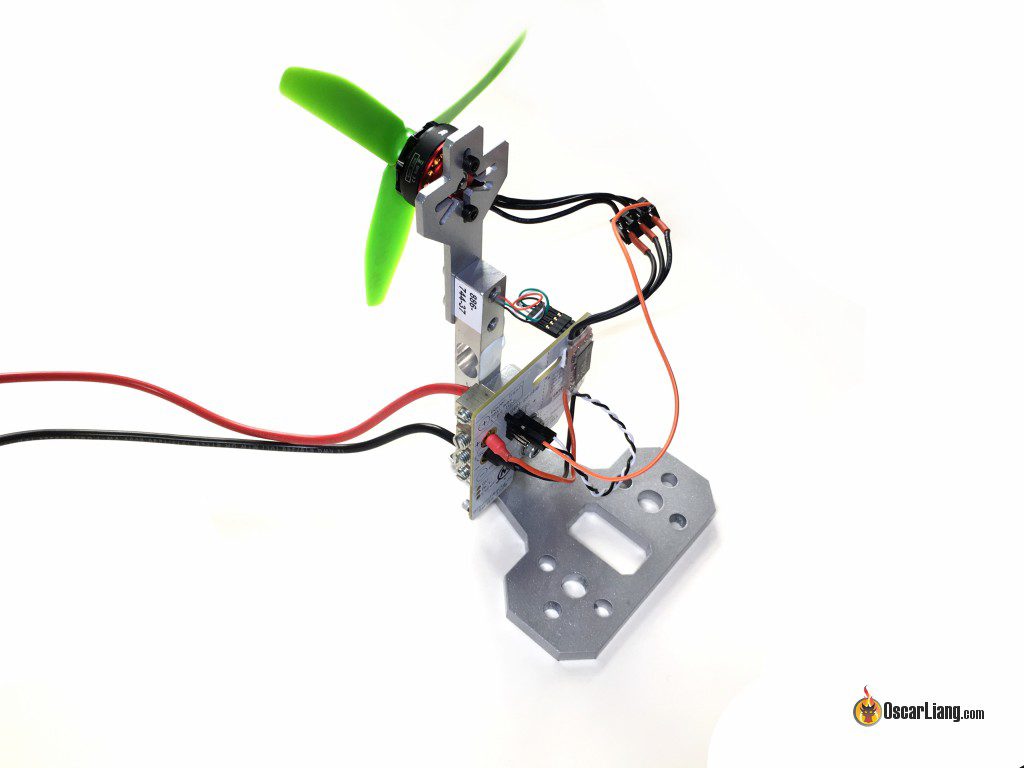 After assembly, connect the stand to PC and perform load-cell calibration per instruction manual.
Software
GUI can be found in Chrome web store (extension), by searching "RCbenchmark". The stand was plug and play for me.  Right after the stand was plugged in, the GUI detects the firmware, and I was warned about the outdated firmware. Firmware update was just one click away.
Here is the home tab of the GUI (Welcome).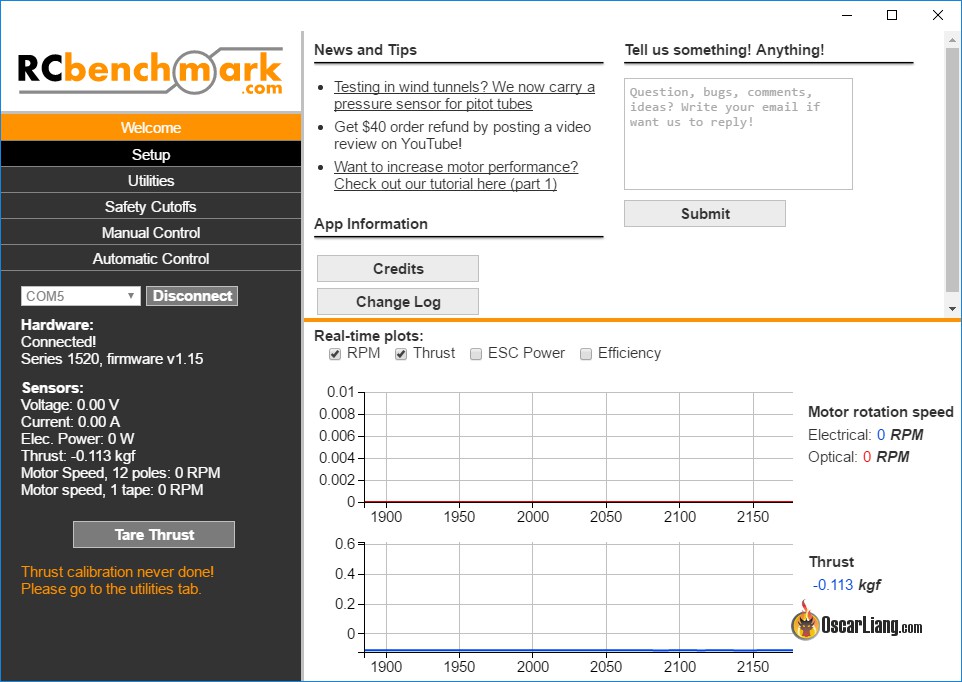 Here is the Setup tab, where you can configure basic settings you want to work with, like units, log files saving directory, RPM sensor and GUI settings etc.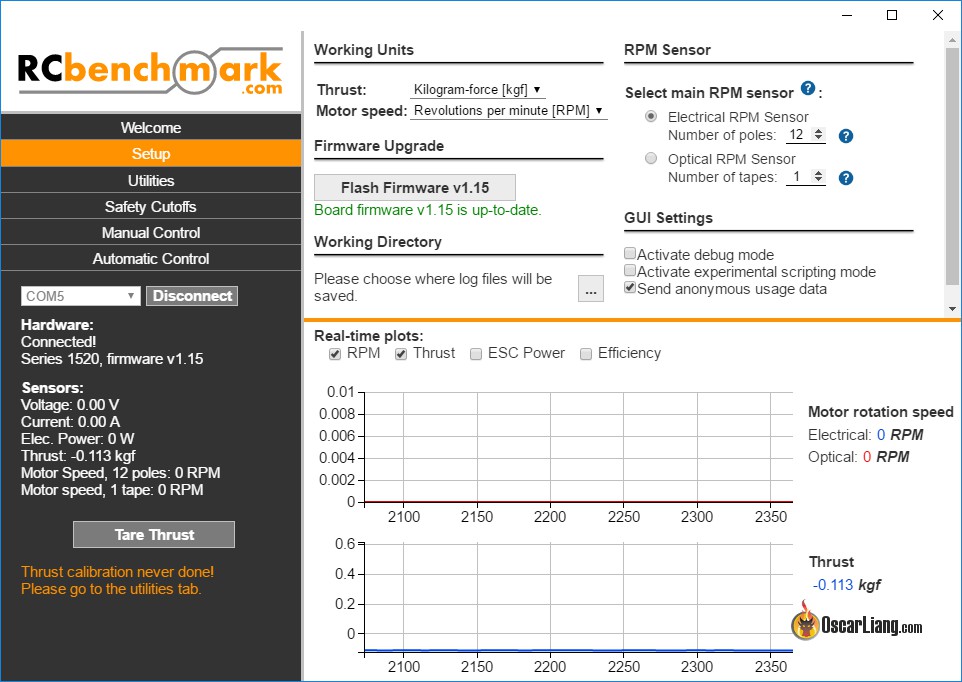 Utilities tab allows you to set limit to ESC signal, and to perform thrust calibration.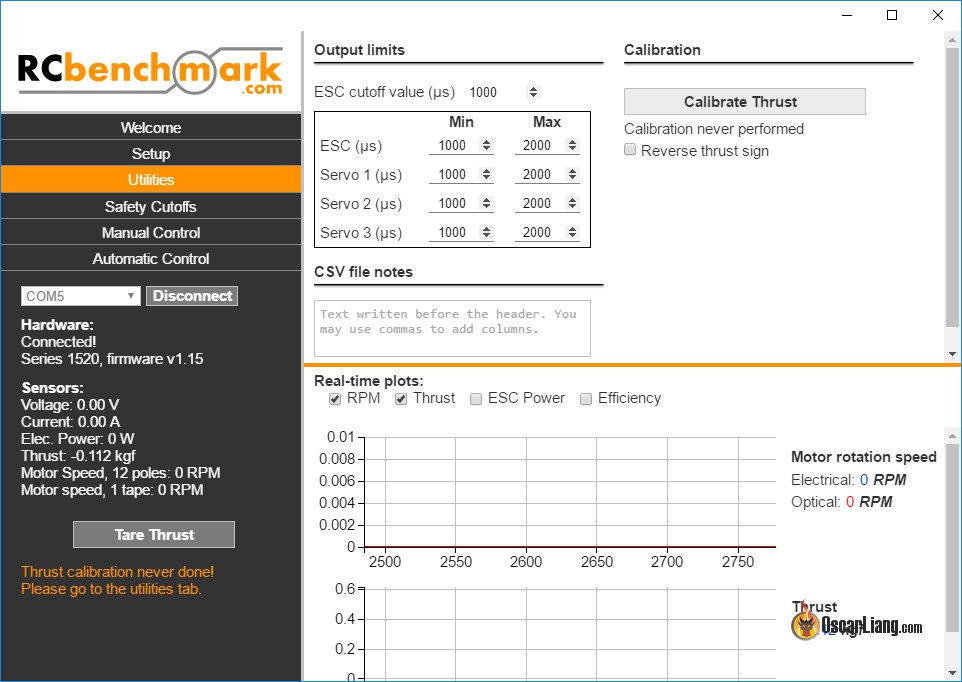 Safety Cutoffs tab allows you to set limits on power supply, as well as max thrust.
Manual Control tab is probably the tab we will be using the most. It's pretty much like the motor tab in Cleanflight where you can send a ESC signal out (PWM) by sliding the thing up and down. While controlling the motor, you can take measurement sample, or start logging data in a CSV file.
This tab is the beauty of this thrust stand IMO, where you can execute automation test scripts. Scripts are a great time saver for testing a large mount of samples, and it ensure the identical procedure are repeated.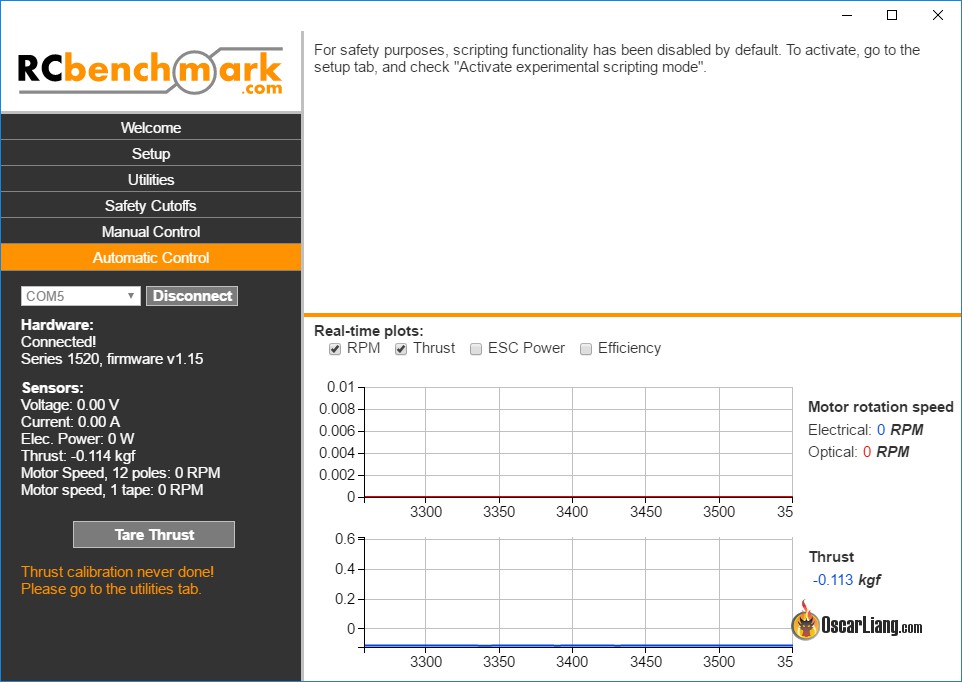 A word of warning, Google is shutting down Chrome App in 2018, which means the GUI software for the RCBenchMark Thrust Stand will be made unavailable (as well as Cleanflight Configurator!). However I believe RCBM is already working on an alternative solution.
Measuring RPM with Optical Sensor
The RCbenchmark Series 1520 and 1580 already come with an electrical RPM probe. This electrical probe connects to one of the motor phases signal to extract the motor rotation speed. In most cases it works very well, but for very low KV motors, and brushed motors you can optionally use this optical probe.
Conclusion
It's twice as expensive as the Turnigy Thrust Stand, but if you are serious about this hobby I think it's worth the extra cost. Hardware wise there aren't too much to it, but the stand is really well designed, and build quality is top notch. You are also receiving support directly from the company. The software is also excellent and does data logging and many other cool things.
I really wish they could make an add-on for servo tester knob, and LCD screen that turns it into a standalone thrust stand. It would allow the users to perform quick tests without a computer, and great for situations where connection to a computer isn't possible.
I will come back and update when I am more experienced with the product.