We are testing the new Runcam Eagle FPV camera, which is due to release end of July. We will also compare the performance of the Eagle to Swift, Owl-plus and Aomway 700TVL.
Thanks to Runcam for sending me the camera for testing. The camera I received is a prototype so the housing might look a bit rough.
Specification and New Features
Imaging Sensor: 1/18″ 16:9 CMOS
Resolution: 800TVL
Lens FOV: 130 degree
OSD menu for configuration: Yes
Min Illumination: 0.01Lux / 1.2F
WDR: Global WDR
Power Input: 5V-22V (2S – 5S)
Housing material: Magnesium Alloy
Weight: 16g
Dimension: 26mm x 26mm x 31mm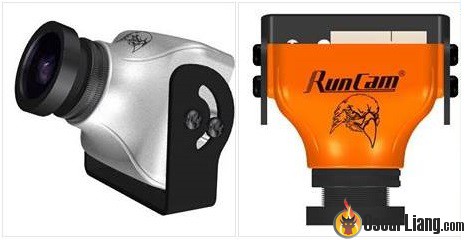 Metal Housing
The Runcam Eagle will be using light weight Magnesium Alloy instead of plastic, for better heat radiating and robustness (given how hard and often we crash :D ). The weight is 16g (Swift: 12.5g).
16:9 Aspect Ratio
A lot of FPV goggles these days have aspect ratio of 16:9, however most of the good FPV cameras are 4:3, therefore the images would look stretched on those goggles. The Eagle's respect ratio would be great for those users. However it would look squashed on 4:3 display.
The FOV is also different compared to the Swift because of this. FOV is 130 degree, but horizontal FOV has gone up 12 degree while vertical FOV reduced by 7 degree.
CMOS and Global WDR
The Runcam Eagle uses CMOS sensor.
It was almost like common sense to us when picking FPV cameras, "CCD is a must". Runcam told me that this is no longer the case. CMOS is a newer technology and it's getting better and better.
What's interesting is something they have developed, called Global WDR (wide dynamic range) which works even better than normal WDR. (Basically WDR allows the camera to see well when objects in the same picture have wide range of lighting conditions)
Size/Dimension
Width and height are the same as the Swift/HS1177, but has a slightly longer body. The Lens also appears to be bigger, similar to the Owl-Plus.
Testing and Review (Updating)
Performance Comparison
In the first test, I was comparing the performance between Runcam Eagle, Swift, Owl-Plus and the Aomway 700TVL (also CMOS). All camera had their WDR enabled, with maximum sharpness everything else left at default. (The Aomway cannot change settings)
Here is the comparison video:
Impression
From the first test, colour looks really good and realistic on the Eagle. WDR is also excellent even better than the IR version of the Swift. When the camera is facing the sun or bright sky, the camera isn't blinded at all, yet everything on the ground is still perfectly visible, very impressive.
The Runcam Eagle works great at day light and low light, but not as good as the Swift or Owl-plus at night.
Horizontal FOV looks really large on my Fatshark Dominator V2 goggles (4:3). Not a problem when I am flying straight, but whenever I do flips the sky and ground looks much larger, and it's hard to judge my orientation. Maybe this is just something I need to get used to because of the different camera FOV, will report back after a few more flights. It looks less of a problem when I stretch it into a 16:9 video though.
Latency is about 49ms (Official Result from Runcam is 45ms), PZ0420 is only around 10ms – 20ms.
Jello and Vibration: Not sure if it's the CMOS sensor (due to rolling shutter effect), Jello was more visible on the Eagle than the Swift (I tested both cameras on the same quad). It's not a problem with my well tuned mini quad and new props, but as soon as I crashed a couple of times and bashed my props, I start getting jello in my video. You can even see the more visible vibration in the first test video, where I am holding the camera by hand.
Conclusion
Good
Global WDR – works really well
Great realistic colour
Exposure
Metal housing – more crash resistant
Bad
3g heavier than Swift (not such a big deal for most people)
susceptible to Jello
Not great at night
Update (18/Jul/2016)
The engineers informed me that they have made some improvements on night vision ability. Still not quite as good as the Owl-plus, but very close now and much better than the Swift IR version. The "Eagle beta" version is what I tested.
Update (14/Sep/2016) – 4:3 Version
Finally Runcam listened and created the 4:3 aspect ratio version! I went out and tested it right away and it's really impressive. Excellent wide dynamic range and realistic, nice looking colour. It's made FPV somehow more enjoyable for me and it's now one of my favourite cameras.
With some adjustment: Turned off auto sharping and auto noise reduction and set them both to 3 manually. Makes a difference.