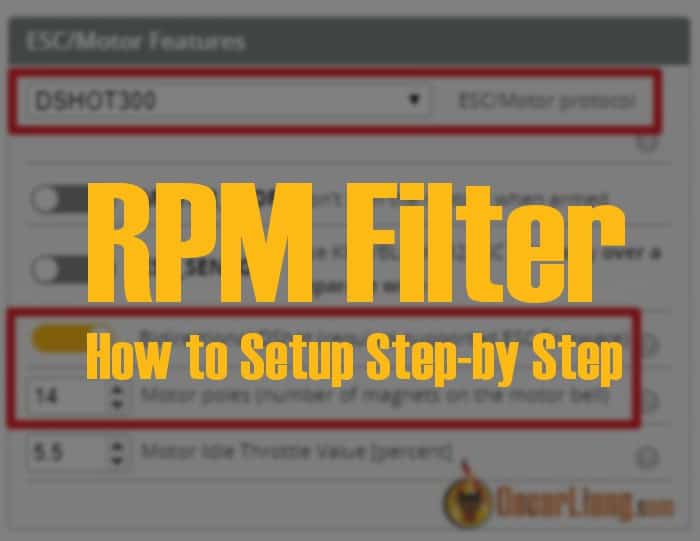 RPM Filter is a great boost to the performance of your quad. Originally you have to pay to use RPM filters for BLHeli_S ESC, but now it's free thanks to JazzMaverick.
if you don't know what's RPM filter, check out this article. It's basically a new filter in Betaflight that improves the flight performance of your drone. I can't believe we can now also have this great feature on our tiny whoops and micro quads :) Amazing!
In this tutorial I will show you how to download and flash your BLHeli_S ESC with bidirectional DShot firmware.
Firmware Options
There are two aftermarket firmware that allow you to run RPM filter in BLHeli_S ESC:
With JESC you have to purchase a license for each ESC ($5 for 4), while JazzMaverick is completely free and this is what we are going to use in this tutorial.
As far as i know there is no performance difference between the two firmware, but JESC has its own configurator and it perhaps makes setting up slightly easier.
Remove propellers before proceeding.
Downloading Firmware
Firstly find out the code name of your ESC.
Connect to BLHeli Configurator (how to).
You can see your ESC code name in the title, for example, mini is G-H-30 as shown in the screenshot below.
First letter is the hardware configuration of the ESC; the second letter, H for BB2 MCU and L for BB1 MCU; the last numbers are the dead-time value.
Now go to JazzMaverick's firmware repository: https://github.com/JazzMaverick/BLHeli/tree/JazzMaverick-patch-1/BLHeli_S%20SiLabs
---
WARNING! – According to Betaflight Dev (source), avoid any newer BLHeli_S firmware versions from JazzMarerick after 16.73 as they are incompatible with RPM Filtering.
The author made undesirable changes that reduce the rate at which RPM telemetry data is supplied. As a result the RPM filtering will not track the motor vibrations well, resulting in poor filtering performance and possibly hotter motors.
At the moment, the 16.73 version is the only recommended version that properly supports RPM filtering.
---
There are so many versions, which one? When I see "RC" in the description, I usually avoid as it's release candidate (still in beta). Choose the newest one without RC. Within the folder, choose 48K one.
Find your firmware file following the name you found in BLHeli Configurator. Look, I found mine! (This file is not for you, this is only an example!)
Click on the link, will bring you to a new page full of numbers and letters. But don't panic :)
Right click on the "Raw" button on the top right, and select "Save link as" to save the file on your computer. It should be a .hex file.
Now go back to BLHeli Configurator, press the "Flash All" button and press "Select File Manually".
And choose the hex file you just downloaded, BLHeli Configurator will flash all four of your ESC's with the new firmware.
Once done, you should notice the firmware number has been updated in the configurator.
Your BLHeli_S ESC should now support bidirectional DShot, and you can move on to Betaflight Configurator to finish the rest of the setup. Good luck!