Recently Zoltan Gatmezei bought the SkyRC Q200 4-channel LiPo charger, and he shared his reviews with us on this product regarding performance.
Some of the links on this page are affiliate links. I receive a commission (at no extra cost to you) if you make a purchase after clicking on one of these affiliate links. This helps support the free content for the community on this website. Please read our Affiliate Link Policy for more information.
This is a guest article written by Zoltan Gatmezei, a member of my FB group (Multicopter International)
Power output is limited by the internal power supply, where you can only use 50W for each channel (or 200W in total). So I decided to test it with some external power supply so I can use the charger at its specified power (in total 300W).
I tried two different power supplies: a PC power supply rated at 400W/14A, and a server power supply rated at 32A max.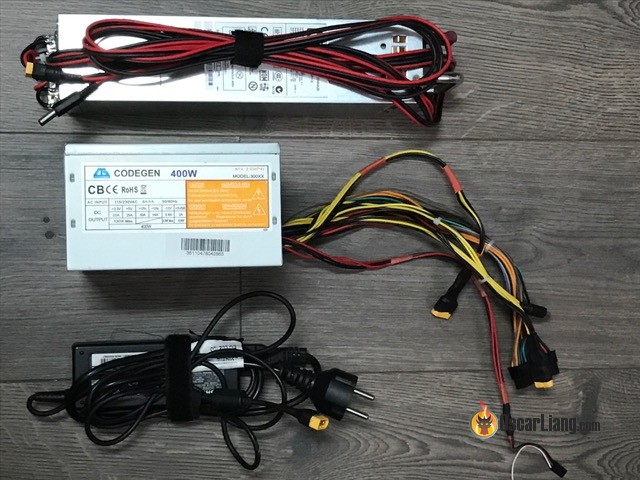 The biggest issue i had was the voltage sag between the power supply and charger. When the charger is under load (charging), I measure the voltage at the PSU output with my multimeter, and voltage input displayed on the charger screen.
With the PC PSU, I used four cables soldered in parallel to connect the charger with the PSU, but I still had 1V voltage drop at 12A load. With the server supply I had to use a normal quadcopter 12AWG silicone cable, and I could use the specified power of the charger. When I used the charger under its full load, It drew approximately 28A from the power supply.
I was having a 0.5V voltage drop on the cable (measured 12V at PSU output, 11.5V at the input of the charger). However the charger displayed 11V as the input voltage for some reason, so maybe there is another 0.5V drop from the input connector to the voltage measurement circuit, or it's simply a display error? I am not sure why, but I had to set the minimum voltage limit on Q200 to 10.5V, means that in this case at the input connector there will be 11V.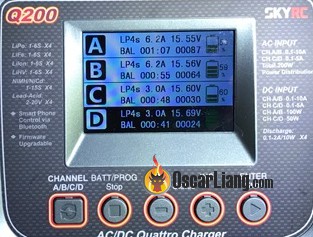 Pros
4 channels are very effective and powerful for racer class batteries. Much more useful than a one channel >20A charger. It allows you to charge 4 separate batteries simultaneously and not use a parallel board (which I don't recommend doing for 1. non equal discharge levels, 2. different internal resistance, 3. longer balancing period)
The included android / iOS application (connected via Bluetooth) is useful, convenient if you do not like pushing buttons, or cannot control the charging process (when you do not see the display itself)
It gives you the specified charging power, that is more than enough :)
Cons
Very good product, but it is "chinese" product. Nothing is 100%, not well matured
It is not an integrated four channel charger, it is four, one channel charger
There is no need 40 memories, 4 * 10 independent. One 10 stock would be enough
There is no reason why I have to program the channel memories independently (for the same programs)
Charger Bluetooth module is weak, the smart application can be used only within 1-2m
A little bit too large, and can be noisy. Very loud while discharging / running storage process.
PC Program: Q200
The PC interface could be a very good software, but it needs a bit more work IMO: bit more polishing to and development to make it a truly handy tool.
Pros
Easy to configure the channels with a few mouse clicks, and working on the big Laptop / PC screen is always more comfortable than a small LCD display on the charger
You can create one program, and load it for all of your channels.
There are charts about the charging processes (voltage and current), so you can compare your batteries easily
Common memory slots for charging programs, can be use for all channels.
"One push" control if you repeat the same charging process.
Cons
After you connect your PC with Q200, you cannot switch off the charger by removing the DC in, or switch off the internal power supply. Although only the display is powered on and the charger isn't actually functional, you cannot switch the charger back on again before removing the USB connection, then plugin the charger power. This means, that the USB connection actually powers the charger backwards
Memory storage is useless as the program forgets the programmed slots after exiting
The Q200 desktop application is not a complete product

It cannot control a charging process that was not started from the program
It loses the memory programs after exits
Android / IOS app
SkyRC created a very handy application to control the charger via its internal Bluetooth module. It is beautiful, and almost ready IMO.
Pros
Easy to check the current charging process
Very easy to start charging on all of the channels if the process parameters are the same (in most cases we use the same type battery while racing, so we need the same program on each channel)
The App is much better than using the push buttons on the charger (I often get confused with the channel buttons, so I sometimes stop a wrong channel, or set a wrong parameter, etc)
Cons
I couldn't understand why they put the barcode function into it.
Changing channels loads very slowly
There is no need for independent programs for each channel. One common bank would be enough
There is no chart / graph about the process