This time we are reviewing and building the 6" TheX mini quad frame from InfiniteFPV.
Some of the links on this page are affiliate links. I receive a commission (at no extra cost to you) if you make a purchase after clicking on one of these affiliate links. This helps support the free content for the community on this website. Please read our Affiliate Link Policy for more information.
Get your TheX frame from InfiniteFPV. This article was created by Artur Banach.
Frame Review
Frame kit contains:
2mm bottom plate x 2
2mm top plate
2mm camera plates
4mm arms
2 x 2mm camera side plates
hardware including high tensile screws
6 standoffs (4 for the main column and 2 for cam support)
The assembled frame weights 125g including hardware.
The frame is a TRUE X design with equal distance between width and length. The diagonal motor distance is 233mm, which allows it to fit 6" props.
Battery can only be mounted under the frame held by the velcro strap.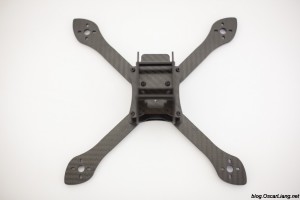 You can actually buy shorter arms that are designed for 5" propellers, and turn it into a samller 210mm frame.
Two plates holding the arms are held together with 8 screws. 4 of them hold the 4 standoffs and another 4 are the PDB/FC support. High tensile screws generally are more durable and last longer than aluminium screws.
4mm thick arms appear to be very stiff.
Video components have a dedicated place at the top of the frame. It also has a shelf where radio received can be installed. There is a separate plate for installing FPV camera. Sony super HAD 600tvl (big board version) cam fits there no problem. HS1177 can also be installed but on the camera bracket that comes with the camera instead of using the dedicated camera plate included in the frame kit.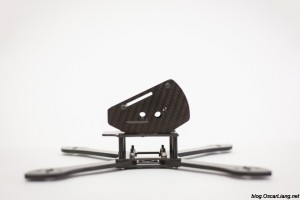 Camera angle can be altered without any tools. The whole section goes into the top plate slots and it requires quite a lot o force to actually slot it in. There are two screws fixing it to the top plate.
Carbon fibre quality is very good. Noticed the FPV camera fixing plate had rough edges, but other than that, no major issues.
Build Log
Parts used for building
Birdseye PDB + 2 x Pololu 5V and 12V regulators (after soldering accident swapped for basic abusemark PDB)
Dodo Flight Controller
Super HAD 600TVL FPV Camera
Motors, ESC and PDB
Because of the frame design, structural screws are holding PDB and FC. Some boards could shock the quad through the metal screws so my choice was Birdseye PDB that can take 2 pololus to regulate voltage to FC and fpv camera. This board doesn't have any pads around the mounting holes.
Here is how I assembled the frame. The motors and ESCs are soldered together and mounted to the frame.
During the process of soldering ESCs I have accidentally dropped a bit of solder onto pololu. I couldn't remove the solder from in-between the tiny components and after testing with battery magic smoke appeared.
I had to install another 5V pololu (step down) from 12V that was still working but after connecting lipo to it, I burned both pololus and a Dodo. Hard lesson was learned. Lucky enough had a spare Dodo and swapped the birdseye PDB for abusemark, very basic PDB I used in my very first mini quad build last year.
I added wires for 12V (used for the FPV camera), Video Transmitter and 5V to Flight Controller. Used 5V regulator to power up Dodo as this board had a problems with built in regulator
Flight controller
Installed Dodo on nylon standoffs. Because space was tight I simply soldered the signal and ground wires directly to the flight controller:
Camera, Video Transmitter and Radio Reciever
Camera was fitted onto dedicated plate with just the tie wraps. Video transmitter was screwed through the dedicated hole with antenna sticking out. Radio receiver was fixed to the dedicated shelf underneath:
Finalising
Some weight measurements:
TheX without lipo 378g
TheX + DroneLabs 1400mah 4S 544g
TheX + DroneLabs 1400mah 4S + GoPro 631g
TheX + Nano-Tech 1800 4S + GoPro 674g
TheX only allows for attaching lipo underneath the frame. It also has a cutouts for the velcro securing GoPro to the top section. Mobius/Runcam fixing is also possible.
Conclusion
Not the easiest build because of the tight space (challenging with cable management as well)., definitely not for beginners.
It has a similar style to ShenDrones Krieger that was actually the one of the first designs with tower-like main frame body. TheX is a nicely designed frame with a lot of attention to detail. With battery underneath and mass of components concentrated in the vertical columns it has a very good centre of gravity location.
Flying Experience
Biggest concern before flying was actually the lipo safety with the battery underneath. Battery is hitting the ground when landing. It is possible to actually install some sort of 3D printed guard, or even landing gear but after few sessions haven't noticed any damage to the lipo.
During maiden P on Pitch and Roll was too high resulting in oscillations. After few tuning sessions it flew very well, with just minor vibration at the hight throttle. I am sure this can be eliminated by further tuning. Yaw authority on this build is amazing and despite 6" props is felt very snappy.
My maiden here:
What I like about TheX:
True X frame with simple but effective tower-style construction
Good quality carbon fibre
Strong 4mm arms
Option for 5" size with just arms swap
High tensile screws for better durability
Video components have a dedicated section that can be completely detached if needed
Tool free FPV camera angle adjustment
Dedicated plate for radio receiver
Things to improve on TheX:
Difficult to slot-in the upper plates together. Very tight fit and had to use a lot of force to actually slot them in
Power and signal plug on Sony Super HAD "big version" camera hitting the horizontal plate within the upper part of the frame and limiting the camera angle options
Structural screws (conductive) are holding PDB limiting the choice of PDB. With certain PDBs, like Demon Core V1 it is possible to shock components through the metal screw.