Here is a list of useful and essential tools for building FPV wings and planes: including the many types of glue and tape, materials and spares parts. Some of the stuff are not necessary but will make building and flying wings much easier, enjoyable and reliable.
Tools
Soldering Iron
We explained in more detail what soldering tools you should get in this tutorial. Here are what I use:
TS100 – AliExpress | Amazon | GetFPV | RDQ
Compact and portable. It can be powered by a 3S to 6S LiPo which is great for field repairing too. See my review. As for solder, you won't go wrong this this one:
Kester 63/37 Solder: https://amzn.to/3Y9QxrO
Hobby Knife / Utility Knife
Hobby knife is great for cutting and removing foam and tape. Or at least get a box cutter, perhaps less precise and sharp.
Allen keys Set (Hex Screw Driver Set)
As known as Hex drives, is used to tighten or loosen the hex screws used on the motors. Having a set of Allen keys of different sizes available can be extremely helpful.
Screw Driver Set
For the screw sizes typically found on RC planes and wings, both cross slotted and single slotted.
Wire cutters
Used to cut zip ties, electrical wires, control rods etc.
Pliers
For gripping components while working with other tools. It can also be used as a nut wrench.
Scissors
An obvious one, I guess everyone should have a pair scissors in the house, right? :)
Pearl Head Pins
For holding foam parts / carbon parts together if you are using glue that takes a while to dry.
Sand Paper
You want to sand the foam surfaces and carbon fibre spars before apply glue to them, it makes them stick better.
I'd say anything between 40 grits to 240 grits is fine. It depends on your preference really, as long as you're not ripping bubbles off the foam. I personally use 80 to 120 grit, I find anything less will make the beads of foam pop out, and anything more than 120 takes a long time to achieve the desired result.
Servo Tester
It's useful for testing servos, and centring them when setting up elevons. Also useful for troubleshooting and testing ESC and motor spin direction. You may also use it for motor thrust testing.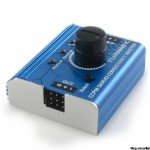 ---
Tapes
Tapes and glues are so important for building wings and airplanes, they deserve their own sections :)
You can probably get 90% of the jobs done using 2-3 types of tapes, but it's useful to have the variety for different applications too.
Scotch Heavy Duty Packing Tape
The must have tape for general purposes – covering, reinforcing hinges, laminating… Sellotape tape is okay, but I find good quality packing tape are normally thicker and stronger.
Color Packing Tape
Sometimes referred to as wing tapes, color packing tapes are great for decorating your wings, and adding some colors to it. It's often used for covering and laminating.
The ones I use are thinner than the heavy duty packing tape and aren't as strong. But it doesn't add any noticeable weight to the aircraft which is what I like!
Fibre Tape
AKA Reinforce Packing Tape – it's extremely strong and sticky! Often used to protect leading edges and reinforcing weak foam parts and joints. It can also be used for covering your servos in the wing.
Double-Sided Heavy Duty Mounting Tape
Get the 3M Scotch brand, that's the sh*t! :) Great for sticking two separate things together, like a receiver to the plane.
Masking Tape
It's basically just sticky paper :) You can tear it off the reel with your fingers, very convenient to use if you just want to hold something in place temporally during the build. It can be removed easily without leaving any mess behind. You can also write on it since it's just paper.
Electrical Tape
For isolating electrical joints and wires.
Outdoor Vinyl Tape
It might feel similar to electrical tape, but it's less stretchy and has a shiny finish and stick much more securely. It's also twice as thick as packing tape. It conforms to irregularity well, great for applying on control surfaces, like on top of servos, it gives it a very smooth finish
Duct Tape
Stronger than packing tape and works much better on irregular surfaces, but it's also much heavier; it's easier to remove and replace; another disadvantage is that they tend to wrinkle up under the sun. it's usually a choice between this or outdoor vinyl tape
---
Glue
Any foam friendly glues would do!
Hot Glue
Hot glue is probably the most popular option for building/repairing foam models. Because they melt into the foam like a chemical glue, but also creates an extremely strong physical bond at the same time.
The strength is also its downside. The bond is so strong it's near impossible to remove without ripping the foam apart. Sometimes you might want the foam to just fall apart in a crash rather than completely destroyed? It's a personal preference.
The other properties is that it sets very quickly as it cools down. But that's also the disadvantage, because you have only a short time to position the parts. That gets worse in cold weather.
E6000 Glue
Currently my favourite glue, I am using this as a replacement to hot glue and CA for building/fixing wings. I have a whole article to discuss why I like it so much.
UHU Por Glue
UHU POR glue is ideal for gluing hard foam like styrofoam. It is flexible, resistant to aging and waterproof. Takes 10-20 mins to set, becomes transparent when dried.
Gorilla Clear Glue
A very popular option for RC model building. Strong stuff for a great range of materials, but personally not a big fan of Gorilla glue, because getting it on your hands can be worse than epoxy!
Thread locker
Apply a tiny bit on your motor screws prevents the screws coming off due to vibration. I have an article discussing what it does and which one to get.
---
Spares
Zip-tie
Velcro
Spare control horns
Pushrods
You can get some dedicated pushrods, alternatively some stiff 0.047″/1.1mm Piano wires would do too.
2mm carbon rods
Useful for reinforcing flexible pushrods that sometimes cheap models come with; recommended if you plan to fly fast. Banggood: http://bit.ly/2SCxu7b
Weight for CG
These are weight blocks you can place in your wing to balance CG. It's not a bad idea if you want something neat, but I normally just use coins. Actually coins turn out to be cheaper.
Edit History
Dec 2018 – article created
Feb 2023 – updated links