In this review we are going to have a look at the new Turnigy 2K Action Camera from Hobbyking. The Turnigy 2K camera features a built-in LCD screen display, 2K HD video recording and more.
Some of the links on this page are affiliate links. I receive a commission (at no extra cost to you) if you make a purchase after clicking on one of these affiliate links. This helps support the free content for the community on this website. Please read our Affiliate Link Policy for more information.
Have a look at our guide on how to choose a great HD action camera for quadcopters.
Get your Turnigy 2K Action Camera from Hobbyking.
Unboxing
Lots of accessories in nicely branded boxes such as handle bar mount, stick on mount, etc. It also includes a water proof housing that allows you to use the camera anywhere.
The black matt surface on the camera looks professional and great quality. Some people might prefer bright colour casing which makes it easier to locate/find when it's lost. This camera looks identical to the SJ4000+ (even the spec is the same), but still get yours from Hobbyking to be sure it's the real deal.
There are 4 buttons, power (mode), shutter (enter), up (Wifi) and down.
The battery is a 900mah 1S Lipo which allows you to film continuously for over 100 mins at 1080p60fps (tested myself). And the battery is removable.
The camera is pretty light weight at only 62 grams, 45g excluding battery.
Features
This camera is capable of recording at 2K 30FPS, or 1080p 60FPS. Highest photo resolutions up to 12MP (4032*3024).
Back Screen
I absolutely love the built-in LCD display on the back! It enables users to see what they are shooting, which I found really helpful. Currently you can only find this feature on the GoPro Hero4 Silver for camera this size. The on-screen-display shows you what settings are on etc, and the screen also enhances the user experience a lot with easy menu access.
Wifi
It has built-in Wifi that allows you to connect the camera to a smart phone via their App on Android and iOS. I am guessing this is for firmware updates as well as for changing settings / controlling remotely in situation when you cannot reach the camera easily.
Image Stabilisation (Gyro Sensor)
Gyro sensor image stabilisation works pretty well for someone who has shaky hands, or have the camera mounted on objects that moves. It works by cropping the edges of the frame, so you will sacrifice field of view and some picture quality. Only problem I have is I sometimes forget I have it on, and the image turns out to be not the way I want it.
Other Features
It does what most cameras do, time-lapse, timer, continuous shooting etc.
It also supports video out which means you can use this camera as your FPV camera, on your RC plane for example. However the video-out cable needs to be purchased separately.
Comparing to GoPro Hero4 and Xiaomi Yi
The other most popular cameras in the FPV hobby are probably the GoPro and Yi Cameras. They are also in very similar form factor making them very good comparison subjects.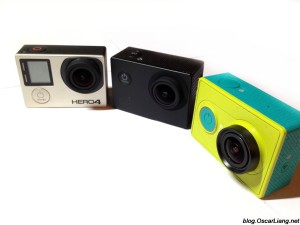 Sorry about the comparison video quality, Youtube compressed the hell out of it and it looks sh*t.
The Turnigy 2K has identical height and width to the GoPro, but it's a bit bulkier than the GoPro and Yi. The Lens is also smaller on the Turnigy 2K, so the casing and lens protection cannot be used on one another (not interchangeable).
It also fits in my camera gimbal that is designed for the GoPro, where my Xiaomi Yi just won't fit because it's just 2mm too tall.
Conclusion
So overall, I think this camera is good for filming FPV flights, as well as sports, or even just casual day to day filming.
Good things about the Turnigy 2K Camera
Back LCD screen is a big bonus
Very easy to use, didn't need to read the manual to operate this camera
Gyro sensor mode could be useful
Colour is more vivid and richer which is great
It doesn't get as much sun glare as the Gopro or Yi cameras
Default image sharpness looks higher than average
33% lighter than the GoPro Hero4
Only takes 1 second to turn on – much faster than the Xiaomi Yi
Cleaner audio, pick up less wind noise. But also slightly quieter.
Things can be done better
No side door to cover the SD card slot and connectors – SD could possibly pop out in impacts, and dirt could get into connectors – easy fix is to put tape on it
Light Dynamic Range is not as good as the GoPro even the Yi
On Default settings, when light condition is not ideal, the colour of the image appears to be purple-ish. This might not necessary a bad thing, some people might prefer it. :)
FOV is slightly less than Yi and GoPro (non-superview)
At low light, performance isn't as good as the other 2 cameras.
I'd like to see lower image contrast which gives more room for editing
Image over-exposed when facing the bright light
I probably won't use it on a mini quad or anything that is likely to crash due to the more vulnerable back screen.
The image quality is not bad but can be better. It performs better when there is enough light.
Here is the full manual in case someone needs more technical info.