Everyone should be familiar with the Tweaker 180 from ShenDrones already. This is a light weight 180mm mini quadcopter frame. And today we are going to review and build it.
Some of the links on this page are affiliate links. I receive a commission (at no extra cost to you) if you make a purchase after clicking on one of these affiliate links. This helps support the free content for the community on this website. Please read our Affiliate Link Policy for more information.
Get your Tweaker 180 Mini Quad Frame from ShenDrones.
This tweaker 180 is built by SeekND FPV, edited by Oscar.
Tweaker 180 Mini Quad Frame
This Tweaker 180 we reviewed was the FPV Addiction edition, which is designed for 220X motors, with 4mm bottom plate and wider arms. Much tougher than the original version (3mm bottom plate with narrower arms for 1306/1806 motors), but also heavier.
With a 4mm thick bottom plate and 2mm top plate, you can probably throw this at a tree and it won't even care. Actually, after a few hard crashes the only things that bent were the hex standoffs that can be easily replaced. I recommend using all 6 hex standoffs for maximum durability.
The well thought hole placement in the arms means you can use any motors from 1306 (tiny) to 1806 (sensible), to 2204, 2205, 2206 (mental) motors. Just remember you can only run 4″ props maximum.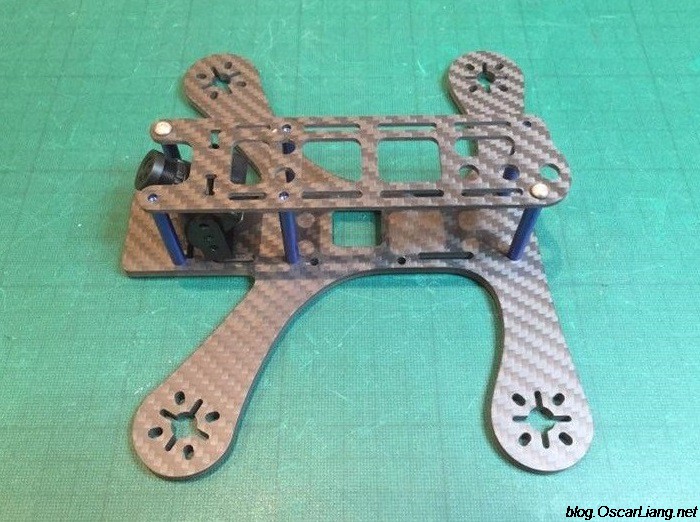 The wide arms frame design also allows for an easy ESC placement, leaving you more space in the centre of the frame for additional electronics.
Building the Tweaker 180
Most of us always stick to the rules of quadcopter building, meticulously following all manufacture instructions. But if everyone builds the same old boring quad what will be the fun in that?
Most frames just need a little bit of imagination and sometimes the simplest thing can change the quad build and make it look completely different.
Here we will be building the quad the other way round.
How does this change your flying experience?
It doesn't make a huge difference in terms of flying, but it sets you apart from all those tweakers out there! As long as it flies, there is no such thing as "you built it wrong".
Also, with this frame reversed you have a lot more frame exposed for bracing impacts with trees/floor/other quads.
You can still add all 6 hex standoffs but the centre ones will be added in a different location.
Components used in this build
Lumenier LUX F3 FC
T-motor F40 2500kv
X4R-SB Receiver (SBUS)
TBS 5G8 Unify VTX – 25mW-800mW configurable
Core PDB Pro with OSD
25mm 650tvl FPV camera
Gopro 4 Session as the recording camera (although with mounts its 6g HEAVIER than a naked gopro 3 with mounts! ?at least it's waterproof ?)
Motors and ESC's
The Tiger Motor F40 2500kv are like hot cakes now and will be released soon! Electricwingman.com was kind enough to send me some to test out, and you should be able to get them from there very soon.
They are simply amazing but a little on the heavy side at 27g each (similar to the FPVModel 2206 2800KV). I'm using 4045 tri-blades propellers and this thing just rips through the air.
I really like this newer T-Motor model not only for the power but also because how it looks, which really helps add that little extra bling to your quad. In the end, isn't what you are flying an expression of yourself? ;-p
The motors are paired with Littlebee 20A ESC's, flashed with latest BLHeli 14.4. I prefer to remove the shrink tube from the ESC's and unsolder the original cables from the ESC then cut the motor wires to length, solder the motor wires directly to the ESC and re-shrink everything.
This way you have the cleanest build and minimal weight.
Power Distribution Board
The frame doesn't come with a PDB but it does have the mounts available.
All power cables are connected to the Core PDB Pro that also comes with an OSD (Similar to the TBS Power OSB). You can add your own OSD if you'd like, otherwise make sure to short the in/out video pins in the board. I got this PDB not only because of the useful osd (shows spent mAh's, current voltage and timer) because it provides FILTERED 5v and 12v out.
WARNING: Make sure not to leave your battery connected when not flying because this PDBheats up a lot and might even burn your fingers (due to the 5V linear voltage regulator). Remember to leave some spacing between this PDB and flight controller if you are going to be using it.
Flight Controller – LUX
The PDB then powers directly a LUX F3 flight controller from Lumenier.
This board is a must-have if you have an OCD about keeping cables trimmed and tidy and want the most efficient way of plugging in extra stuff. Plus it's an F3 board.
The board is super thin and guess what? Signal cable connections are closest to the motor that you're connecting to!
Although, after a few crashes I found that they come off rather easily (and so does the power connector). To fix this you can just solder everything directly to the board or if you're lazy like my you can super glue the connectors (this is probably not a recommended option).
The only "issue" I have with this board is that currently it's quite hard to do a pass through to update your ESC's directly from the board (apparently you can do it from UART1 but I haven't managed to). There seems to be plans in place to get it working from USB in future firmware releases.
Video Transmitter
To top up this beauty of a beast with a appropriate VTX im using a TBS 5G8 Unify that allows me to change output power from 25mw to 800mw at a push of a button which is perfect!
As a 180 mini quad, I can use 25mW when flying indoors and outdoors I can move to a larger output power to go explore further. Just make sure the VTX is well aired as it can get quite hot for such a tiny thing.
You do need to make some extra holes in the frame but it doesn't damage it. Just get a dremmel :)
Recording Camera – GoPro Session
Whatever you end up using, you will probably find yourself in need of building a DYI mount.
I found that the regular gopro stickers and mounts don't work very well. The gopro sticks out like a sore thumb and is the first to hit the ground most of the times. The pressure from a crash rips most mounts I used off, so I just created one that is bolted to the frame out of an old gopro mount.
Final Thoughts
Here are the weight of the quad:
No Battery, No GoPro – 290g
With 1500mah 4S, No GoPro – 480g
With 1500mah 4S, with GoPro – 590g
At 290g (no battery) it would appear that this frame is going to be slightly too heavy for a 180 but the F40 2500kv motors do an amazing job at pulling all this weight (590g AUW) at insane speeds that can very well match that of a bigger frame (like a 250).
But remember, because this is 180 running 4″ props, I wouldn't want too much stuff on it as added weight will impair its performance.
So is it worth it? Definitely! It will have a special place in my backpack whenever I'm travelling and want to do acro in tight spots.
Here is a flight video of SeekND FPV Tweaking.