Vcanz-Power recently sent us their latest 4S LiPo batteries – 1350mah 75C and 95C, and 1550mah 75C. In this review we will test them on a mini quad and compare their performance to some well known brands in the market.
Some of the links on this page are affiliate links. I receive a commission (at no extra cost to you) if you make a purchase after clicking on one of these affiliate links. This helps support the free content for the community on this website. Please read our Affiliate Link Policy for more information.
Learn about the basics of LiPo battery: LiPo Battery Beginner Guide for Drones and Quadcopters
VCANZ 4S LiPo – Spec and Features
Many thanks to VCANZ-Power for providing these batteries for this test. The Vcanz-Power 4S LiPo batteries come in black wrapping, each battery comes with a battery strap. Discharge leads are 12awg on all 3 batteries.
Discharge leads are about 10cm long, while the balance lead is about 6cm.
LiPo Battery Testing
I will list and compare the size, weight and price of the batteries for this test, they all have under 15 cycles.
I found my actual measurements to be very different from what's stated on their website, especially the weight, maybe they have not included the weight of the cables.
| | | | |
| --- | --- | --- | --- |
| Brand/Model | Weight | Dimension | Price |
| Vcanz 1350mAh 75C | 160g | 73 x 34 x 30mm | $30 |
| Vcanz 1350mAh 95C | 177g | 75 x 35 x 34mm | TBC |
| Formula 1300mAh 95C | 166g | 79 x 33 x 32mm | $33 |
| DroneLab Chaos 1300mAh | 154g | 74 x 34 x 31mm | $20 |
| Vcanz 1550mAh 75C | 187g | 90 x 34 x 30mm | $33 |
| Formula 1500mAh 95C | 189g | 87 x 34 x 31mm | $39 |
| Tattu 75C 1550mAh | 178g | 72 x 36.5 x 33mm | $31 |



Internal Resistance of Vcanz-Power LiPo Batteries
The Internal resistance readings are from my charger at the end of a charging cycle. It's not measured with a precise equipment, so take it as a grain of salt. I am only showing this as I have been asked to. IR of the Vcanz's are very low as we would expect from brand new packs.
| | | | | |
| --- | --- | --- | --- | --- |
| LiPo Batter | Cell 1 | Cell 2 | Cell 3 | Cell 4 |
| Vcanz 1350mAh 75C | 5.8 | 5.6 | 6.1 | 6.1 |
| Vcanz 1350mAh 95C | 4.7 | 4.2 | 4.1 | 4.6 |
| Vcanz 1550mAh 75C | 4.8 | 4.3 | 4.5 | 4.6 |
| Tattu 4S 1550mah | 6.7 | 6.5 | 6.6 | 6.3 |
| Acehe Formula 4S 95C 1500mah | 4.8 | 4.9 | 5.1 | 5.1 |
| Dronelab Chaos 4S 75C 1300mah | 6.6 | 6.6 | 6.8 | 7.4 |
| Acehe Formula 4S 95C 1300mah | 6.1 | 5.8 | 5.9 | 4.5 |
Performance Testing
I will be testing these LiPo batteries on a mini quad with current sensor and OSD, so I can record voltage and current during flight. I will fly through a course a few times, simulating a race where you have punch-outs and slower cruising. Data is collected at different points of the course. (each punchout lasts about 4 seconds.)
The test was separated into 2 groups, 1300mah and 1500mah. Detail review of the batteries in this test can be found here:
Voltage Sag
In punch-outs or high throttle, battery voltage would normally drop significantly due to heavy loads. This is one of the biggest factors that sets apart good and bad batteries. Batteries with smaller voltage sag would normally feel more "punchy" and agile, and hold up better to full throttle abuses.
Hers is the result from the 1300mah test group. It's pretty clear that the winner is the VCANZ 1350mah 95C, this is so far the best LiPo battery I have tested in the "4S 1300mah" group. But mind you it's quite a heavy pack, nearly as heavy as the Tattu 1550mah 75C! Again it proves the points that higher C rating battery come in the cost of heavier weight.
Acehe Formula came second and the VCANZ 75C came last.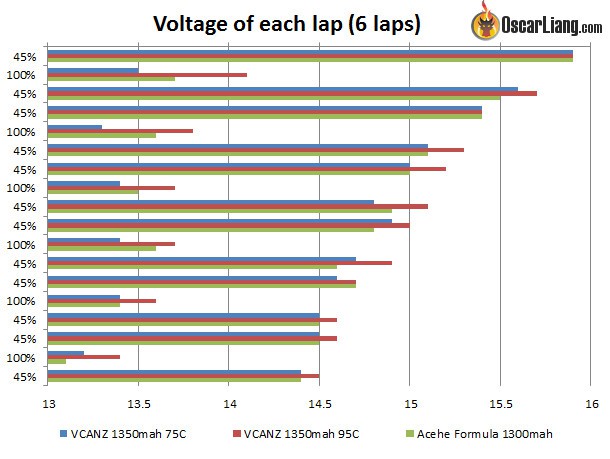 This is the 1500mah group result. Being similar weight between the Acehe and VCanz, the Acehe is the winner in this category, while the Vcanz came second and Tattu came last.
Power
Taking into account the current draw, we have power, which is simply the product of voltage and current. For a good battery with high discharge rate, it should be able provide consistently high current at each punch-out.
In the 1300 group, the Acehe and Vcanz 95C both did very well in terms of power. But the Vcanz 95C has a massive advantage of the low voltage sags, so I reckon it can handle a much more powerful copter without much problem.
And for the 1500 group, the Acehe crowns again without much challenge. It's still the most powerful LiPo in the "4S 1500mah" group I have tested.
Capacity
I can confirm the capacity is correct as advertised on the package.
I landed when it reached 3.5V per cell in the air, then see how much "mah" is recharged back into the pack. I have 1341mah for the 1350mah 75C, 1363mah for the 1350mah 95C, and 1532mah for the 1550mah 75C.
Conclusion
From my testing, I think the VCANZ 1350mah 95C would be a great choice for ultra powerful, current-demanding builds. Taking into account the grams I wouldn't use it on light weight builds though, instead consider the 75C version.
As for the VCANZ 1550mah 75C LiPo, it performed reasonable. The Formula 1500mah performed better in my testing, and both batteries have similar form factor and weight. The trade-off for performance is the $6 difference in price.
Where to get these batteries? Here are the list of distributors: http://www.vcanz-power.com/m_page/9-global-contact.html