This article explains why and how wire and connector size can affect the performance of your FPV drone (aka quadcopters). I will recommend some places where you can get these battery connectors and wires from.
How to choose Electrical Wires for FPV Drones
Wire Thickness, Resistance and Current Rating
Resistance is proportional to the electrical conductivity of a material, cross section area and length. We can't change conductivity so that leaves us:
thinner wire = more resistance
longer wire = more resistance
Higher resistance is a bad thing as it leads to heat and power loss. The more current you apply through the wire, the more serious the problem becomes, that's why a wire has current rating.
For this reason, it's a good idea to keep your wires as short as possible. You can also use thicker wires, but they are also heavier so it's not always ideal.
Exceeding the current rating
Thinner wires have higher resistance and therefore will cause higher voltage drop between the two ends, and you will also lose power which turns into heat. When drawing more current than the wire can handle, it will simply start to heat up due to resistance. In extreme cases it can melt the solder joints and even the insulation.
If the wire size is too small it can become the bottleneck in your power system and struggles to deliver the power required to the ESC's and motors.
Single-strand vs. Multi-strand
Wires with higher strand count are more flexible and easier to work with than single-stranded wires. We strongly recommend using Multi-stranded wires in your quadcopter builds.
Insulation Material – Silicone All The Way!
Silicone insulated wire is the best for RC applications. Silicone wire is much more flexible than the standard PVC insulation, it's great as multirotor frames and components keep getting smaller.
Silicone wires are also lightweight and can tolerate a wider temperature range, which is important when it comes to soldering as the insulation doesn't melt or shrink back when you apply heat. Overall they just hold up better in extreme environments.
Are red and black (or other colours) wires different?
No, they are the same wires, just different in colour, you can use any colour you want. But conventionally we use red for positive power and black for ground, which makes it easier to visualize what is what. We strongly recommend you do the same.
Colour wires are often used for signals.
What AWG wire should I use?
Wire size (diameter) is measured in AWG (American Wire Gauge), the smaller the number, the larger it is.
In order to minimize the weight of our craft, it's important that we choose the smallest possible wires. Here are what I normally use to build a 5″ racing drone:
Battery XT60 Pigtail: 14AWG for powerful setup, 16AWG for light weight builds
ESC/Motor: 18AWG for powerful setup, 20AWG for light weight builds
Signals between components / Low Current (under 1A): 28AWG
Current Rating Look Up Table
To choose what AWG wires you need, first work out what your quad's max amp draw is, then look it up in the table/guide below. The current rating is the continuous current.
Here is an example guideline from an electrical manufacturer.
The following table is what I personally follow when considering the max burst current for a short period of time. Please note that current rating of a wire has to do with the actual material and quality, this guide is only an estimation for the copper wires I have experience with.
Burst Current: 10AWG Wire - 250A 12AWG Wire - 160A 14AWG Wire - 110A 16AWG Wire - 80A 18AWG Wire - 50A 20AWG Wire - 30A 22AWG Wire - 24A 24AWG Wire - 20A
Using appropriate wire size can minimize the voltage drop and power loss due to resistance, and the risk of overheating the wire.
On most of my 5″ builds, I prefer to use 14 AWG wires even though the maximum current is slightly over the current rating in my guideline. This shouldn't be a problem because: firstly, the wires are so short; secondly, the current bursts only lasts a few seconds, even if you held full throttle for longer, I doubt your battery could keep up anyway.
Thinner wires are lighter, more flexible and easier to work with too.
Avoiding Bottlenecks
When connecting 2 wires, the maximum current that can be passed through them is always limited by the smaller wire. So when connecting 2 components, it's always best to match the wire gauge that is already installed on the existing component.
For example for an XT60 connector pigtail (the connection between battery and PDB), I normally use the same gauge wires on the battery discharge lead. For example, if the batteries come with 14awg wire, then I would use 14awg wire too for the XT60 pigtail.
Another example, if I want to extend the ESCs power wires, and they came with 18awg wires, then I would use 18awg wires.
This way usually works and provides the best reliability to your system. You may use thicker wires, it won't bring any benefits but extra weight.
Weight per meter:
24 AWG – 4.5g
20 AWG – 7.5g
18 AWG – 11g
16 AWG – 20g
14 AWG – 27g
12 AWG – 39g
10 AWG – 61g
Why current ratings are different from different sources?
You might find different standards and current ratings from other electrical wires manufacturers. They represent the maximum current for which the heating and the losses are below a specified level. It all depends on the material and industry standard.
Does Voltage matter?
Voltage is not that important for RC applications, since the voltage range we deal with are normally within 30V. Note that the wires we use are normally designed with a much, much higher voltage (e.g. hundreds of volts and higher)
Some More Tips
Wire Quality
The chart above is based off of decent quality copper wire. Cheap, low quality wire might be made of brass or aluminium instead, which could have a negative effect on the max current it can conduct and handle. Therefore, make sure to buy wires from trustworthy sellers.
Connectors Rating
Like wires, connectors also have current limitation, so you should choose carefully based on the application to avoid it becoming the "bottleneck" of your system. Here are the guideline – continuous and burst current.
JST connector – 5A (10A)
2mm bullet connectors – 20A (40A)
XT30 – 30A (60A)
XT60 connectors – 60A (180A)
When to use XT30? 20A or higher current. When to use XT60? 50A or higher current. You can use overkill your drone with a bigger connector, it won't bring too much benefit, but adds more weight.
More Info and Discussion
We have a similar topics on the forum if you'd like to learn more about this subject and like to comment.
Where to buy LiPo Battery Connectors – XT60 & XT30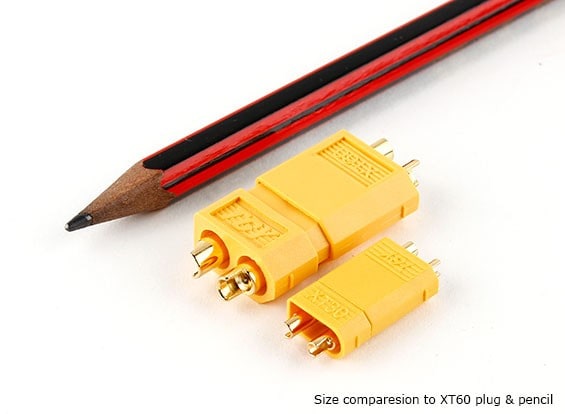 The XT60 and XT30 connectors share the same design but are in different sizes and are rated for different max currents. As suggested by the official datasheet, the XT60 is rated for 60 amps while the XT30 is rated for 30 amps, hence the names.
However this test confirming that the XT30 can support much higher continuous current of up to 60A without any problem as long as the wires is large enough. And this test confirmed that XT60 can safely handle up to 180A burst current for 10 seconds without problems.
XT60 Connectors
XT60 14AWG Pigtail if you are too lazy to solder your own…
XT30 Connectors
Where to Buy Silicon Electrical Wires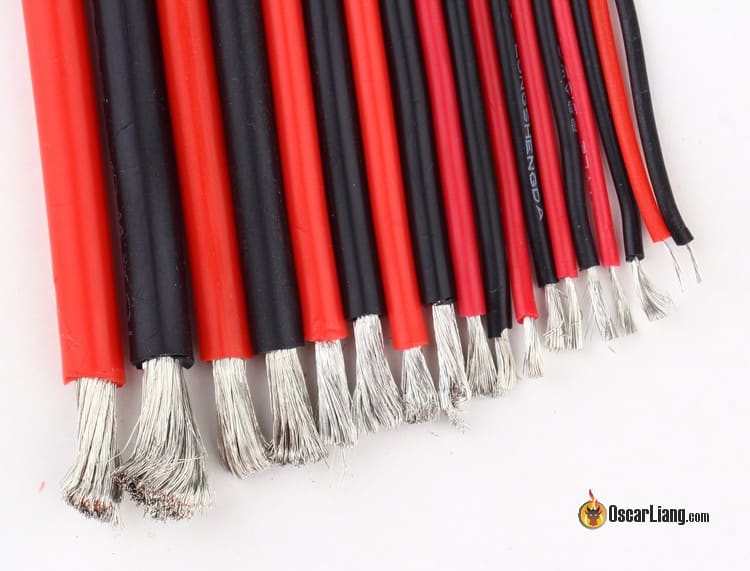 12 AWG (for XT60 pigtail, high power 5″ racing quad)
14 AWG (for XT60 pigtail, medium power 5″ racing quad)
16 AWG (for XT30 and XT60 pigtail, low power up to 80A burst)
18 AWG (for XT30, ESC power, and motor wire extension, up to 50A burst)
28AWG (for signal)
Edit History
May 2014 – Article created
Apr 2017 – Article revised
Nov 2017 – Added product shopping options