The X-Wing Battle drone by Propel does justice to it's name.
Some of the links on this page are affiliate links. I receive a commission (at no extra cost to you) if you make a purchase after clicking on one of these affiliate links. This helps support the free content for the community on this website. Please read our Affiliate Link Policy for more information.
It's very close to an actual X-Wing – obviously. It's modified from the movie to fit 4 motors that sit underneath with clear props – but when you see it there is no doubt that it's indeed an X-Wing.
This review is written by SeekND FPV.
You open the box … and music comes out!
This has to be the best product unboxing experience I've ever had!
I mean, to have this level of detail in just opening a box is mind blowing.
And the surprises don't end there either!
When you hear the music playing you kinda want to rip it out and go fly right away but at the same time you want to savour the moment as the hairs in the back of your head go up.
Don't worry though … there's a lot more fun stuff to be had.
The manual comes with the standard drone operation stuff but as you progress in reading the manual you will notice that this little puppy comes with a lot of goodies.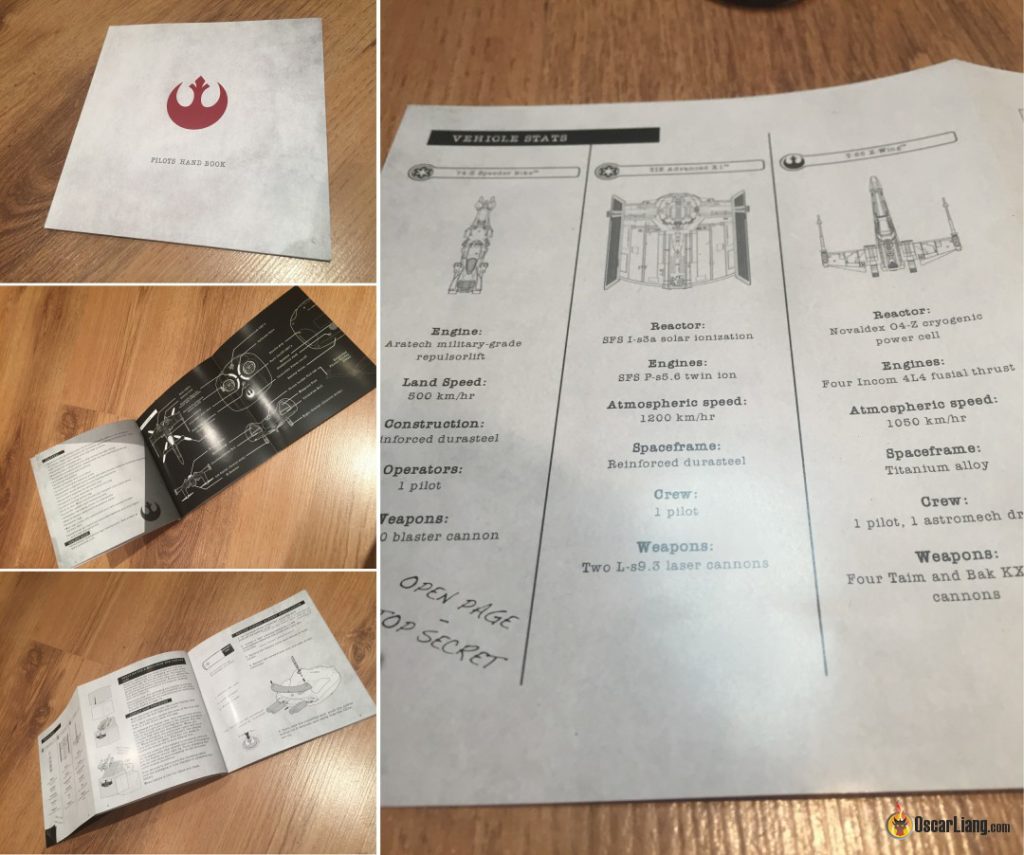 THE REMOTE
It freaking plays Star Wars music as you are flying!!!
Not only that but the remote starts talking to you AS YOU ARE PUTTING THE BATTERIES IN!
Insane …
Different remotes will play different sounds and music. Dark side remotes play dark side music while the rebel remotes play lighter songs. All from Star Wars :)
The remote feels pretty good to the touch and the gimbals are quite smooth.
You will notice that the throttle is springed, just like a Phantom 2 remote, meaning that this drone will mostly hover in place (no punch-outs from 0 throttle and no acro mode, sorry!)
There are 4 flight settings:
Beginner mode – flies really slowly and the rates are almost non-existing. You can't do rolls
Mode 1 – slow mode, you can do auto rolls with all regular modes and rates on this mode are slow but okay to start flying the drone
Mode 2 – medium mode, rates higher then mode 1 (still level mode)
Mode 3 – fast mode, rates higher then mode 3 (still level mode)
THE BATTERY IS THE CANOPY
You get two batteries, a charger, plus a fake canopy if you just want to have your gorgeous drone in a stand for everyone to jealously admire.
BATTLING DRONE?!
This is a battling drone. But what does that mean? It means that if you have a friend who owns another drone like this (there are 3 types – XWing / Tie Fighter / Speeder bike) you can battle each other.
Wait … what?
Yes … the remote has a button that makes the drone fire an IR command (WITH SOUND – PEW PEWWWW – YEAAHHH) and each drone has also a IR receiver. Get hit a couple of times by your attacker IR and your drone will spiral down (slowly) into the ground. You can then resume flying and continue battling.
And how does it fly?
Like a dream (a "level mode" dream). It has a barometric sensor so it stays always at the same height after takeoff if you don't touch the controls.
It doesn't have any acro mode and the only rolls that you will be doing will be automatic rolls that are activated by a press of a button in the remote.
Also, the landing and takeoff are fully automatic. You simply need to press the auto takeoff/landing button and the drone will do everything for you along side a sound confirmation. Just make sure you and your furniture are out of the way!
FPV??
It does not have FPV from the get go BUT that doesn't mean you can't hack one in!
It's more then capable of carrying a micro FPV camera but it won't carry a Gopro unfortunately :p
I flown one of the few FPV X-Wings that were at the Star Wars Celebration 2016 in London and it was AMAZING!
It flies more like a tiny whoop rather then an actual racing drone because it's meant to hover in place. Again, there is no acro mode.
FINAL THOUGHTS
I kinda want all of them! And to clone myself and battle all day long :D :D
It's incredible on how stable this thing is, and although it's meant for flying LOS (Line Of Sight) it does a good job if you attach a camera to it. I just want to get more friends with these and battle them in FPV. PEW PEW PEEEEWWW