Xiaomi Yi Action Camera is probably the cheapest HD camera, that is capable of recording 1080p footage at 60fps. Also the quality is not bad at all, and it's getting more and more popular amongst FPV'ers.
Some of the links on this page are affiliate links. I receive a commission (at no extra cost to you) if you make a purchase after clicking on one of these affiliate links. This helps support the free content for the community on this website. Please read our Affiliate Link Policy for more information.
Xiaomi Yi Camera has been around for months, but I only just bought one myself to test out on my mini quads. It's said to be a great alternative to the pricey GoPro camera, 1/3 or even 1/4 of the GoPro in price but gives you comparable results.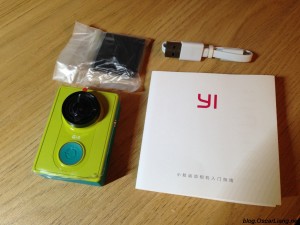 The form factor is also similar to the GoPro, but it is a couple of mm taller, so it might not fit some of the GoPro accessories, such as the Feiyu Mini 3D 3 Axis Gimbal.
Get your Xiaomi Yi Camera for £43 (limited time offer) from Banggood, and lens protection cover.
Here is my test video of the camera:
To Summarize the Pros and Cons:
Good things
Cheap and decent picture quality
Wide Angle footage (around 120 degree)
Tripod mount on the camera, no additional case needed (which the GoPro doesn't have)
1080p 60fps video (which was only found on the GoPro of cameras this size)
No LCD screen (good thing and also a bad thing), you don't smash it in crashes
Hold up to crashes very well!
Same chipset (Sony) used in the GoPro!
Bad things
More prone to vibrations and jello effects in FPV compared to GoPro Cameras.
Doesn't deal with low lighting as good as the GoPro
There is no LCD screen, so if you want to change settings, you need to connect the camera to your smart phone (Android or iPhone) via Wifi
Image looks blurry because of poor focus, but you can manully adjust the lens to fix it. (I will post a tutorial on this in a few days time)
Image quality is not as good as the Gopro 3+ or 4
Because the dimension is not exactly the same as the GoPro, the accessories are not interchangeable
Microphone is not the best for quality recording (but doesn't matter if you are using it for FPV)
I think you could also remove the battery, and power this camera from your 5V BEC directly, and you can save nearly 20 grams! (70g with battery, 52g without)
The lens on the Xiaomi Yi is just a little wider in diameter than the one on the GoPro, so the GoPro lens protector won't fit on this one. Anyway these lens caps are only $4 each.
To conclude, I have to give this camera a thumb up, and I will recommend the Xiaomi Yi camera to anyone who wants to record good footage (better than the Mobius), but doesn't want to pay $400 for a Gopro.
Bitrate Hack!
Don't forget you can also hack your Xiaomi Yi camera to record higher bitrate footage (better qaulity!), that matches the GoPro! It works by running a custom firmware.