Ever imagine how much smaller the famous ZMR frame can get? Recenly I received a kit from FPVModel – the ZMR150 micro quad, and it's dinky!
Some of the links on this page are affiliate links. I receive a commission (at no extra cost to you) if you make a purchase after clicking on one of these affiliate links. This helps support the free content for the community on this website. Please read our Affiliate Link Policy for more information.
I thought ZMR180 mini quad frame was small enough, but FPVModel just didn't want to stop there and made an even smaller frame – the ZMR150 – a 150mm motor to motor distance size frame, and it runs 3″ props.
Get the ZMR150 Frame from FPVModel, Or the ARTF Kit.
Here is a comparison of the ZMR250 and a ZMR150 frame side by side.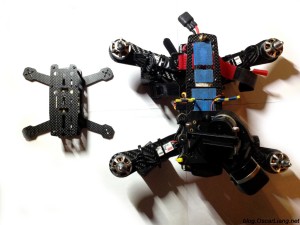 Package and Frame assembly
The Frame kit is pretty basic, comes with a Matek PDB (see full spec), top plate (1.5mm) and bottom plate (3mm), which has a unibody design.
Aluminium standoffs are very tiny, and it uses M2 bolts (2mm).
Very simple to put this frame together, probably only took me 5 mins :D
Whole frame only weights 51 grams.
I see on this frame there are 2 cutouts like the ZMR250 for the FPV camera mounts. I thought will the regular camera mount plate fit, the answer is no, the frame is too low :D good try though.
Here is the manual for the Matek Mini Power hub PDB:
Recommend Components
If you are going for the ATF Kit, you will see the components they recommend to go with this frame.
Dragonfly MC1306 3100 motors
I haven't had the chance to test the thrust and power data yet, but will probably make a separate post on that subject.
You can buy these motors separately.
Hawkeye mini 5.8Ghz 200mW VTX
I really like this VTX, works pretty well, and it's got a antenna extension lead rather than a antenna connector.
For full spec check out this page.
HMCAM700 520TVL FPV Camera
Very tiny CMOS camera that has a 120 degree wide angle. It weights only 4g and only take 5V, which is perfect as the VTX has a 5V output for the camera.
Thoughts
Very easy to assembly, decently carbon fibre given the light weight of the quad it should hold up well against crashes.
However the bolts provided are too short, I would want to see them 2-3mm longer.
I emailed FPVModel see if the motors can stand 4S but I have yet to get an answer. I think this quad is going to be lots of fun on 4S 1000mah LiPo :)